Smart Class With IFP – Solving challenges posed by Complex Smart Class Hardware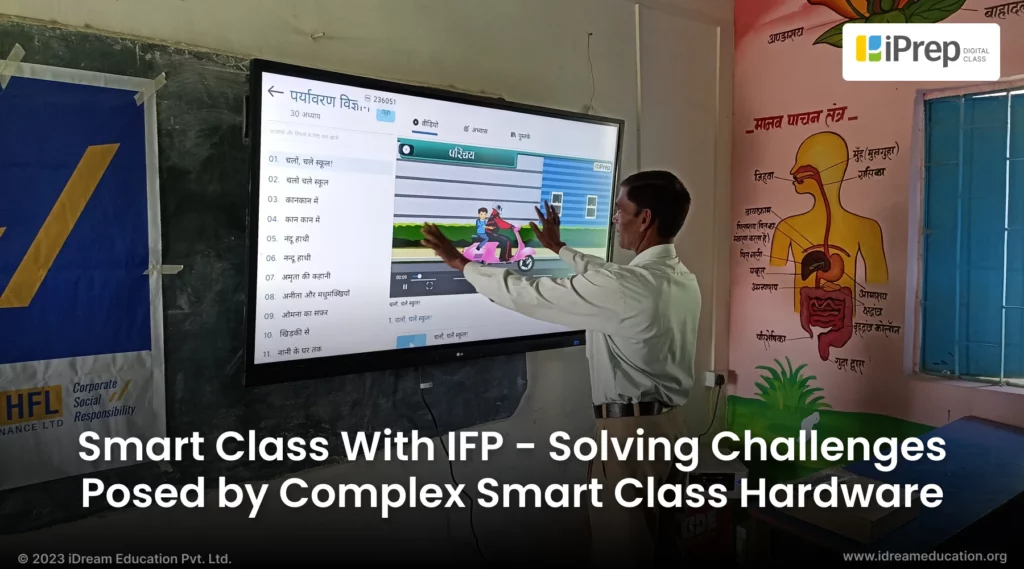 What is Smart Class – An assistant for our teachers to teach better, right?
In its true sense, a Smart Class is an assistant. It is a supplementary tool for our teachers, who can use it anytime. They can show a quick animation to clarify a concept or a practical feature to engage students. They can also display questions for mastery of a topic. Whatever they wish to make more clear to their students.
But for them to develop the inspiration to use this digital tool regularly, a few things are important. The first important thing is that the Smart Class system should be very easy to use. Second, it should work on the instant finger-tip instructions of the teachers. All that is to empower teachers during their verbal teaching sessions. They can turn on and quickly use the digital supplement without getting stuck in complex hardware and operating systems. Extrapolate this requirement to government schools, and the need for an extremely simple-to-use Smart Class for government school teachers becomes imperative.
Since our government school teachers come from varied backgrounds and already face tough working situations on the ground, they resist using Digital tools until they are extremely natural for them to use. They need teaching solutions that they can use, just like TVs and Android Phones in their homes which are not at all complex to use.
Wait. We just said TV and Android Phones?
How can we make the Smart Class Hardware Simpler for our Government school teachers?
The answer to this is by using Digital hardware that aligns with the natural psychology and current life situation of our government school teachers. Now, what is the digital hardware that is reaching every corner of our country and something that most of our rural citizens and therefore even the government school teachers know decently well how to use?
A Television – Almost every government school teacher would be naturally comfortable with using a television. Everyone aspires to have a television at home. The biggest advantage is that everyone is naturally trained in how to use a TV. Whereas rarely any government school teacher would have used a projector in their life. Nowadays with affordable Smart TVs coming into the market, most of the new televisions being purchased even in rural India are Smart TVs.
Android-based Affordable Mobile Phones – After TVs, the next digital hardware that is reaching crores of rural users in every corner of India is an Android-based mobile phone. Every person aspires to own an Android phone which becomes a great digital enabler for them. This is the reason why the majority of Government Schemes for rural beneficiaries have taken a mobile-first approach. Remember the BHIM App? Or the Kisan Apps for farmers? Or the DigiLocker app for certificates & documents?
For operating systems, almost every rural citizen is now getting comfortable with using Android-based devices. Very few in their lives would have regularly used Windows-based computers or laptops.
Therefore, combining the tremendous reach, natural self-training, and ease of use of both TVs and Android OS, we can offer an affordable yet regularly used Smart Class solution to our government school Teachers.
What are the options available for Android-based digital hardware for Smart Class?
Today, almost all formats of digital infrastructure used for Digital Classrooms are available with the Android operating system. Therefore to set an iPrep Digital Class and its different versions to make teachers naturally adapt to digital teaching solutions, we can choose from-
1. Android TV or Smart TV for Smart Class
An affordable Android TV can be used as a good option for Smart Class Hardware. One of the best options we have experienced is the MI Smart TVs. They are available in various sizes, are robust, and offer all the features needed for Smart Classes.
2. Android Projector for Smart Class
Many Android-based projectors are available and instead of needing to be connected to a Windows computer or laptop, they have a pre-installed Android box inside the projector. These projectors become a viable alternative to Smart TVs as affordable Smart Class hardware options.
3. Interactive Flat Panel – IFP for Smart Class
If you need touch-enabled Smart Class hardware just like the Interactive Touch Boards, then IFP is the option to choose from. Android-based Touch enabled Interactive Flat Panels are the most premium option for Digital Classes. They are available in 55, 65, 75, and 85-inch sizes and offer complete touch-based usage and operations. For premium and interactive smart classes, the IFP is a great option. A smart class with IFP can go way beyond the usual potential that a smart class solution with other hardware options may have.
These three types of iPrep Digital Class hardware can be considered depending on budgets, usage situations, and project outcomes. This new-age smart class setup eliminates the need for a computer, keyboard, mouse, or any other accessories. An Android projector may depend upon the size of the classroom where it needs to be installed. It may require a dimly lighted room as otherwise, the projectors may not provide a clearly visible projection. You can also use an external speaker (only if you feel the sound output isn't sufficient). However, when it comes to a smart class with IFP or a smart class on a smart TV, there is no need for a dim light or an additional speaker.
Can A Smart Class With IFP, Projector, or Smart TV Accommodate Digital Content?
This is another important aspect to be taken care of. We have seen many CSR projects and Govt tenders that use Smart Class with IFP or any other Android-based hardware but still attach a PC or Windows box to it for running the Digital Content. That again increases hardware costs, makes regular management complicated, and nullifies the key benefits of iPrep Digital Class.
Till some time ago, most of the Smart Class content solutions used to deliver their platforms only for Windows devices and that was a limitation. But now many new-age Smart Class solutions are offering digital content for smart classes directly on Android.
The iPrep Digital Class application is preinstalled on a device with preloaded content on Pen Drive that can be attached to the smart TV, Android projector, or the IFP.
In fact, running digital content on Android brings some advantages with it. Android is the latest and multi-device technology, it is much easier to run different types of content and also record usage data with auto sync.
Therefore, on Android hardware, usage reports, and project monitoring can happen very easily with auto sync of offline usage data happening automatically whenever the devices connect to the internet
Summarising key benefits of an Android-based Smart Class below:
Extremely easy to set up and requires no additional items such as processor, wiring, speakers, keyboards, etc
Very easy to operate. Just like the teachers use the TV at home, this smart class hardware can be similarly operated with a remote or touch
Offline digital content can be preloaded on a pen drive, SD Card, or in the device memory. The teachers can then comfortably use OFFLINE
Multiple types of digital content can be integrated and offered on Android facilitating different styles of teaching and pedagogies
With a feature to sync reports to a central dashboard, such projects can be remotely monitored for continuous impact assessment
These are affordable and easily scalable. Therefore, smart teaching can be quickly expanded to schools in every corner of the country
With Android-based Smart Class, we can genuinely empower the teachers. It will not burden them and will rather inspire them to use the setup regularly with their students. It will happily engage them with interactive digital education and growth.
At iDream Education, we research and specialize in Digital Content for Smart class solutions. Read more about our work on our smart class solution called the iPrep Digital Class here:
https://www.idreameducation.org/iprep-digital-class
Further, if you would like to share your thoughts on the iPrep Digital Class or would like to connect with us, please write to us in the comments section below or email us at share@idreameducation.org
Happy Learning!
Download Now – Learning App
Watch Now – Best learning videos for 1st to 12th class
Follow Our Social Media Channel
Facebook – https://www.facebook.com/idreameducation
Instagram – https://www.instagram.com/idreameducation/
---