Interactive Flat Panels For Schools: Enhancing Teaching and Learning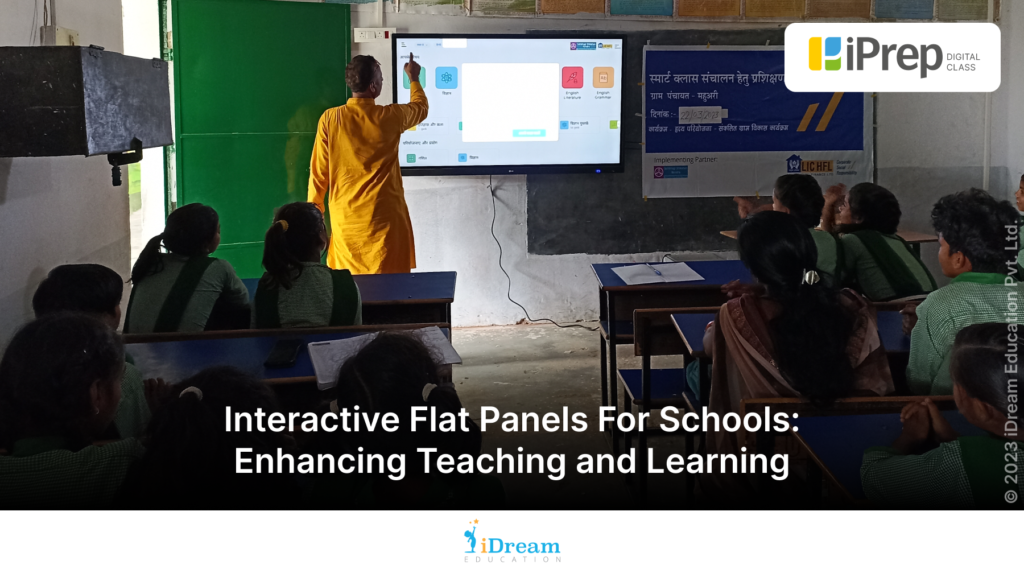 In the world of technology in education, a shift began with the introduction of interactive whiteboards for education. Back then, technology was primarily confined to IT sectors and laboratories, but with the advent of Interactive whiteboards for education, a new era of advanced learning was initiated. Suddenly, teachers started to engage with their students on a whole new level, fostering dynamic interactions and facilitating a deeper understanding of the subjects and topics. This approach also opened doors to a wealth of digital resources that perfectly complemented the curriculum, enriching the educational experience for all.
What are interactive flat panels?
An interactive flat panel is a technological marvel that combines the power of a high-definition display with touch-sensitive capabilities, enhancing the way we interact with digital content. It serves as a hub for collaboration, information sharing, and immersive learning experiences. In the domain of education, an interactive flat panel becomes an invaluable Interactive learning tool for teachers and students alike.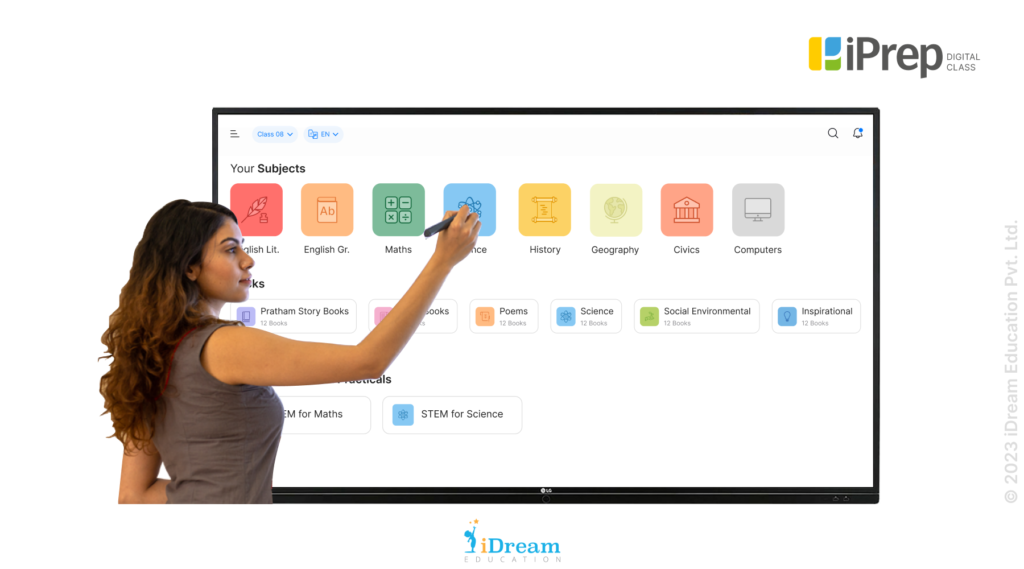 With its ability to seamlessly integrate with educational software/learning platforms, it helps teachers conduct engaging classroom sessions that capture students' attention. Its intuitive interface and interactive features facilitate hands-on learning, enabling direct interaction of students with animated lessons, and real-time collaboration through practice questions. The interactive flat panel fosters an environment where students actively participate, explore, and absorb knowledge. Overall, with the aid of an interactive flat panel, teachers are paving the way for a more immersive and interactive educational journey in classrooms.
Role of Interactive Flat Panels for Schools
Active Learning and student-centered approach in Classrooms
Smart Class with Interactive Flat Panels For Schools have the ability to shift students' focus and encourage a sense of community. By serving as a central hub, interactive displays facilitate collaboration, sharing, and the exchange of ideas among students. Further, the smart class teaching approach fosters a unified environment within the classroom, where students can collectively engage in discussions, presentations, and knowledge sharing.
Instruction with Ease and Differentiated Learning
Through smart Class with IFP, teachers can effortlessly deliver lessons using intuitive touch-screen technology and the availability of multi-category content. Teachers don't have to use a mouse or pointing device, or a remote to navigate, as digital displays in IFPs for classrooms are intuitive and have a pre-installed learning platform that works on touch. Further, the interactive nature smart class with IFP enables curiosity, resulting in active student participation and collaboration. One of the most seen examples of this is practice sessions in classrooms. 
Complementing teaching and learning with easy access to comprehensive resources
Smart Class with Interactive Flat Panels (IFPs) allow teachers to access and utilize a wide range of multi-category content, including animated video lessons, a book library, and interactive lessons with textbooks. Through IFPs, teachers can enrich their lessons with dynamic content from compatible learning platforms/app, complementing teaching and learning with easy access to comprehensive resources.
Use of Interactive Content to make Classrooms more engaging and interactive
Interactive Flat Panels (IFPs) in schools enable the use of interactive content, fostering real-time practice with immediate feedback. In schools, these panels facilitate collaborative learning experiences, allowing students to collaborate on projects, share ideas, and enhance their understanding.
Benefits of Interactive Flat Panels for Schools
Easy to setup, manage, and use
The implementation of Interactive Flat Panels (IFPs) in schools brings several benefits, particularly in terms of ease of setup, management, and use. These devices are designed to be user-friendly, making them easy to install and configure within the school environment. IFPs do not require extensive wiring or furniture arrangements. these can be conveniently mounted directly on walls with a few wires and screws. This further eliminates the need for specific infrastructure, making them accessible even in remote regions where resource limitations may exist.
User-Friendly Interface
One of the key benefits of using Interactive Flat Panels (IFP) in schools is their user-friendly interface. The intuitive design and familiar functions make it easy for both teachers and students to navigate and utilize in regular classroom sessions. Additionally, teachers are already accustomed to using TVs at home, enhancing their comfort level with IFPs. This familiarity translates into quicker adoption and integration of the technology in the classroom, resulting in a smoother teaching and learning experience.
What Makes an Interactive Flat Panel-Based Smart Class From iDream Education A Great Choice
Interactive Flat Panel-Based Smart Class by iDream Education is an easy-to-use, new-age Smart Classroom solution to empower 21st-century schools and teachers by combining the best digital content and resources, all in one place. Further, with its integrated reporting and monitoring dashboard, teachers can easily track student progress and gain valuable insights to enhance their teaching strategies.
A Bilingual and Comprehensive Approach
Interactive Flat Panel-based Smart Class can be a great choice due to its comprehensive offerings. It provides an extensive range of rich digital content for classes 1st to 12th, encompassing all subjects. The multicategory is a combination of animated lessons, and practice modules offering instant feedback, practical demonstrations, syllabus books, detailed notes, and assessments. All this is in English, Hindi, and local languages. Overall, this combination of interactive and inclusive features of iPrep by Dream Education with interactive Flat Panel-based Smart Class is ideal for enhancing the teaching-learning experience and improving classroom interactions.
Improving classroom Efficiency and Ease
When teaching through smart class solutions, having all the necessary resources in one place is crucial as it saves time, eliminates the need for switching apps and connecting the device internet, and prevents distractions in the classroom. An interactive flat panel-based iPrep Digital Class is a unique solution for schools due to its integrated bilingual and user-friendly Learning Platform, allowing teachers to effortlessly switch between classes and access both online and offline content for NCERT & State Boards.
Efficient Tracking of Teaching Content
For teachers, keeping track of teaching content can be a daunting task when done manually, therefore iDream Education has designed iPrep Digital Class which allows teachers to keep track of chapter/topics covered in one place. It is then saved offline and automatically synchronized to a cloud-based reporting dashboard.
Altogether, through iPrep Digital Class, iDream Education is changing the way teaching and learning take place in classrooms.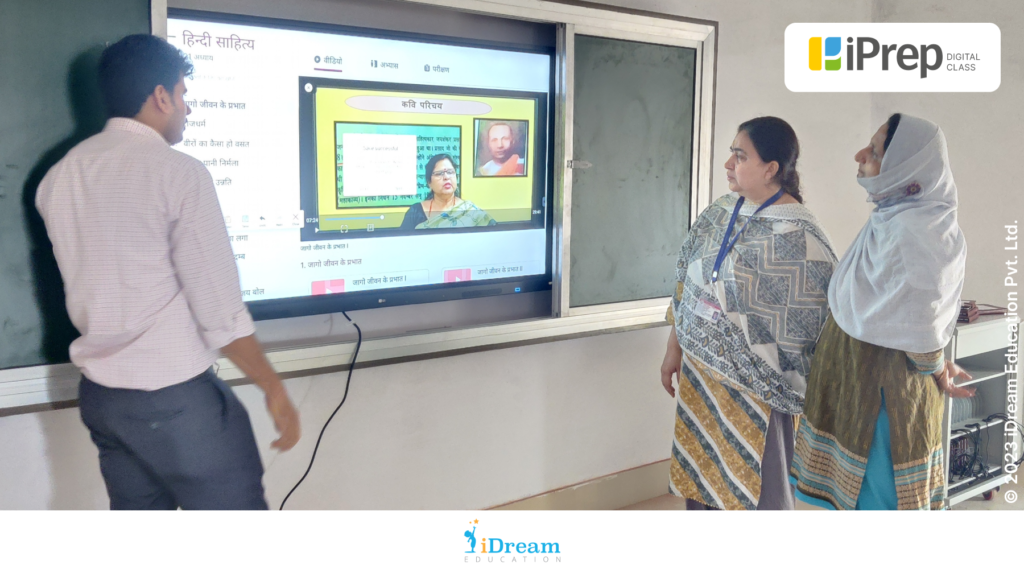 It is indeed an exciting time to be in education as these innovative tools continue to enhance teaching and learning experiences, opening up endless possibilities for knowledge acquisition and academic growth.
If in case you would like to know more about our digital learning solutions, visit our website, www.idreameducation.org or write to us at share@idreameducation.org
---