E-Learning Tablets For High School Students
In the digital age, education has been transformed by advancements in technology. One of the recent additions in the area of digital learning has been the emergence of e-learning tablets for high school students. These portable and interactive learning tools have proven to be effective in enhancing and personalizing the learning experience for students at all levels of education. In fact, many E-Learning Tablets are being actively used to enhance desired grade-level learning outcomes for KG-12 in schools. The iPrep Tablet is one such example of a learning Tablet for K-12.
In this blog, we'll focus specifically on the use of e-learning tablets for high school students. We'll explore the benefits of e-learning for high school students and how e-learning tablets can be a useful addition to the educational toolbox. Furthermore, we'll be discussing the iPrep Tablets in depth to understand the features of a learning tablet.
But before that, just to clarify,
What do you mean by high school students? Or, what classes come under high school?
Ans. High school students mean students who are studying in classes 9th, 10th, 11th, or 12th.
Whether you're a parent, teacher, or student, you wouldn't want to miss this informative discussion on e-learning tablets for high school students.
Understanding the Significance of E-Learning Tablets for High School Students
E-Learning tablets for high school students are portable electronic Learning devices. These are specifically designed to facilitate the acquisition of knowledge through digital learning. These tablets can supplement and enhance traditional classroom learning by providing students with an interactive, immersive, and engaging learning experience. These Learning Tablets have a wide range of features such as e-books, videos, audio other multimedia resources. One can access all these resources from anywhere and at any time with an Internet connection
E-learning tablets offer students a flexible and personalized learning experience that can accommodate their learning styles and preferences. With e-learning tablets, high school students can access a wealth of learning resources that can improve their academic performance and help them to develop critical thinking, collaboration, and problem-solving skills that are essential for success in the modern world.
These tablets are designed to make learning more compelling, engaging, and fun, which can help to foster student motivation and engagement. In essence, e-learning tablets for high school students offer a promising solution for enhancing the quality of education and preparing students for a brighter future.
But why are we talking just about the high school students?
The main reason behind that is the stage of life they are in. High school students are in that stage of life where they need to start shaping the future for themselves. This is the time when they need to decide what path they want to pursue in their lives. That in itself comes with huge concerns.
Like, they can now not afford to be digitally illiterate, they need information about the requirements, expectations, potential, scope, and difficulty levels of every possible career path there is. Only then they can make an informed decision at this point in life. Especially in the case of students in classes 9th to 12th, these learners need to decide what stream will they choose for their 11th and 12th classes. An efficient set of e-learning tablets for High school Students like the iPrep Tablets can be a good fit to meet all these requirements.
When we talk about the e-learning tablets solution offered by iDream Education i.e. iPrep Tablets, there are several features and benefits of these tablets that make them a great choice in the category of e-learning tablets for high school students. What are those features and benefits? Let's have a look.
Features and Benefits of iPrep Tablets as E-Learning Tablets for High School Students
Comprehensive preloaded digital content
Curriculum-aligned, rich, and comprehensive content present on the iPrep Tablets triggers engagement in learning and growth for its learners. These e-learning tablets for high school students include rich digital content for classes 1st to 12th all subjects including animated lessons, digital syllabus books, practice with instant feedback, practicals, notes, and assessments with exam preparation in English, Hindi, and other language mediums.
Beyond Academics, it offers a rich book library with books on personal growth, stories & picture books, inspiring biographies, and interactive lessons for holistic learning and growth. And the interesting part is that each of these content pieces runs completely without an internet connection, making them particularly useful for students who may not have access to a reliable internet connection.
Let us show you a glimpse of the Learning content present on iPrep Tablets for High School Students.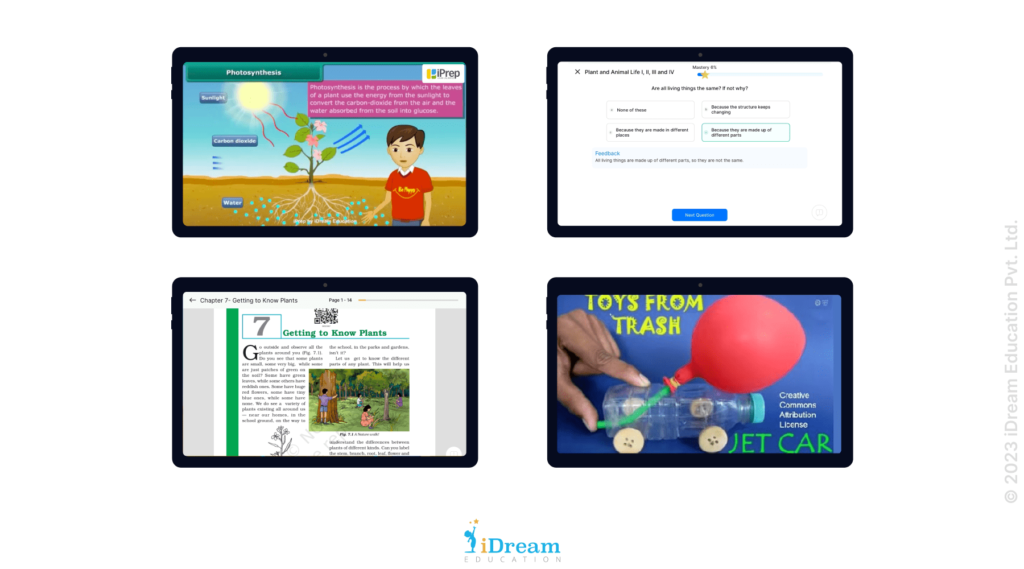 Personalized learning experiences
One of the main benefits of iPrep Tablets that make them a great choice of e-learning tablets for High School Students is the personalized learning experiences that they bring to the students. Learning with iPrep Tablets becomes completely personalized as these tablets do not come with any pre-decided or constructed timetable or usage limit. This means high-school learners with iPrep Tablet can Learn Unlimited and bring the unlimited potential for themselves while learning according to their own will, pace, and style. This personalized approach fosters self-directed learning and boosts confidence among students.
Another feature that adds to the personalized approach is the Bilingual Platform. The iPrep Platform that comes installed on the iPrep Tablets runs with end-to-end transliteration in English, Hindi, and other language mediums. A learner can easily switch between languages in the middle of their learning journey for a better and in-depth understanding of their preferred language.
Integrated reporting and progress tracking
Another feature that makes iPrep Tablets a great choice for the category of e-learning tablets for school students is reporting and progress tracking. iPrep Tablets come with an integrated reporting system to ensure data-driven learning outcomes. Offline usage reports are stored on the tablet and synced automatically to a cloud-based reporting dashboard. Teachers, parents, and administrators can monitor students' progress, identify learning gaps, and provide interventions promptly. This comprehensive reporting mechanism promotes informed decision-making and continuous improvement.
A Bridge to the Past and Future
One of the most unique yet helpful features for high school students present in iPrep Tablets is that they come with access to learning and growth content for all classes. To elaborate, with an iPrep Tablet a learner will not just have access to the content for the grade they are in.
They will also have access to content from junior grades, which will help them cover all the historical learning gaps if any. They can simply switch to a junior grade and build foundational knowledge on the topics and can clarify all their doubts that were hindering their ability to understand the material of their current grade.
At the same time, they will have access to content from the senior grades that will help them, especially the 9th and 10th class students, to analyze and understand what awaits them in the future. They can switch classes and go to the senior grades to check what is there in the course for these grades. Here they can get an understanding of the difficulty levels of various streams, subjects, and fields of knowledge and they can then decide what to choose.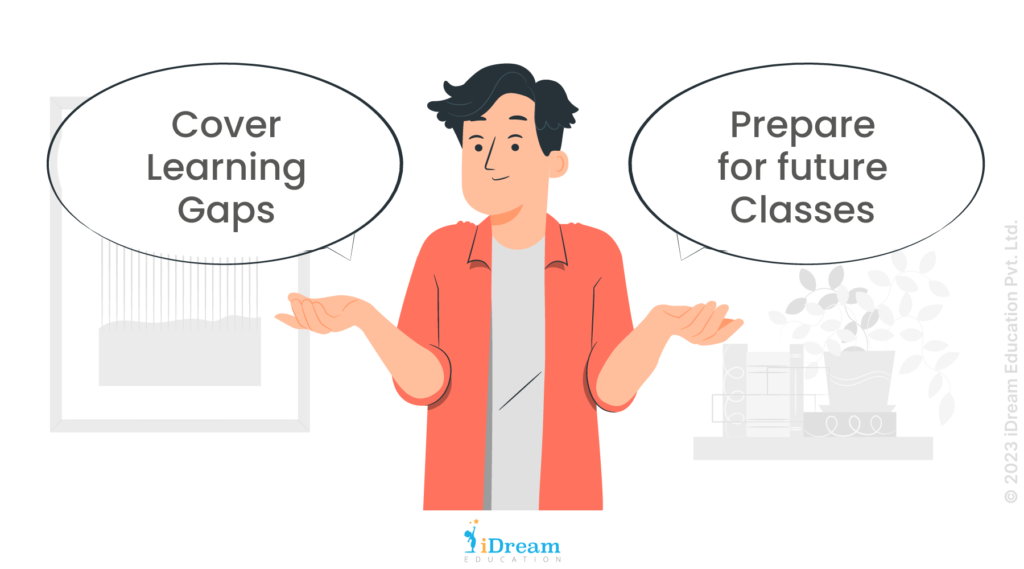 A Supplement to Both Learning and Teaching
All the benefits and features mentioned above are enough to indicate that iPrep Tablets can become a strong supplement to the learning outcomes of students. But that is not it, iPrep tablets can also be a great supplement for teachers. With iPrep tablet integration in the classroom, teaching instruction can become much more efficient and can overall bring in enhanced learning outcomes.
After discussing all these benefits, you might be wondering, how can these iPrep Tablets, which are a great choice of e-learning tablets for high school students be implemented in educational settings like schools. Let us take you through the implementation process of iPrep Tablets.
Implementing iPrep Tablets in Educational Settings
Traditional teaching methods are supplemented by iPrep Tablets rather than being entirely replaced by them because of their seamless integration with already-existing curriculum and teaching methods. When we receive any requirement of the iPrep Tablets that we have to implement in an educational setting like a school, we first go deeper into understanding the requirements. After that, with the streamlined process of- Content Curation > Content Dump Creation > Hardware Readiness > and LMS integration, we upgrade normal Android tablets or Notebooks to iPrep Tablets.
The team from iDream Education then goes ahead with first delivering the learning devices to the respective location. We then offer thorough training and support for teachers, students, and administrators to ensure a smooth rollout of the program. This support provides educators with the knowledge and abilities they need to maximize the potential of iPrep Tablets and cultivate an educational setting that is rich in growth opportunities. And that is how iPrep Tablets go on as e-learning tablets for high school students.
Conclusion
In conclusion, e-learning tablets for high school students have brought a revolution in the way we deliver education in the digital age. These portable and interactive devices offer numerous benefits that enhance the learning experience for students. By providing access to a wide range of digital resources, e-learning tablets offer flexibility and personalization, catering to students' individual learning styles and preferences.
High school students are the ones that can specifically gain great benefits from these tablets. This is because they are at the most crucial stage of school life. Tablets like these can help them as a significant supplement to their learning and growth.
Especially when the e-learning tablets are iPrep Tablets, they bring in even greater value for high school learners. With integrated reporting, a solution for eradicating learning gaps, by enabling early high school students to prepare for their future classes, and at last by helping them make the right decision in life in terms of their choice of field of knowledge, iPrep Tablets prove to be a great choice of e-learning tablets for high school students.
---