Project "Ka Lawei": The Future for Digital Education in East Jaintia Hills, Meghalaya
Paving the path towards progress: A walk through the journey of initiation of digital education in East Jaintia Hills, Meghalaya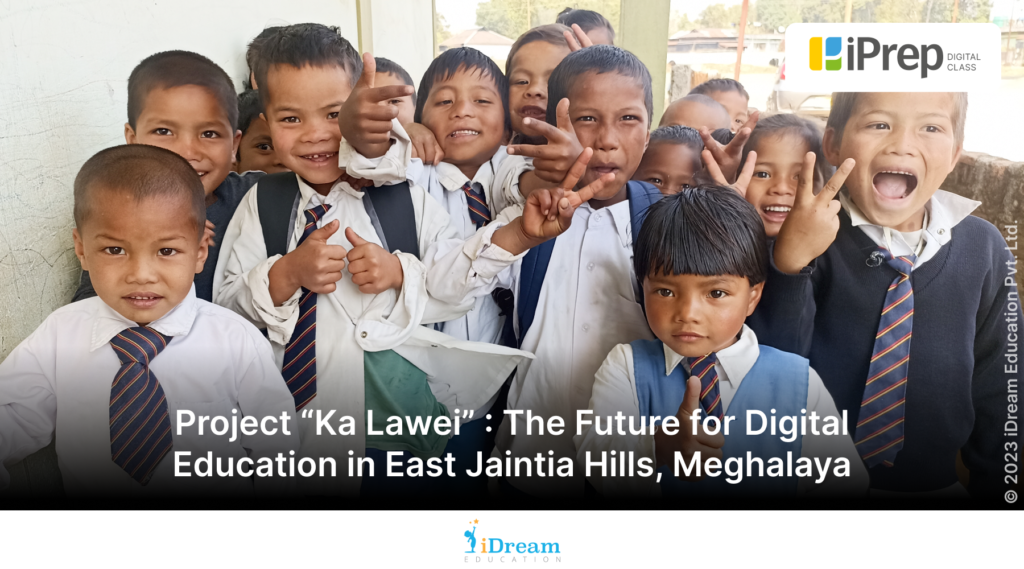 Integrating digital learning solutions in remote areas of a country like India always brings unique challenges, depending on which part of the country we are working in.
Last year, i.e. in 2022, we got an opportunity to work on implementing iPrep Digital Class (a smart class solution) in a remote district of Meghalaya, East Jaintia Hills, known for its coal mining industry. Everyone in the district either owns a coal mine or works in one. That's the only way the previous generation knows how to make a livelihood. Unfortunately, the same sentiment has been passed onto a majority of the next generation as well, even though coal mining has now been banned in the district.
What has happened as a result is that even though this new generation goes to school, there is nothing that inspires them to learn. Their parents have no awareness of the endgame of education; they don't know what future awaits if their kid learns well. Unfortunately, the teachers aren't inspired enough to bring in the transformation.
If the trend continues, the district will be left with a generation that isn't well educated nor has the 21st-century skills required for growth. This would eventually start leading to the emergence of several social issues. Not a good trend for the district, the state, and of course, for the country. This has to change.
The question is how.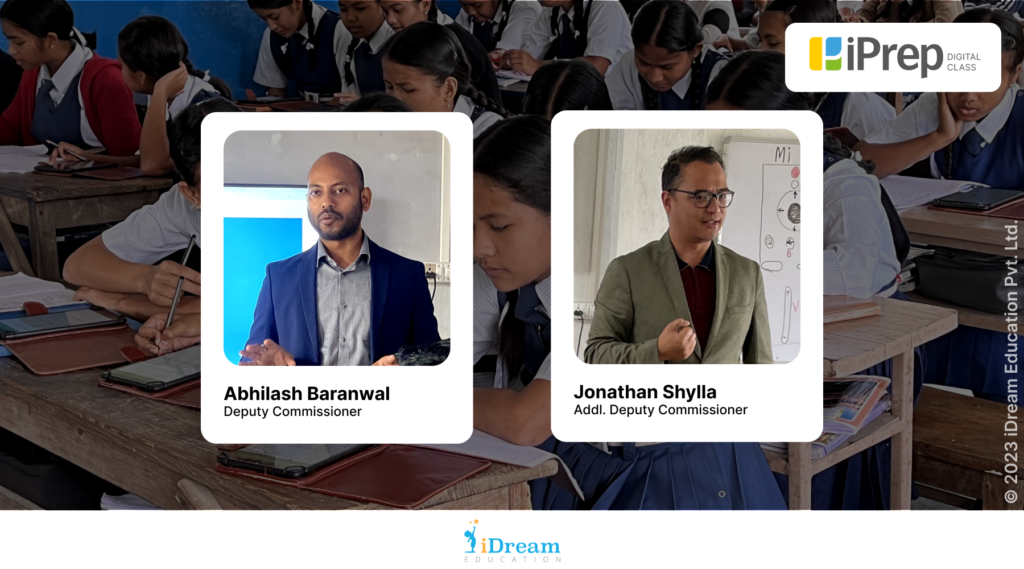 Here come two enterprising gentlemen. First is the Deputy Commissioner of East Jaintia Hills, Meghalaya, Shri Abhilash Baranwal, and the second is Shri. Jonathan Shylla, Addl. Deputy Commissioner. Together they dream and put together an ambitious project called "Ka Lawei."
"Ka Lawei" means "The Future." for digital education in East Jaintia Hills, Meghalaya.
However, before we come to what we at iDream Education have started doing in the district, let's spend more time understanding the unique challenges we mentioned in the beginning.
The Challenges
Lack of English Proficiency: The first challenge which became very evident during our initial visit to EJH was the language. English is supposed to be the only medium of instruction, which means that the textbooks are in English, teachers are supposed to teach in English, and students are expected to write exams in English. Except that no one is proficient in English. They speak a dialect of the local language, Khasi, known as Pnar, and all their teaching and learning happens in this language.
Lack of inspiration and innovation in teaching: The second challenge is strict adherence to the textbooks, resulting in a lack of inspiration and innovation in pedagogy. Students are taught exactly what is in the books and tested on the same exam questions. We have not verified this completely, but this is based on a first-hand account of several teachers and students we spoke to during our school visit. Consequently, students can only write what they remember from textbooks, lacking the motivation to study extensively. As a result, the passing rate for students in EJH is around 30-35% across different grades. There is little emphasis on applying knowledge or solving real-world problems beyond the curriculum, leading to learning gaps as students progress. Many students drop out after completing class 8, while only a few who reach class 10 join schools in the capital city of Meghalaya. This leaves limited support for teachers working with students in classes 11th & 12th.
Challenges in Teacher Training and Support: The teacher fraternity mostly consists of the locals or nuns in the few Christian schools. However, there is no focus on teacher training, upskilling, or incentives, because of which the quality of teaching greatly suffers. Those who want to make a difference are also unable to do much because there is neither support in the ecosystem nor do they have the right tools at their disposal.
Can Digital Education in East Jaintia Hills Meghalaya, therefore, be the answer?
This was when Abhilash Ji and Jonathan Ji were driven by the idea of enhancing education by integrating digital technology to empower their teachers. Given their need for an easy-to-setup and cost-effective solution, they zeroed in on Smart Class as the most suitable option. As a result, phase 1 of their plan involved the implementation of iPrep Digital Class equipped with English Medium Content for students in grades 8 to 12. The curriculum focused on subjects such as Mathematics, Science, History, Civics, Geography, and Economics while also incorporating two additional subjects, Computers, and English Grammar, in alignment with the Meghalaya State Board.
Use of Smart Class Content for Digital Education in East Jaintia Hills Meghalaya
Amidst a wave of excitement and gratitude, students and teachers have started to wholeheartedly embrace digital education in East Jaintia Hills, Meghalaya.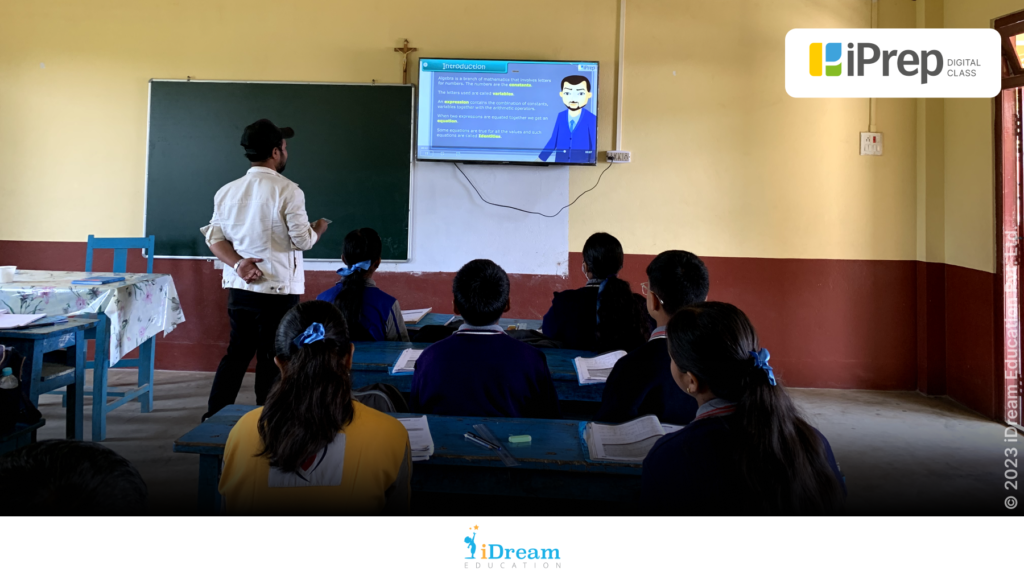 After using animated lessons and practice in classrooms for 2 months, we discovered that it wasn't proving to be very helpful for the students. While students enjoyed watching animated videos and engaging in interactive activities like quizzes, their learning progress was minimal. We could sense that this is primarily happening because of a significant learning gap in these students.
Even though we could not see quantifiable early success, the district office nonetheless decided to expand the initiative to 166 classrooms in the district. But this time, several new and innovative steps were introduced aside from just the Smart Class setup.
Beginning with carrying out the baseline assessment of all students.
Baseline Assessment for Assessing the Learning Level of Students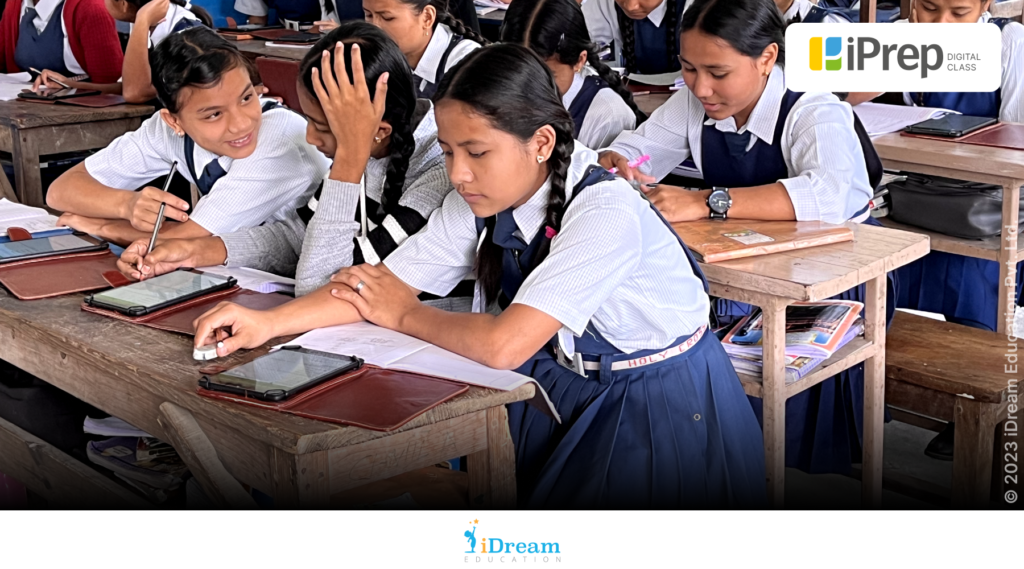 To assess the learning level of the students, it was mutually decided to conduct a Baseline Assessment. But manual analysis of the learning level of 5000 students would have been difficult, requiring a lot of time and energy. Therefore, the process was digitized and simplified using a tablet preloaded with offline assessment forms. These forms consisted of subject-specific questions for various grade levels. For e.g., In class 10th, questions of interconnected topics till class 6th were included. As students would answer the questions, we would be able to know at what grade level these students belong exactly.
Newer Challenge: Efficient Transport and Charging Solution for Over the Tablets
East Jaintia Hills has difficult terrain, up and down the mountain, plus the roads are not in very good condition. And when it rains, it is extremely hard to travel. Since, as a part of the new implementation, it was decided that an assessment would be conducted for all students every month, it was imperative that the tablets be used. That brings us to a question as to how a single team member can comfortably carry the tablets to the school and charge them after usage.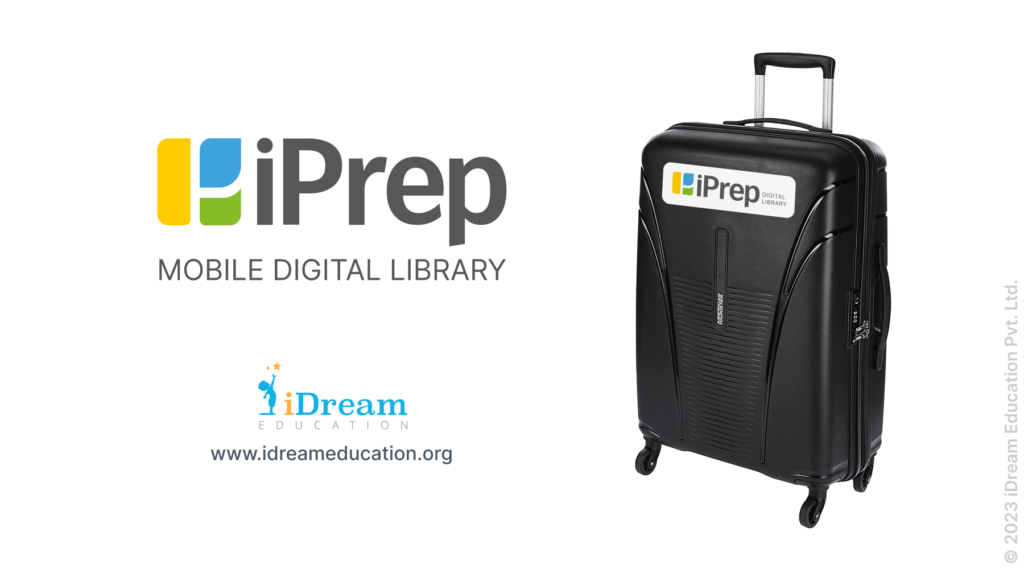 A very fine innovation fixed this. A suitcase is designed with slots to fit the tablets. With the wheels at the bottom, one can easily move just like you move a trolley in an airport. The suitcase was compact enough that it could easily fit inside a hatchback car. That solved the problem of transportation. For charging, we picked up our Charging Rack and placed one unit at the homes of all team members.
Now, they could charge tablets at night using the rack and then carry them to schools in suitcases. Simple but effective.
Let's now go back and see how the students did in their baseline assessment.
Analysis of Baseline Assessment Forms
The results from the baseline assessment brought light to the significant learning gap among students. As per data, more than 90% of students are performing at levels that are at least 3-4 grades below their current grade level. This made very clear why we were not getting the desired results in phase 1 of the implementation.
A solution had to be found to enable students and teachers to bridge this gap. Else any sort of digital implementation won't give the desired outcomes, at least in terms of the learning outcomes. It may engage students better, and they will have fun, but learning improvements will be difficult to achieve.
It was decided that a bridge course be designed to tell the teachers what topics to teach from junior grades before beginning to teach the topic at the current grade. As students go through these videos from junior grades, it will help them cover the foundations, which will lead to a better understanding of the topic they need to study in their current grade.
But remember, schools only have a smart TV in their classrooms. Even if implemented, a bridge course will be conducted in a one-to-many format. How will we still know if there is an improvement at each student's level? But then, we also have the tablets. And so, while students would learn in school in a classroom set up with digital content, each one of them will go through an assessment every month of the topics they are learning. The tablet will record data individually for every student, reports will be shared with the teachers every month, and teachers will be empowered and encouraged to further work with the students inside and outside the classroom.
Bridge Course to Bridge the Learning Gap in Students of EJH, Meghalaya
A Comprehensive Bridge Course has been prepared for each school by studying their academic plans and baseline assessment results. The course consists of interconnected videos covering the 8th, 9th, and 10th grades and extending to the 6th grade. In addition to the video recommendations, the bridge course has a specific practice section focusing on Maths, Science, and Social Science. This combination of video content and targeted practice exercises are given to ensure a well-rounded learning experience for students. With iPrep on Smart TV, teachers can easily switch between classes and implement bridge courses by accessing any grade's content. All they have to do is follow the sequence of video lessons as mentioned in the bridge course document.
However, what you may think in theory may not be exactly how it would pan out in the real world. Yes, iPrep offers a very easy way to switch classes, but teachers still have to do it and then search for the videos as per the bridge course plan provided to them. In a class of 30-45 mins, there is always pressure to complete the syllabus, and now we expect the teacher to do this extra work. Not fair, right? Our data also showed that while teachers were playing the grade-level videos, in most schools, the bridge course content was not being shown.
So, what's the next step then?
Integration of Bridge Course into iPrep App
To allow teachers to effortlessly access and use the course material within 30 minutes of class time, the bridge course has now been directly implemented in the iPrep platform. Teachers do not have to search for or change grades now. They can go to the Bridge Course tab, select the topic, and the bridge course content will start playing on its own. Once again, simple and effective. Or at least we hope so.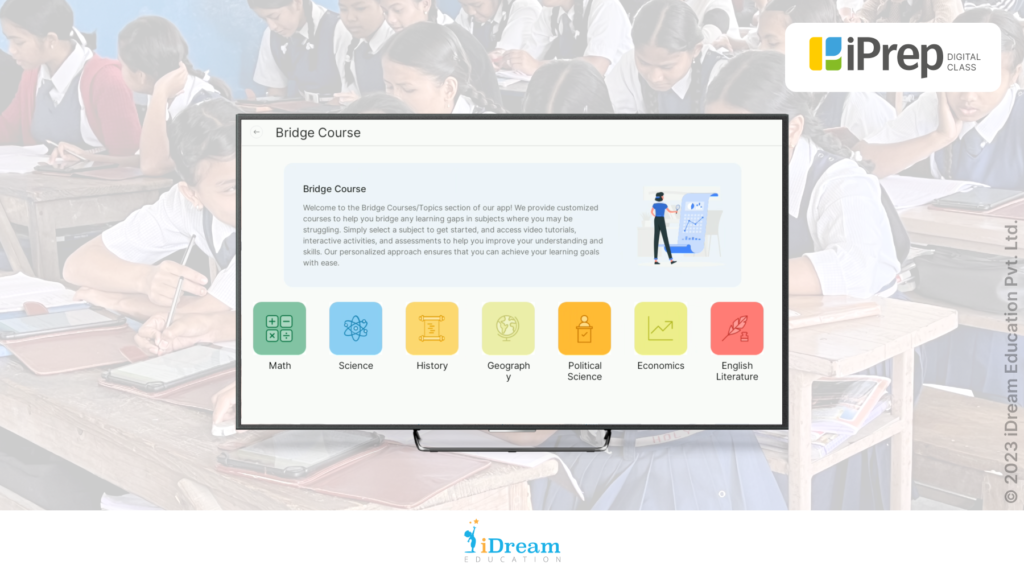 The iPrep platform has been updated in all schools, and usage will begin within the next 30 days. We will certainly share an update on how the same has been received and what changes we begin to observe. Keep watching this space for more.
If in case you would like to know more about our digital learning solutions, visit our website, www.idreameducation.org   or write to us at share@idreameducation.org 
---