A Closer Look at National Education Policy 2023 (NEP 2023)
The Comprehensive Guide to the National Education Policy 2023 envisioning the transformation of the Indian education system, emphasizing critical thinking, fostering holistic development, and embracing global perspectives.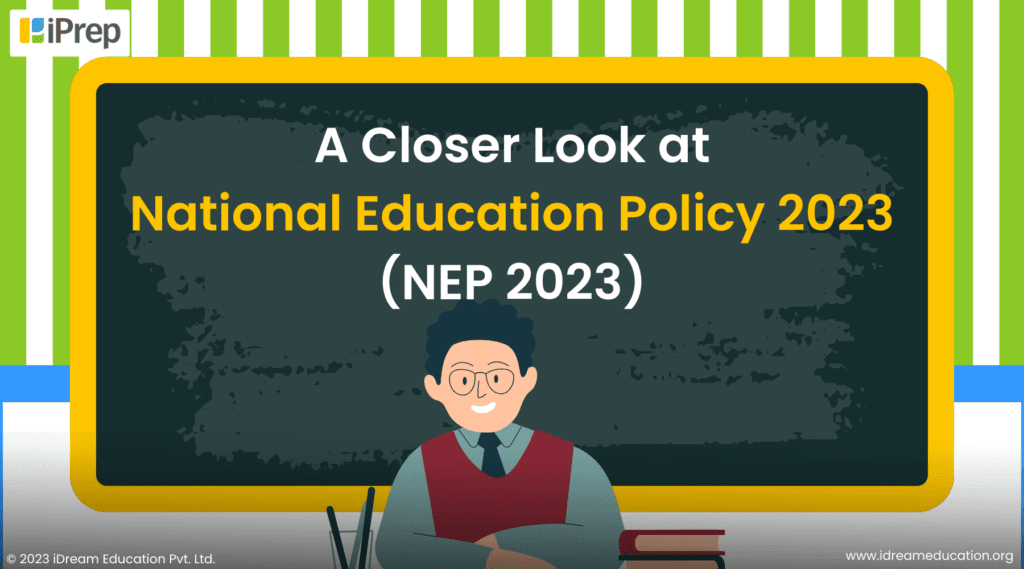 The National Education Policy (NEP) 2020, since its release, has led to transformative changes in the Indian education ecosystem. Its far-reaching impact can be seen through a multitude of changes it has initiated, such as the shift towards curriculum-aligned learning, regional languages being the medium of instruction, integration of technology in education, promotion of vocational and skill-based learning, and bridging the gap between academic and practical knowledge. The NEP 2020 has undoubtedly set the stage for a brighter and more inclusive future for education in the country.
Innovative Shift in National Education Policy 2023 (NEP-2023)
Under the Visionary Leadership of Prime Minister Shri Narendra Modi Ji and the Ministry of Human Resource Development, the New Education Policy of 2023 (NEP 2023) marks a pivotal milestone in the nation's educational journey. The policy was released on 29 July 2020 after approval by the Union Cabinet.
In response to the evolving demands of the contemporary era, this policy underscores the importance of comprehensive education focusing on digital literacy, skill development, and holistic learning.
The main purpose behind redefining NEP policy is:
"To universalize education and make India a global knowledge superpower"
Effects of Redefining NEP 2023
NEP 2023 promotes skill-based education, fostering critical thinking and problem-solving.
Inclusivity is a key focus, offering equal opportunities for diverse learners.
Emphasis on local languages and cultures provides a global perspective.
Improved teacher training and increased funding for better infrastructure.
Embracing digital education to prepare students for a tech-driven future.
NEP 2023 paves the way for holistic and meaningful learning.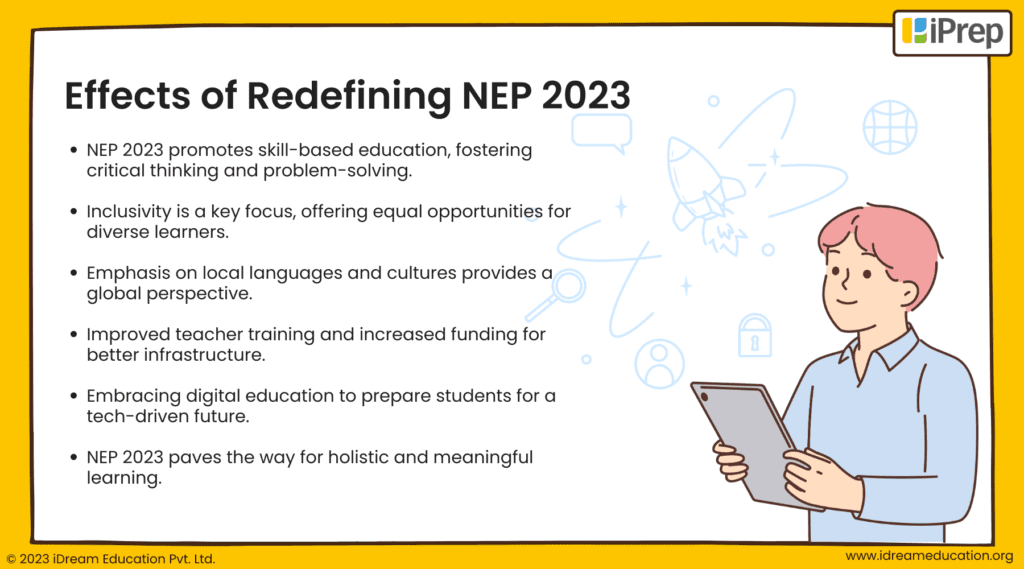 A significant change in NEP 2023 from the past involves:
The transition from the conventional 10+2 model to the ever-growing 5+3+3+4 structure. This framework places a strong emphasis on fundamental skills and life competencies at every educational level.
What does 5+3+3+4 Structure mean?
NEP 2023 redefined the educational framework to a 5+3+3+4 structure to enhance and align the traditional learning system with the evolving needs of students.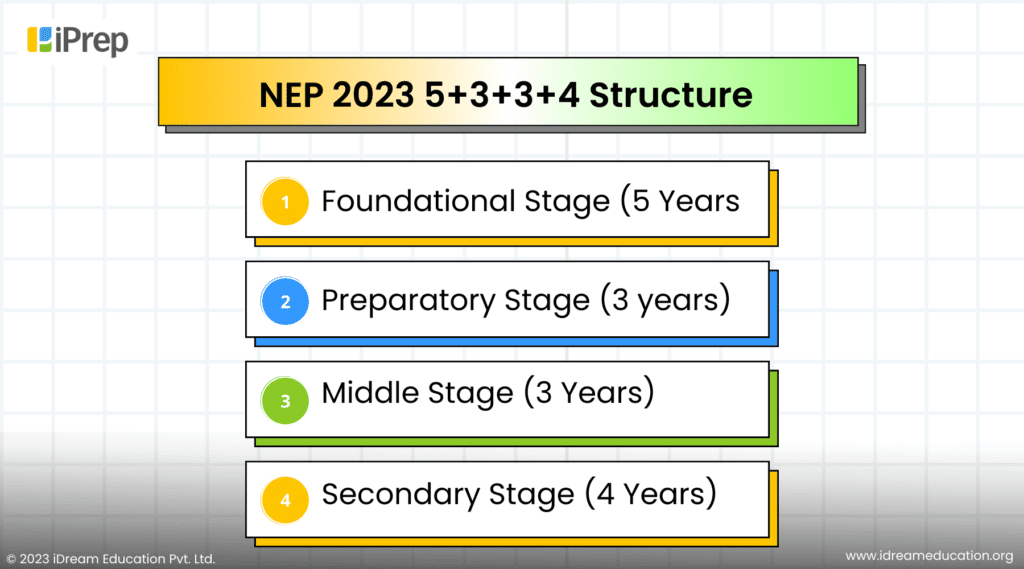 To create a holistic pedagogical environment, National Education Policy 2023 emphasizes on:
Foundational Stage (5 Years)
During the first three years of pre-primary education, children will primarily engage in playful and interactive learning activities, while the following two years in classes 1st and 2nd the focus will be on the development of Foundational Literacy and Numeracy (FLN) skills.
Preparatory Stage (3 years)
During this three-year phase, the primary emphasis is on students of classes 3rd, 4th, and 5th grades where a multifaceted teaching approach will be integrated as it seamlessly integrates various subjects, providing a well-rounded and holistic learning experience. The focus of preparatory stage centers on fostering a sense of discovery and exploration, aiming to steer away from rote learning of complex concepts. It is important because at this stage when the curriculum gets deep it becomes necessary to encourage a deeper understanding and the practical application of knowledge.
Middle Stage (3 Years)
During this three-year phase, the emphasis is on delving deeper into the subject matter for students in 6th, 7th, and 8th grades. The Middle Stage will focus on helping students explore subjects in greater detail, thereby enabling critical thinking. Furthermore, the Middle Stage is dedicated to introducing project-based learning to help students gain hands-on experience.
Secondary Stage (4 Years)
In the final four years of school, from grades 9 to 12, students get ready for their future. Some for higher education or vocational paths. Therefore, during this stage, when students can choose what they want to study, the focus will be on holistic development. This will help them gain real-world skills and competencies.
Guidelines of NEP 2023
Holistic Development Focus: NEP 2023 fosters cognitive, emotional, and societal growth for students.
Early Foundational Learning: Prioritizes Early Childhood Education and Care for strong foundations.
New Curriculum Structure: Introduces a 5+3+3+4 structure for experiential and skill-based learning.
Vocational Education Goal: Aim for 50% of learners in vocational education by 2025 is to contribute to the Nation's human capital.
Regional Language Learning: Emphasizes regional language learning up to Grade 5, to enable a familiar learning environment.
Tech-Driven Education: NEP 2023 emphasizes using platforms like DIKSHA to enable access to quality education.
Adaptive evaluation system: The policy emphasizes rethinking assessments to shift from summative to a more comprehensive evaluation system.
Teacher Training: Continuous training and professional development of teachers to align with evolving teaching approaches.
Inclusivity and Equity: NEP 2023 commits to ensuring education for all, regardless of socioeconomic or physical barriers to learning.
It's truly inspiring to witness the proactive approach of the Government of India in revamping the National Education Policy (NEP).
In line with NEP 2023, iDream Education is happy to underscore its alignment with the policy's vision, as it centers on fostering the holistic development of students through its comprehensive, one-stop learning platform, iPrep. This platform places equal emphasis on both academic and non-academic growth.
iPrep's alignment with 5+3+3+4 Structure
In harmony with the new Curriculum 5+3+3+4 framework, iPrep offers a diverse range of curriculum-aligned multi-category content for students in grades K-12, available in Hindi, English, and seven other regional languages. Beyond academics, iPrep delves into areas such as life skills, value education, vocational content, climate change awareness, activity and project-based learning, and more for the holistic growth of students. Furthermore, iPrep prioritizes experiential and skill-based learning for different grades. It's meticulously designed to draw content from Open Educational Resources (OER) sources/platforms such as DIKSHA and Khan Academy, thereby ensuring access to quality education.
iPrep PAL, a personalized adaptive learning solution by iDream Education enables an adaptive evaluation system
iPrep PAL is a structured app featuring an adaptive evaluation system that shifts the focus from summative assessments to a more comprehensive evaluation approach. This personalized adaptive learning solution tailors individual learning paths for each student, recognizing their unique learning needs and abilities.
What else is in line with the NEP 2023?
We not just focus on developing and delivering our solution but our commitment lies in the successful implementation of the solution, with comprehensive and ongoing teacher training programs, ensuring teachers can effectively digital in their daily classroom sessions.
Lastly, with a focus on local language medium, a multi-category curriculum alignment, ICT labs, and offline digital learning content, iPrep stands as an inclusive and equitable solution that caters to all learners. With its adaptability to various devices and operating systems, it eliminates socioeconomic and physical barriers to learning.
To Conclude
This revamping of NEP at this juncture has the potential to transform the Indian education system into a more inclusive, flexible, and learner-centric one. iDream Education looks forward to working with System Integrators, Government entities, corporations, foundations, NGOs, and other ecosystem partners to facilitate a holistic and integrated education approach.
---