Establishing a Non-Judgemental Learning Environment with Educational Tablet for students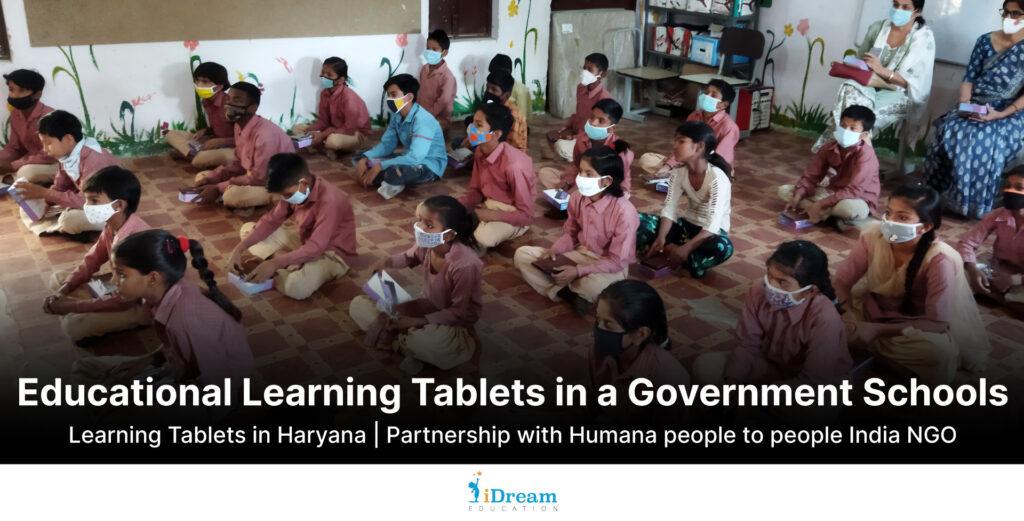 Under the partnership with Humana people to people India NGO, iDream Education set up iPrep tablets in the government schools of Rewari in Haryana. The objective of the implementation was to enable a non-judgmental learning environment for students to help them cover the learning gap that occurred due to the sudden closure of schools during Covid. To help them cope with the learning gap, these students were given educational tablets so that they could learn at their own pace, based on their learning levels. This way, individual learning progress could also be tracked and provided personalised guidance.
When Covid Stuck students, Coordinators of Humana centre lost touch with students, and at-home students did not have access to educational resources. When they returned, teachers noticed the difference in students' confidence and learning. Some students were struggling with several months of the academic gap, and it varied for all students. For teachers, it became difficult to first identify the learning gaps of individual students and then work with each of them to fill their individual learning gaps. To solve this, it was decided that these students should be given personalised learning tablets with offline digital content.
What did we do to help them cope with the learning gap?
With the support of the Humana people, all students supported by the NGO were given a personalised iPrep tablet. Giving hardware is just one piece of the puzzle. What enabled the transformation was the digital content given on preinstalled iPrep Learning App on their tablets.
The entire platform was in Hindi, which means when students opened their tablets, they could see all instructions and buttons in the language that they were familiar with. Hence, it became easy for them to use the learning tablets.

Secondly, all the learning tablets had content in Hindi for classes 1 to 5th aligned with the Haryana Board. While it enabled students to learn as per their curriculum, an important point here was that irrespective of the grade a student had mentioned while logging in, all students were given access to the content of all the grades. The app had a feature that allowed students to change their classes comfortably and look at the content of junior classes. This was transformational because students felt safe and in a non-judgemental environment, joyfully explored the content of junior grades and could slowly get back to their age-appropriate level.

Teachers and coordinators were continuously looking at the student-wise reports on the reporting dashboard. They were aware of the learning level of each student. And hence they were quickly able to customise their teachings and provide personalised guidance to students where needed.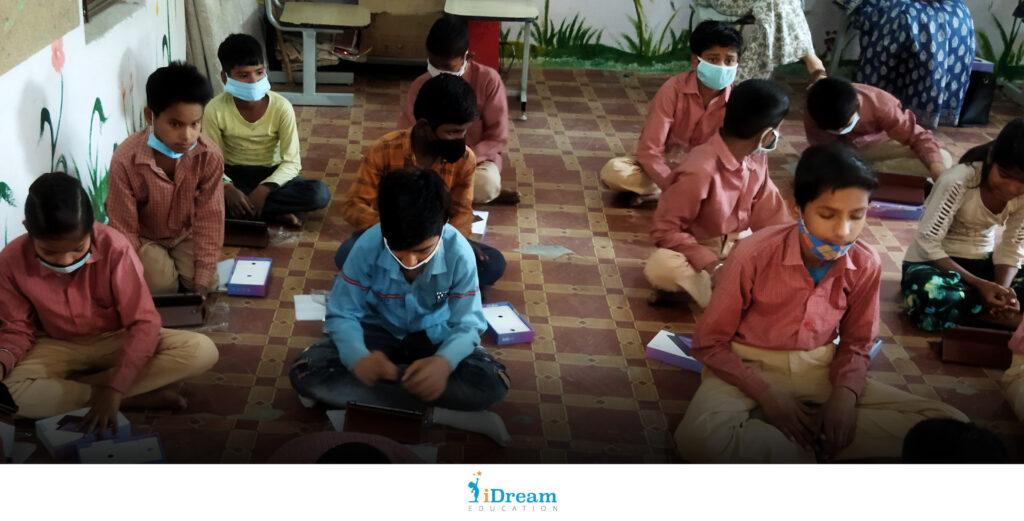 Students learning on their personalised tablets
As a result, the time it would have otherwise taken the coordinators to bring back the students to their age-appropriate grade level and fill up the learning gaps got reduced significantly. And, because students had their personalised devices, they learned joyfully at their own pace by switching content to the junior class.
If in case you would like to know more about our digital learning solutions, comment below or write to us at share@idreameducation.org
idreameduacation.org
---