ASEP – Association of School Ed Tech Providers, A Promising Step to Empower Digital Education Adoption in Schools
Making concerted efforts to enhance the quality of school education in India, the Government, NGOs, System Integrators, Edtech companies, and various other stakeholders in the education ecosystem are working together to advance digital education in schools, especially post the NEP 2020. 
Recognizing the immense potential of technology in reshaping the digital education landscape in schools, Ed-Tech providers have united to form the Association of School Ed-tech Providers (ASEP) in July 2023. This indeed is a much-needed strategic step forward to strengthen the adoption and integration of digital education into our school education system in India.
ASEP Vision
The stated vision of ASEP is to help all K-12 service providers work together towards enabling trans-disciplinary and holistic betterment of each K-12 student's learning environment.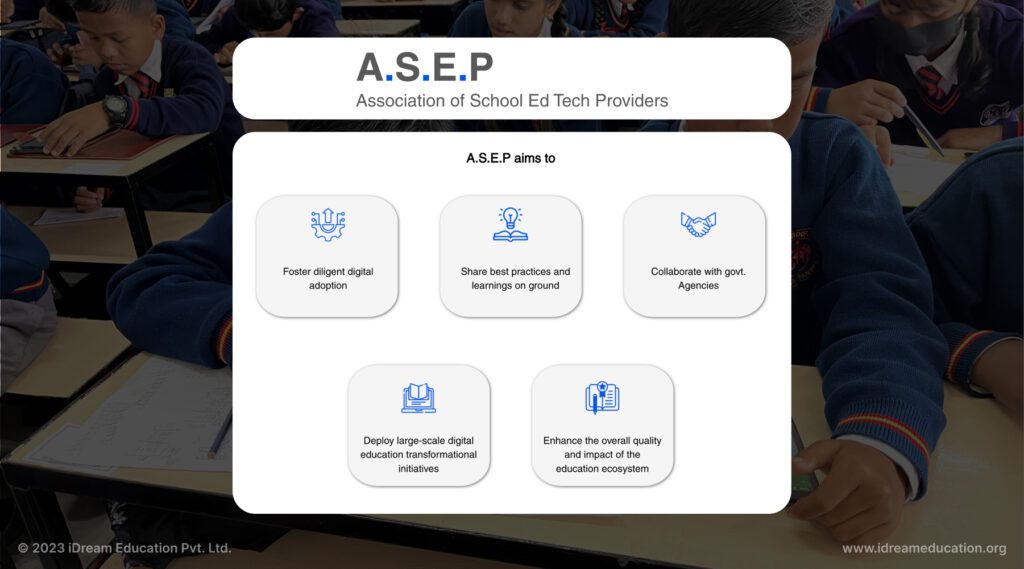 ASEP currently consists of some of the founding school EdTech providers who have seeded this initiative, and more partners can apply and join the Association through a process that has been defined on the website of ASEP.
The association intends to onboard responsible and growth-oriented school EdTech providers who can have a collective voice and work to strengthen the EdTech adoption and aspired learning outcomes in schools.
Primary Objectives of ASEP
Promoting Digital Adoption to enhance the teaching and learning experience and make digital means accessible, engaging, and interactive for both students and teachers.
Develop Comprehensive Teacher Training Programs to enable teachers to integrate technology into their classrooms and adapt to contemporary teaching approaches.
Enhancing Learning-Teaching Outcomes by collaborating with member organizations and schools to develop and deploy tools and methodologies to optimize student engagement, facilitate personalized learning, and strengthen academic achievement.
Engage with Policy Makers to ensure the smooth integration of technology in education and create an enabling environment for all stakeholders.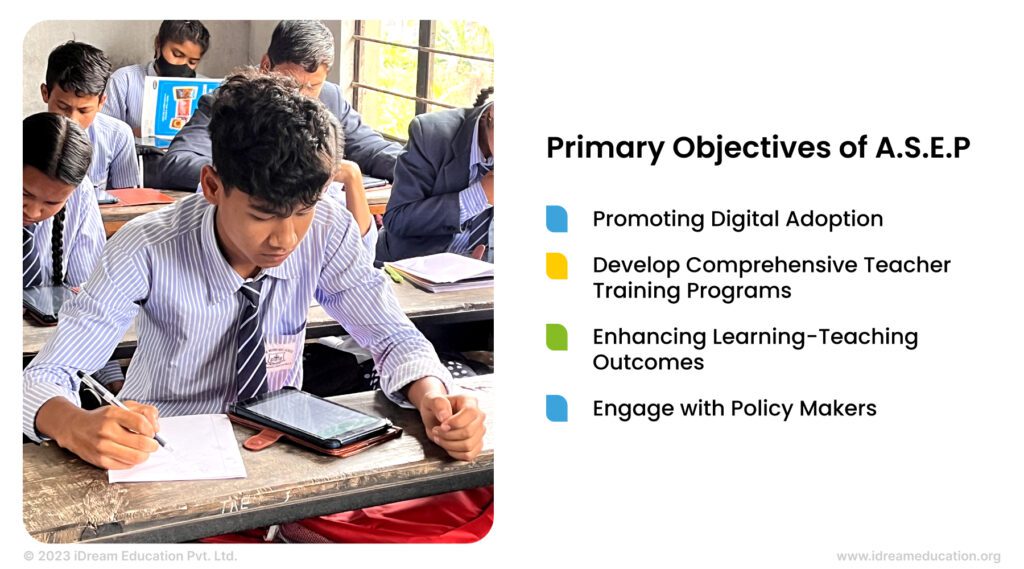 ASEP: Addressing the Need of the Hour in Education
In light of the current educational landscape, the Government of India has been actively taking measures to address the challenges in the education sector. One significant step in this direction is the implementation of the Samagra Shiksha, a comprehensive scheme for School Education functioning as a Centrally Sponsored Scheme. However, there was also a need for collaboration among various educational providers who share a common vision.
By coming together under the umbrella of ASEP (Association for Educational Providers), these stakeholders will discuss and find effective solutions to the challenges in education. Through collaborative efforts, ASEP endeavors to bring about positive changes and ensure a brighter future for education in India.
ASEP: A Great Step To Empower Digital Education Adoption in Schools
ASEP's emphasis on bridging the gap between traditional teaching methods and the digital age demands. Marking a significant step forward in empowering the adoption of digital education in schools, ASEP invites ed-tech providers, educational institutions, policymakers, and other stakeholders to collaborate in this journey. Together, we can embrace the potential of technology-enabled education and make Indian schools future-ready.
We at iDream Education shall look forward to being considered for participating in ASEP and collectively driving the shared vision of ensuring the best of digital education adoption and outcomes at schools in Pan India, including the last mile government schools.
Sources:
India Education Diary, July 15, 2023. Navneet Toptech, Teachmint, Educational Initiatives, Karadi Path, Extra Marks And 9 Other Ed-Tech Companies Form Association Of School Ed-Tech Providers
Media Brief, July 14, 2023. Navneet Toptech, Teachmint, and more collaborate to create Association for School Ed-Tech Providers.
Financial Express, July 14, 2023. Ed-Tech companies unite to form Association of ed-tech Providers (ASEP) for advancing digital education in India | The Financial Express
If in case you would like to know more about our digital learning solutions, visit our website, www.idreameducation.org or write to us at share@idreameducation.org
---