iPrep's Digital Learning Solutions Meeting the Digital Education Needs of All K-12 Educational Stakeholders & Ecosystem Partners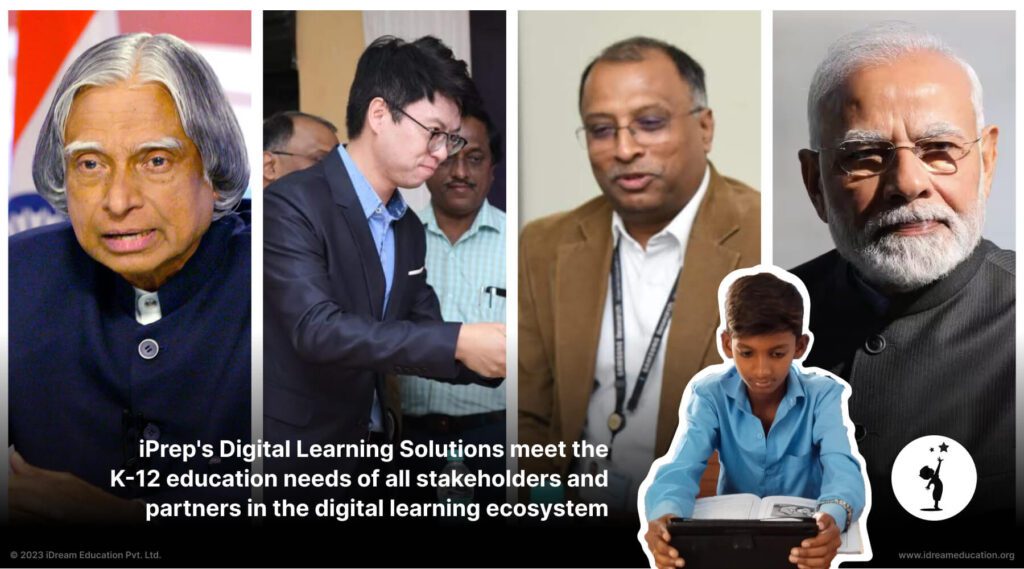 We're entering a new era in education, one in which cutting-edge technology is transforming how we teach and learn. Education as a sector is one of the most affected by technological advancements with the introduction of some highly efficient digital learning and teaching solutions. Also, quite obviously Education is one of the leading causes of these advancements. If not for education, how would people build the skills to bring in these educational advancements? So, in short, Education is making education even better with time. Not just that, education has the potential to make everything better with time.
That is one of the sole reasons why iDream Education aims to facilitate universal access to education with our carefully designed digital learning solutions and the learning platform iPrep that powers them all.
The Government's Take On The Matter
When it comes to digital education in India even the government is proactively playing a role in leveraging the power of digital learning solutions. This is evident in the initiatives from the government that are being rolled out in recent times such as
All that to not just deliver greater & wider access to education but also a greater quality of education. However, in Indian society, there are a lot of stakeholders who actually making this a reality. These stakeholders are directly or indirectly involved in shaping the education sector in the country and they undoubtedly do it very responsibly. That is why every educational initiative and digital learning solution or resource that does roll out must meet the Digital Learning needs of all these stakeholders.
In this blog post, we are going to talk about how iPrep, as a one-stop learning platform, with its comprehensive suite of digital learning solutions, meets all the needs of educational stakeholders especially when it comes to school Digital education for K-12.
But who are these stakeholders and what do they look for in digital learning solutions and resources? Let's unfold them (and how they utilize and propagate digital learning) one by one.
The Stakeholders of Education in India and Their Needs
When it comes to Education in India, various stakeholders come along to shape the reality and make executions possible. We will list down the key players.
The Educationists
In the context of India, "educationists" refers to specialists in the field of education. They are experts with extensive knowledge, experience, and comprehension of the education system, pedagogy, curriculum design, teaching methodologies, and educational policies. Educationists may include teachers, educators, researchers, policymakers, administrators, and academics. In short, people who commit themselves to enhancing and reforming the Indian education system.
In its diverse History, India has had the privilege of having some highly inspiring Educationists such as Dr. Sarvepalli Radhakrishnan, Dr. A.P.J. Abdul Kalam, Dr. Raghuram Rajan, Dr. Anand Kumar, Dr. Pratap Bhanu Mehta and many more. The educationists of the current times see the value and additional potential that digital learning solutions have if they meet some standards. What do these educationists look for in digital learning solutions? Here are a few checkpoints that current educationists look for in digital learning solutions.
Eradication of the Digital Divide
This involves the inclusion of resources that facilitate digital literacy in the students and make them ready for the digital era. Even after a drastic rise in technological advancements in recent times, there is still a significant digital divide in our country especially when you compare the urban areas with their rural counterparts. These educationists dedicatedly work to close this gap by granting equal access to digital learning resources to build an equitable educational system. This entails making certain that all students, regardless of their socioeconomic status or location, have access to the required devices and appropriate digital learning tools and resources.
Inclusivity
This means that All students, regardless of their background, ought to have access to and be welcomed by the digital learning solutions that are implemented for their good.
This implies that digital learning solutions should be designed to meet the needs of all students, including those from underrepresented groups. These digital learning solutions should, for instance, be accessible to students with disabilities and sensitive to the needs of students from diverse cultural backgrounds.
Catering to Teacher Shortages and Training
Indian educationists are adamant that digital learning solutions in Indian schools should become a valuable way to address teacher shortages and training needs without replacing the existing methods of education, as these methods are both important and effective. These technologies should provide access to educational content and professional development resources and should be effective in supplementing teachers' capabilities and improving students' learning experiences. The goal is to personalize learning, improve teaching methodologies, and close the educational gap in areas where qualified educators/resources are scarce.
The Socially Responsible Organizations Corporates (CSR)
In India, Corporate Social Responsibility (CSR) has a significant indirect impact on the education sector, contributing to its transformation and growth. Numerous corporations have acknowledged the significance of investing in education as a means of empowering communities and fostering a skilled workforce. By contributing a portion of their profits and often integrating/leveraging their work/resources/know-how to bring social impact to CSR initiatives, these businesses support a variety of educational programs and infrastructure projects.
This financial assistance improves access to quality education, particularly in underserved regions, by establishing schools, providing scholarships, capacity building, teacher training/resources such as Smart Classrooms, and upgrading educational facilities. In addition, CSR initiatives frequently involve partnerships with educational institutions and non-governmental organizations, fostering knowledge exchange and innovative teaching strategies.
The involvement of corporations in the education sector not only improves the learning environment but also encourages other private organizations to prioritize education in their CSR strategies. As a result, this collaborative effort contributes to the nation's socioeconomic growth by closing the education gap, cultivating talent, and fostering talent.
But the question of the hour is, what do these Corporations look for when it comes to Digital learning solutions and resources that they plan to invest their CSR funds in?
Positive Social Impact
The sole agenda behind the concept of CSR is to give back to the society these organizations are doing business in and earning profits from. That is why it is quite obvious for these organizations to expect a significant social impact of the CSR Projects in Digital education. This social impact can be as good as enhanced learning outcomes, greater digital literacy, classroom engagement, enhanced academic performances, etc.
Sustainable and long-term benefits
This means that according to socially responsible Organizations, digital learning solutions should emphasize helping students to learn in a way that stays with them for a long time and changes their lives for good by making them intellectually and cognitively stronger
Transparency and Accountability
The Organizations that invest in digital learning solutions expect those to be transparent and truthful about their objectives, methods, and outcomes and be held accountable for their performance. It is necessary as even these CSR wings are questioned on the outcomes that they can achieve with the initiatives they invest in.
This implies that the information regarding the implementation of digital learning solutions, and what results they achieve should be made transparently available. It also implies that there should be grievance redressal mechanisms and outcome mapping in place to hold the digital learning solutions providers accountable for their performance.
Measurability
The Organizations that invest their CSR funds in digital education expect those to be able to clearly and quantitatively demonstrate their impact. Again, as we already mentioned these Organizations are expected to showcase the impact of the CSR funds they spend, it is obvious for them to expect the outcomes of their investments in digital learning solutions to be measurable.
This implies that the initiative's objectives should be well-defined. Also, there should be a method to determine whether or not the digital learning solutions are helping in meeting them. This could involve collecting information on the learning outcomes of students, teacher satisfaction, or other variables. By having measurable objectives, it is possible to evaluate the efficacy of the investments made in digital learning solutions, which is what these corporations seek.
Adherence to Ethical Standards
This is not something that these Organizations do look for but is something they need to ensure at all costs. This means that corporate-funded Digital learning solutions should be devoid of bias and not be used to advance the company's or shareholders' interests. In addition, all Students, regardless of background or circumstance, should benefit from the programs.
Educational NGOs
Educational non-governmental organizations play a vital role in influencing India's education sector. By implementing localized initiatives and addressing particular educational requirements, they contribute to the system's enhancement. Their advocacy for policy reforms results in favorable changes that make education more accessible and efficient. In addition to focusing on disadvantaged communities, these NGOs establish schools in remote areas, award scholarships, and utilize technology to expand their reach and improve educational opportunities.
As major stakeholders, they have become indispensable partners in India's pursuit of a robust and inclusive education system, substantially contributing to the nation's future development. There are certain expectations they have from every educational Initiative they step into as a part or driver of. Those include-
Increased access
Educational non-governmental organizations in India are driven by a strong commitment to enhancing access to education for marginalized communities. India faces significant obstacles in providing equal educational opportunities to all of its citizens due to its extensive and diverse population.
Educational non-governmental organizations play a vital role in addressing these disparities and ensuring that every child, regardless of socioeconomic origin, has access to quality education. Through their targeted initiatives, such as establishing schools in remote regions, providing scholarships to economically disadvantaged students, and promoting female education, and by majorly investing in digital learning solutions these NGOs seek to eliminate obstacles to education access.
Improved Quality of Education
When we talk about the quality of education, Educational non-governmental organizations (NGOs) anticipate a substantial improvement in the quality of education as a result of their educational initiatives. Through their diverse educational initiatives, these non-governmental organizations endeavor to bridge the gaps in access to education, enhance teaching methodologies, and empower both students and educators equally. By advocating for equitable education and leveraging innovative technologies that come with digital learning solutions, these NGOs ultimately expect their hard work to pay back as improved quality of Education.
Reduced Dropouts
One of the major focuses of these educational non-government organizations is to significantly reduce the dropout rates of students from schools. They collaborate and build personal connections in marginalized communities and make consistent efforts to make these underserved people understand the importance of communication and why should these people not let dangers like child labor, exploitation, and destitution prevent them from pursuing an education. These organizations aim to create a secure and nurturing environment for children by fostering a sense of belonging and autonomy.
Therefore, they expect the digital learning solutions they invest in to create the pull and interest that can reduce the dropout rates and if possible bring back the ones who have already dropped out.
Enhanced Learning Outcomes
Indian educational NGOs are dedicated to improving educational results through cutting-edge programs that can eradicate the learning gaps of students and promote inclusive and interesting learning for all. Especially post-covid there has been a significant rise in the learning gaps of the students.
These Educational NOGs are dedicated to giving their best to eradicate these learning gaps from the roots. That is why they expect the digital learning solutions they invest in to bring in these enhanced learning outcomes and eradicate the learning gaps of the students.
Accurate Monitoring and Evaluation
These NGOs acknowledge that monitoring and evaluation are indispensable for quantifying the impact of their programs and ensuring optimal outcomes. By employing robust data collection methods, such as surveys, evaluations, and qualitative feedback, these organizations obtain valuable insights into the effectiveness of their interventions. The data-driven approach aids in identifying areas for development, refining strategies, and allocating resources more efficiently.
Keeping that in mind, these NGOs will surely expect the digital learning solutions they invest their funds in to bring mechanisms and features that can accurately monitor and eventually evaluate the learning outcomes the students may be able to achieve using these solutions.
The Indian Government Itself
A completely obvious stakeholder in education in India is the government of India itself. The Indian government plays a crucial role as a significant stakeholder in the country's educational system. To ensure that everyone has access to a high-quality education, the government assumes a variety of responsibilities in shaping the educational landscape. It formulates policies, allots budgets, and establishes regulatory frameworks to improve education's overall efficacy.
Government initiatives such as Samagra Shiksha Abhiyan, Mid-Day Meal Scheme, Rashtriya Madhyamik Shiksha Abhiyan, and PM SHRI Yojana illustrate efforts to enhance school infrastructure and increase enrollment. In addition, the Ministry of Education and the University Grants Commission (UGC) supervise higher education institutions to improve academic standards and research capacities.
By actively engaging in education, the Indian government seeks to cultivate an educated and competent populace, thereby contributing to the nation's socioeconomic development. To achieve this efficiently and effectively, the government of India is always on the hunt for developments and innovative approaches to education. It is evident in the way the government for the last few years has invested so much in Digital Education and various Digital Learning Solutions.
But there are a set of expectations the government carries too when it comes to investing in digital education. These expectations involve-
Teacher Training and Capacity Building
The Indian government's focus on digital education reflects in its strategic investments that focus on leveraging digital learning solutions and integrating them to address key areas such as Teacher Training and Capacity Building. The government's vision is to transform how educators are trained and empowered to create a more agile and effective learning ecosystem.
This mindset reflects a long-term view, where not only do digital tools improve student learning, but also enhance the skills and competencies of teachers, thereby contributing to the overall development of the education system in India.
Data Security and Privacy
As the Indian government is devoting its resources to digital education initiatives, it has a clear expectation that the digital learning solutions adopted by the government will adhere to high standards of data privacy and security. The government is aware of the transformative potential of technology in the education sector. Therefore, it has the determination to ensure that students can access digital resources without worrying about the security of their data.
By establishing strict requirements for data privacy and data protection, the government intends to create a secure and reliable digital learning environment that will instill trust and confidence in students, educators, and parents.
Self-paced learning
When the Indian government invests in digital education, it hopes to create a space where students can learn at their own pace, without peer pressure or time pressure. When the government invests in digital learning solutions, it hopes that these solutions will create an environment where students can learn in a way that is non-judgemental and self-paced. The government understands that students have different learning needs and different learning speeds, so it aims to create a learning ecosystem that is inclusive and empowering.
By adopting technology, the government hopes to create a world where students can explore learning content at their own pace. Not only does this approach cater to different learning styles, but it also creates a sense of independence and self-confidence among students, setting the stage for a more equal and effective education in the digital age.
Easy Updates and Curriculum Customization
When the Indian government invests in digital education, it expects digital learning solutions to include features like Easy updates and Curriculum customization. Given the ever-changing nature of education and technologies, the government wants to make sure learning content is easy to update to include the latest information and innovations.
Curriculum customization allows educators to adapt content to meet diverse learning needs, creating an inclusive and flexible learning environment. By focusing on these features in digital learning solutions the government aims to build a modern and adaptive educational system that better meets the changing needs of India's diverse student population.
The way forward
Now that we know what expectations the educational stakeholders have from digital learning solutions, It is time to discuss what digital learning solutions can be a good fit for all these expectations.
Yes, we are talking about iPrep by iDream Education which is a Learning Platform that runs both offline & online, is bilingual, and works on all major hardware devices and operating systems. iPrep delivers curriculum-aligned digital learning for classes 1st to 12th all subjects in English, Hindi, and other language mediums for universal reach and learning use as:
iPrep Digital Class for Smart Classrooms,
iPrep Digital Library- for Tablet-based smart ICT Labs
iiPrep PAL for Personalized Adaptive Learning
iPrep Tablets for Preloaded Learning Devices with Monitoring
iPrep App for a one-stop learning platform across Android, iOS, and Web
How do these solutions come out to be fit for the expectations of educational stakeholders? Let's figure that out one by one.
How Digital Learning Solutions with iPrep Meet the Needs and Expectations of All Educational Stakeholders
Let's start with understanding how iPrep meets the needs of-
Educationists
Eliminate the digital divide: iPrep's digital learning solutions work across devices, operating systems, and connectivity levels. They are extremely easy to use, come with offline access, and have thorough training on best practices for the usage of the solutions. That is how iPrep plays its part in bridging the digital divide between urban and rural areas.
Inclusive: iPrep's solutions use universal design principles to make them accessible for all including students with disabilities, as well as for students from diverse cultural backgrounds; the platform offers multilingual support and is suitable for different learning abilities, and levels.
Further, the digital learning content present on the iPrep Platform is highly engaging and significantly diverse. With animated video lessons, practice with instant feedback, syllabus books, notes, a digital books library, interactive lessons, simulations, and even audiobooks, iPrep's platform is inclusive of all types of learning styles and habits.
Facilitate teacher shortages and training: iPrep's platform offers resources that can supplement teaching abilities and classroom management. The blended learning approaches allow educators to customize learning experiences to meet the needs of their students.
Socially Responsible Corporates (CSR)
Positive Social Impact: iPrep's solutions intend to enhance learning outcomes, digital literacy, and engagement, in line with the CSR objective of societal improvement and skill development.
Long-Term and Sustainable Benefits: iPrep's digital learning solutions are designed to provide students with long-term and sustainable benefits. By providing exhaustive and well-structured educational content, these solutions aid in the development of intellectual and cognitive skills that endure beyond the student's educational career.
Transparency and Accountability: iPrep ensures transparency by offering real-time progress monitoring, outcome mapping, and continuous evaluation mechanisms, allowing corporations to measure the impact of CSR investments.
Measurability: The data-driven approach of the learning management system present in iPrep enables corporations to measure the efficacy of their investments via quantifiable metrics such as enhanced learning outcomes, increased digital literacy rates, and engagement levels.
Conformity with Ethical Standards: iPrep maintains a commitment to the creation of impartial content and ethical business practices, ensuring that digital learning solutions are free of bias and serve the best interests of all students.
The Educational NGOs
Increased Access: The digital learning solutions of iPrep are accessible to students from a variety of demographics and geographic locations. By providing offline content preloaded on easy-to-use devices, these solutions help bridge educational gaps and provide equitable access to quality education even in the remotest of locations where internet connectivity is a luxury. All of that is following the mission of educational NGOs to increase access for underserved communities.
Enhanced Education Quality: iPrep's Digital Learning solutions seek to improve teaching methods and foster inclusive learning. By providing engaging and thorough content, the solutions contribute to enhanced teaching and learning experiences as a supplement, thereby addressing the quality disparities that educational non-profits seek to close.
Reduced attrition Rates: iPrep's digital learning solutions are designed to engage and motivate students, thereby reducing attrition rates. Personalized and interactive learning experiences encourage students to continue their education, which aligns with the objectives of non-governmental organizations (NGOs) to create a nurturing environment that discourages dropouts.
Enhanced Learning Outcomes: iPrep's digital learning solutions prioritize the elimination of learning gaps and the promotion of inclusive learning environments. By providing customized content and learning paths, these solutions assist students in achieving improved learning outcomes, which aligns with the goals of educational non-profits.
The iPrep platform comes with Multi-Grade Access, Multi-Category Access, and Curriculum-aligned content. All that together ensures enhanced teaching and learning outcomes both at schools and at home.
Monitoring and Evaluation Accuracy: iPrep's solutions provide mechanisms for monitoring and evaluating student progress accurately. This data-driven approach enables educational non-governmental organizations to quantify the impact of their programs and make data-driven decisions to enhance their interventions, in line with their emphasis on effective measurement.
The Indian Government Itself
Teacher training and capacity building: iPrep's digital learning solutions come with teacher training and capacity building as a part of the implementation process of our solutions. These solutions will aid the government's goal of reforming teacher training to create a more effective learning ecosystem. These give teachers the tools they need to properly integrate technology into their teaching methods.
Data Security and Privacy When it comes to protecting user information, iPrep's products are up to snuff. These solutions are in line with regulatory standards for safe use in classrooms since they employ stringent data protection methods to safeguard students' private information as well as that of teachers, schools, and others involved.
Learning at Your Own Pace: iPrep's products allow students to study at their own pace, making them suitable for students with a wide range of learning styles. This is in line with the government's objective of making schools more accessible and giving students more control over their education.
Accurate Monitoring and Evaluation: The solutions provided by iPrep are designed to make it simple to implement updates and tailor the curriculum to individual needs. This helps the government meet its goal of creating a dynamic and contemporary educational system by ensuring that educational materials remain current and flexible.
Digital learning is the present and the future backbone of Education. Its benefits, relevance, and need cannot be stated enough. Whether there are School Education Planners in Private Schools space, or it is Social/Development Sector Planners, or CSR Panners Technology, Government Education Planners, Hardware, and Ed Tech companies all must align to the fast-changing and ever-evolving digital education land space to jointly bring learning and growth for all learners.
---