Impact of Tablet-Based Digital Library on Girls' Education in Government School of Shimla?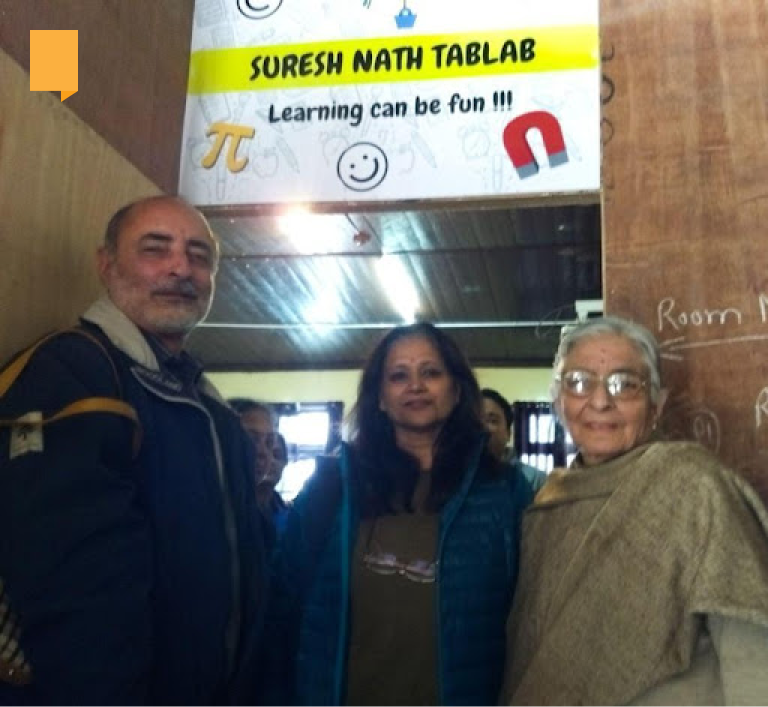 Supported by Prof. Dhruv Nath, formerly a professor at MDI Gurgaon and now an angel investor and an author, iDream Education had set up a TABLAB Tablet-based Smart ICT Lab in Govt. Girls Sr. Sec. School, Lakkar Bazar in Shimla. The lab was set up in memory of the father of Prof. Dhruv Nath, Shri Suresh Nath, and therefore right from the beginning; Prof Nath was personally involved in the project planning and execution. TabLab is a digital library with 20 learning tablets given preloaded with HP Board-aligned digital content in Hindi medium and was designed to be used by 100 girls on a rotational basis.
Objective of implementing digital library
To provide hardware and digital content to the girls to enable hassle-free regular use of digital. We hope to offer uninterrupted learning resources to these girls and enable them to learn, grow and break the conventional norms of society.
How do tablets in digital library resolve the challenges to girls' education in Govt. Girls Sr. Sec. School, Lakkar Bazar in Shimla?
Govt. Girls Sr. Sec. School, Lakkar Bazar in Shimla, had few learning resources like monitors and smart panels but were not in working condition. Therefore, girls used to access YouTube on the smartphones of teachers and parents for practical learning but had difficulty in this too because of poor internet connectivity and inability to find relevant information.
The implementation of a digital library reduced their dependence on the internet to see digital content, resulting in increased engagement of girls in relevant learning material. The girls showed tremendous curiosity to learn, and it was thrilling for our team members to see such passion of girls towards learning, growing, and exploring career choices that would alter the course of their lives.
Noticeable changes in just two months of setup
The girls explored a lot of content on the iPrep tablets, including multimedia videos, reading books, and building projects.
In that year, the result of the school improved from 67 % to 100 % as students continued to improve their conceptual clarity across topics and subjects.
Govt. Girls School, Lakkar Bazar was awarded the number 1 school in Shimla in the same year.
It is remarkable to see the kind of changes that have come in the school since the setup of the tablet based digital library. We reviewed the reasons and realised that the fundamental difference we were able to bring with the tablet based learning was regular usage of the digital content on iPrep tablets. But how did we do that?
We mention key reasons below: these can help CSR, NGOs, and State Government plan a Smart Class set up in a government school.
Very easy to use hardware
The digital library has a charging rack that can store and charge the learning tablets. Handling the devices became very easy for teachers and students, resulting in the regular use of learning tablets.
Availability of offline content
All digital content is given preloaded on the SD Cards, resulting in reduced dependence on the internet.
Reduced dependence on electricity
In the digital library, tablets get charged in 3-4 hours anytime during the day. Therefore, learning never stops during school hours as these tablets have a run time of 6 to 7 hours, if once charged for 3-4 hours.
Hindi medium UI & navigation
iPrep App enables digital content in Hindi, English, and other local languages to empower students to learn in their preferred language. For example, in Govt. Girls School, we provided content in Hindi. So when they chose Hindi, all buttons & navigation instructions were available in the same language, making it very comfortable for them to start operating the platform, search content, and learn, leading to natural adoption with minimal training.
Availability of curriculum-aligned content
The content given in Govt. Girls School, Shimla, is aligned with the HP State Board curriculum, making it easy for teachers to match with lesson plans and switch between animated educational videos and textbooks.
Enjoyable life skills and value education content
Apart from curriculum-aligned academic content, the girls also have access to enjoyable animated life skill videos, activity videos, and digital books like stories, poems, picture books, inspirational biographies, and so much more for their holistic growth.
The key is to truly understand the natural psychology of teachers and students and then have a solution that complements their natural behavior. We need to empower our stakeholders, and once we do that, we can be on a journey of transformation, something we have experienced in this school. We hope to take our learning from this experience and continue our work across the country.
If in case you would like to know more about our digital learning solutions, visit our website, www.idreameducation.org or write to us at share@idreameducation.org.
idreameducation.org
Tablet/Notebook based Smart ICT Lab for Personalized Learning in Schools
iPrep Digital Library is an easy to use and maintain Smart ICT Lab on Tablets/Notebooks with a charging rack, preloaded Digital Content & Integrated Reporting for personalized learning in Schools.

---