iDream Education at Chintan Shivir on Digital Learning by MHRD
When Ministry of Human Resource and Development recently announced about organizing a two-day Chintan Shivir to discuss and create a roadmap for Digital Learning in government schools, we welcomed the news with a lot of excitement. iDream Education got invited to be a part of the same. We were asked to present our thoughts on Digital Learning for students at our rural and government schools.
We as a team have been diligently working and researching on the most relevant solutions for student centric digital learning via mobile app and tabs and have on ground observed the transformative impact it can have on student learning. It was therefore but natural for us to be excited at this wonderful opportunity of sharing and planning hand-in-hand with the government agencies involved in government school education.
The Chintan Shivir took place at AICTE office in New Delhi on 6 and 7 November 2017. The Honorable Minister Shri Prakash Javadekar did inaugurate the Shivir. Minster of State for Human Resource Development and Water Resources Dr. Satyapal Singh and Shri Anil Swarup, Secretary MHRD were also present.
Speaking at the inauguration, honorable minister envisaged "Operation Digital Board" to be implemented in all schools in the country in the coming years.
The workshop had 6 themes.
Digital Learning for Teachers
Life skill education
Experiential learning
Physical education
Value education
iDream Education was a part of the group of Digital Learning App for Students. Along with us there were close to 20 more organisations. Those were ranging from NGOs, content development, assessment and platform development and hardware companies.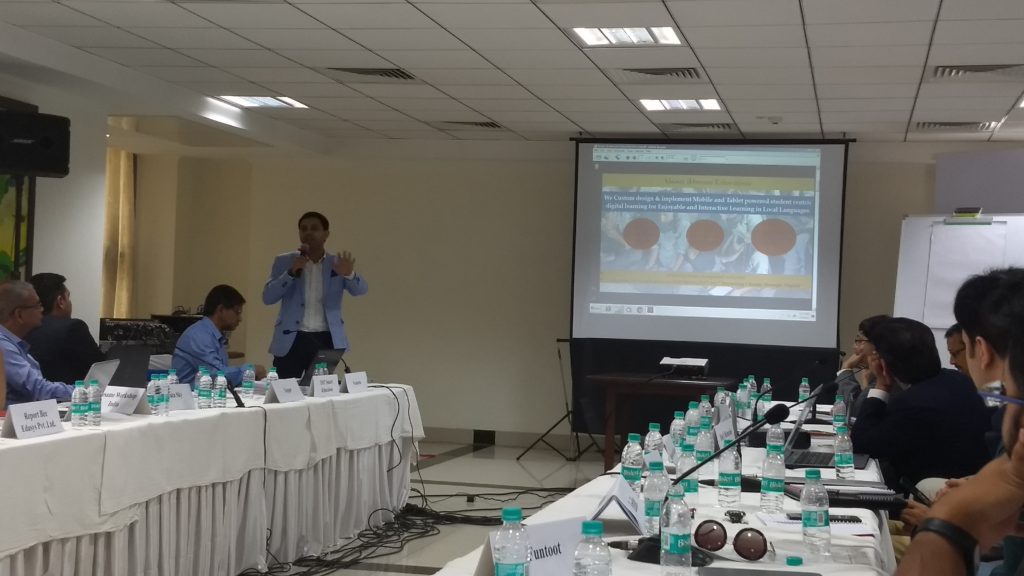 India has 15 Lakhs schools, 25 lakh teachers and close to 26 crore students in schools. Any solution that reaches the stage of implementation should be able to achieve such scale.
Moreover, each child is unique and comes from diverse socio-economic, cultural and linguistic background with very varied learning styles.
Our existing education set can't appreciate this fundamental fact. Even the smart classroom set up with a computer and a projector has failed to cater to every child in a unique way.
From content point of view, multimedia animations have been the only engaging content that government schools did try till date. But, does that cover the entire learning spectrum of the child? Multimedia does have a role to play in a child's learning cycle but it is not holistic. There are multiple content categories such as apps, digital books, AR & VR, which can make learning more fun and engaging for the child. We need to be able to bring them all together and offer it to students under one common platform.
This was infact one of the key recommendations made to MHRD to develop an integrated web and app based learning platform. When it comes to transforming our government schools, it is critical to deeply understand the psychology of all stakeholders involved and any solution needs to be oriente accordingly. Such an integrated platform therefore should have the capability to integrate the best of content available across categories in regional language and be able to work both offline and online.
As we mentioned earlier about every child being unique, we also need to bring in an element of adaptability in our solution design. Further, the technology or the platform should be able to man-oeuvre itself according to the learning level of each child. It should further engage him/her in a fun yet non-judgemental environment. This we believe can lead to proactive learning by the child bringing in the real transformation we all so desire.
Apart from the platform, another key aspect of solution design would be to understand in what forms of hardware should we invest. We have seen computer based smart classes not being able to deliver the best value. There are strong reasons to believe that smart classes will soon give way to one on one learning.
Android-based touch devices are rapidly penetrating the deepest corners of our country. Mr. Amitabh Kant, CEO of Niti Aayog had said that by 2030, every Indian would have a smart phone. The best part about these low cost android devices is that the society is itself training themselves to use these and they are happy doing the same. Our solution design therefore should focus on delivering the best of content on mobile and tablets. It should further leverage the familiarity of even children in rural areas with these touch-based devices.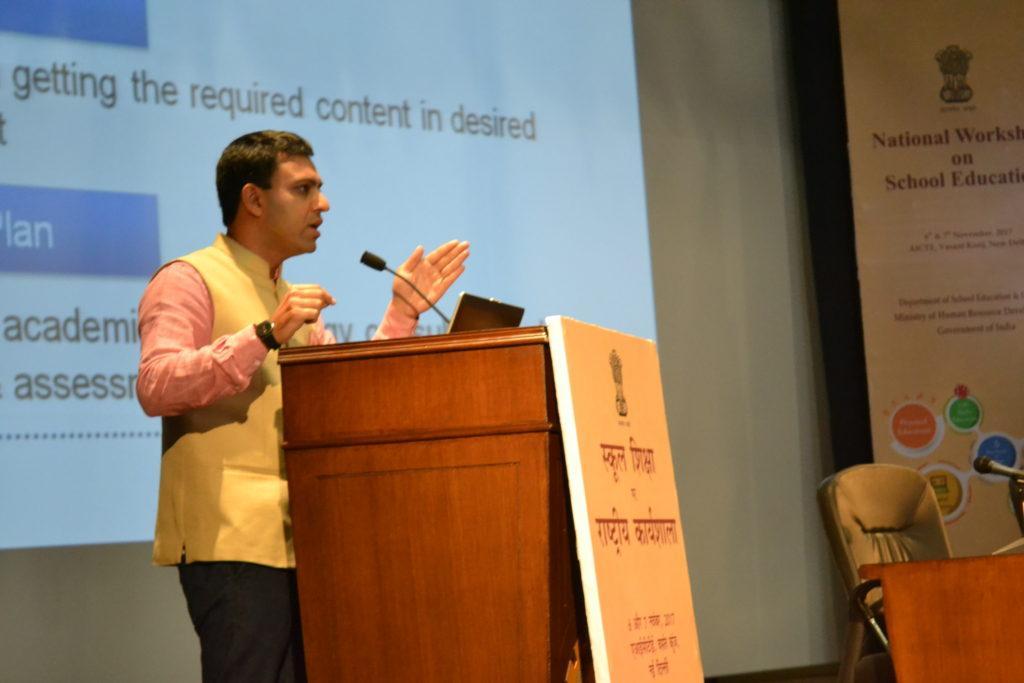 You can listen to Mr. Puneet talking about the rationale behind this recommendation here:
It was also strongly recommended that all these recommendations should be implemented in a PPP model by creating a consortium of government and best of private solution providers. It was strongly felt that it is only then would we be able to avoid reinventing the wheel and also utilize the best of talent available in our country.
In his closing remarks, Shri Prakash Javadekar assured everyone present that they would further work on the recommendations made and act on the same. You can listen to a part his speech here:
We have also captured very briefly about the entire Chintan Shivir in a short video here:
This is a great start by our government. We at iDream Education are committed to work with government agencies and our fellow organizations and NGOs working in digital learning for government schools, towards our common vision of an illiteracy free India by 2022.
We strongly believe that if the government and the focused govt school education practitioners get together in a PPP mode and work with on this mission, over the next five years we can facilitate life shaping learning via the digital medium to the last mile learner in every state of our country.
If you are also passionate about transforming the school education in our country and would like to share your thoughts, please do leave your comments below. You too can be a part of this amazing journey, which has just started.
---
Download Now – Learning App
Watch Now – Best learning videos for 1st to 12th class
Follow Our Social Media Channel
Facebook – https://www.facebook.com/idreameducation
Instagram – https://www.instagram.com/idreameducation/
---