iPrep Digital Class for Smart Classrooms
Transforming the way teachers teach and students learn in the classroom with iPrep Digital Class, an ultimate smart classroom solution for 21st-century schools and teachers.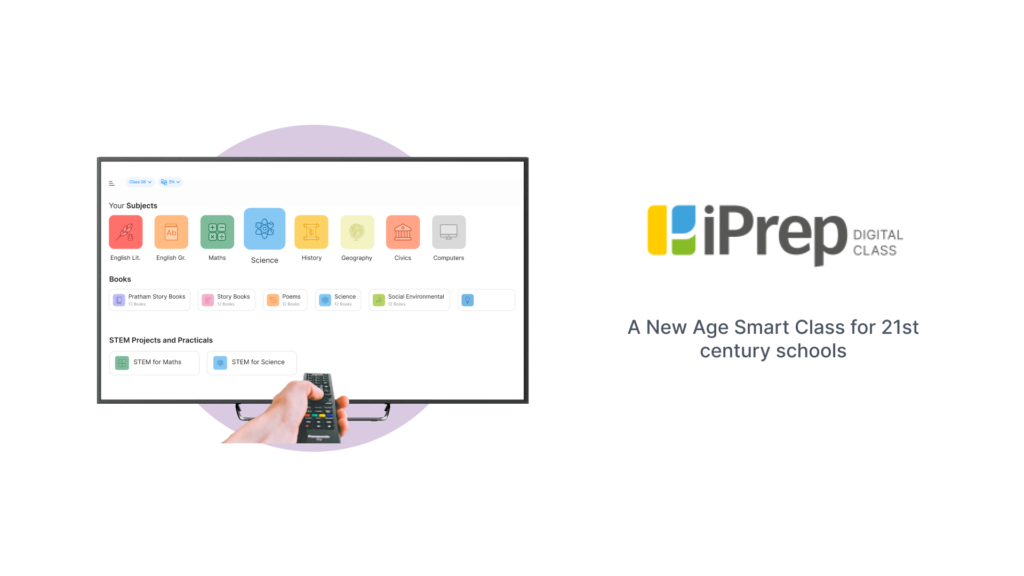 iPrep Digital Class, the ultimate smart classroom solution
iPrep Digital Class is an easy-to-use, new-age Smart Classroom solution to empower 21st-century schools and teachers with the best of Digital Content & Resources. It greatly simplifies Smart Class setup for schools with efficient hardware options, digital content on any OS, and integrated offline reporting with auto sync to cloud-based dashboards.

What makes iPrep Digital Class unique?
Device and Platform Compatibility:
The core of the smart class solution is its device compatibility, making it easy for schools to integrate into their existing hardware setup or on all major smart class hardware, including Android-based smart TVs, interactive flat panels, projectors, and interactive whiteboards.
Not only does iPrep Digital Class offer device compatibility, but it also offers platform compatibility, with the ability to be installed on open-source Android, Windows, and Linux operating systems. This makes it easy for the government, NGOs CSR, and other partners to choose the platform that best suits their needs and budget.
Comprehensive and rich curriculum-aligned digital content:
iPrep Digital Class is given with pre-installed iPrep App and Pendrive plugged with offline digital content aligned to NCERT/State Boards for all subjects, for classes 1st to 12th, including animated video lessons, practice with instant feedback, practical lab videos, digital syllabus books, notes, and assessments with exam preparation in English, Hindi, and other languages.
Bilingual User Interface:
The learning platform is bilingual and easy to navigate, allowing teachers and students to switch classes, subjects, and topics for playful learning and cover the historical learning gap.
iPrep Digital Class is integrated with a cloud-based reporting dashboard to ensure data-driven learning outcomes. All usage reports are saved offline and automatically synced to the dashboard, providing real-time student performance and progress insights.
Thus, to empower teachers and students to learn unlimited in the classroom, we have implemented over 2500 iPrep Digital Classes in more than 1300 schools where more than 1300 teachers and lakhs of students have been using it to teach and learn.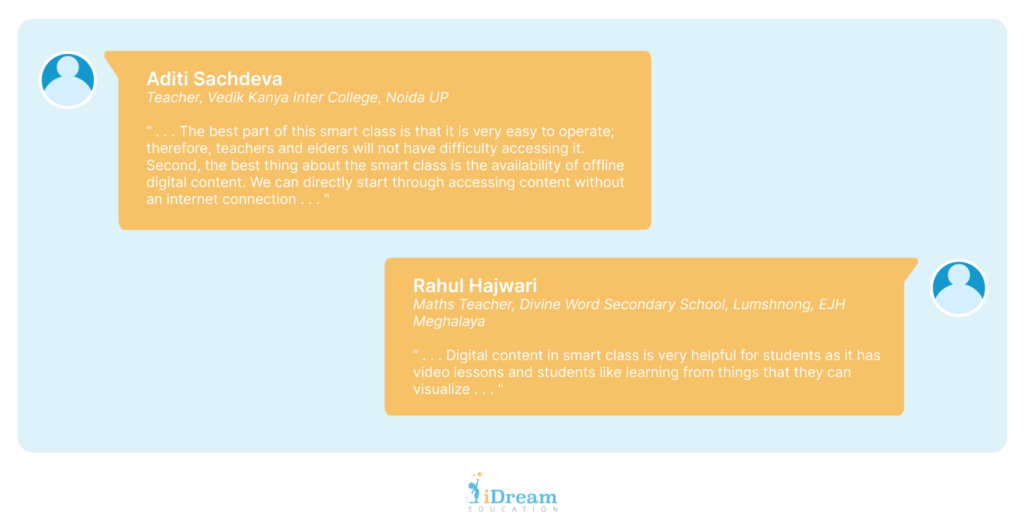 ---
At iDream Education, we work with a vision to facilitate universal access to learning and growth. Our solutions are designed to break the learning barriers and empower students to Learn Unlimited.
iPrep, by iDream Education, is a Learning Platform that runs both offline & online is bilingual and works on all major hardware devices and operating systems. iPrep delivers curriculum-aligned digital learning for classes 1st to 12th, all subjects in English, Hindi, and other language mediums for universal reach and learning.
We have digitized more than 16000 classrooms through Smart Classroom licenses and delivered content, PAL, and Learning platform on tablets to more than 5.5 lakh students in 11 languages across 17 states & various Govt/CSR projects in India.