How Lack of Classrooms is impacting Learning in Government Schools
Imagine you are a teacher in a government school.
You enter a classroom where due to lack of space over 60 students are cramped into one room. Let's add another layer of complexity to the situation – the group comprises students from three different grades.
Now, you have 45 minutes and your job is to teach all the students. You have to engage with them in the best way possible and ensure that all of them learn.
It will be tough. In fact, it will be very tough to do your job well in this scenario. Unfortunately, such a situation exists in a large number of government schools across the country. Needless to say, our students are the ones suffering the most with the teachers feeling immense pressure all day long.
Let's look at some facts to understand the situation better.
Facts about the Lack of classrooms in the government school
The District Information for System in Education (DISE) in its latest report on Karnataka states, stated the following.
10,592 schools in Karnataka have three classrooms
14,064 have two classrooms,
2,083 have only one classroom
164 schools have no classrooms at all
The report further adds that 30% to 40% of even the available classrooms are in need of serious repair work. The National University of Educational Planning and Administration (NEUPA), Delhi, established by the HRD ministry, collects all the DISE data.
As per another survey conducted by CRY across 71 districts in 13 states and metro cities like Delhi, Mumbai, and Kolkatta, it was observed the following
39% of the primary schools and about
52% of the upper primary schools are without classrooms
Aam Aadmi Party, claims to have made significant improvements in Delhi's government schools. But, even they faced the tough challenge of providing classrooms to students in their schools. Expressing concern over the lack of classrooms in government schools, Delhi Deputy Chief Minister Manish Sisodia has been quoted as saying that it can only be imagined what students must be learning when there are over 150 of them in a room. His exact statement "If there are over 150 children in one classroom, even if God decides to teach, he can't,". Now that is a true reflection of the scenario across the country.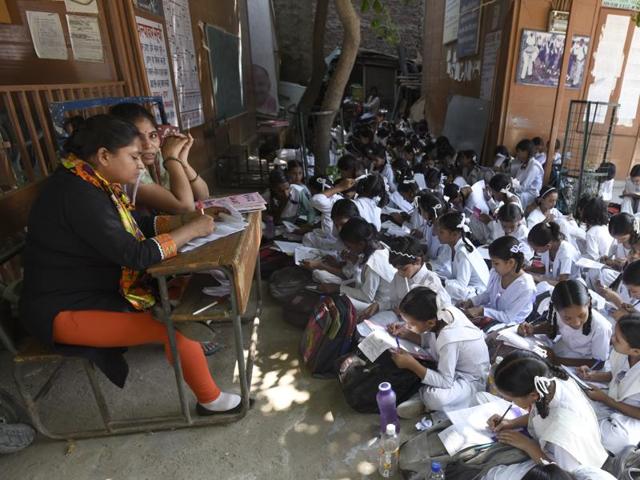 In many cases, due to the lack of classrooms, students have to sit in the corridors. Either that or under a tree in the playground irrespective of the outside weather conditions. All that just so that they can learn.
Such lack of classrooms in government schools is an alarming situation considering that the average class size—or students per classroom—in India across the levels of schooling is 42. States such as Bihar and Jharkhand fare worse with an average of 78 and 67 students per classroom, respectively. What this means is that the schools are forced to make students from different grades sit together in one room. It is only wishful thinking to assume that any teacher will be able to equally engage all the students at once. While the teacher feels the burden to even ensure basic discipline in the class, it is the students who suffer in the long run with their learning levels going from bad to worse.
Has someone made an effort to resolve this situation?
Even Smart Classes are unable to resolve the crisis
Although we are yet to see significant infrastructural developments, however over the last decade, a lot of investment has been made by CSR and state governments in setting up smart classes in government schools. The premise is that the animated multimedia videos will be able to engage students better which will increase their interest in learning eventually leading to improvement in learning levels.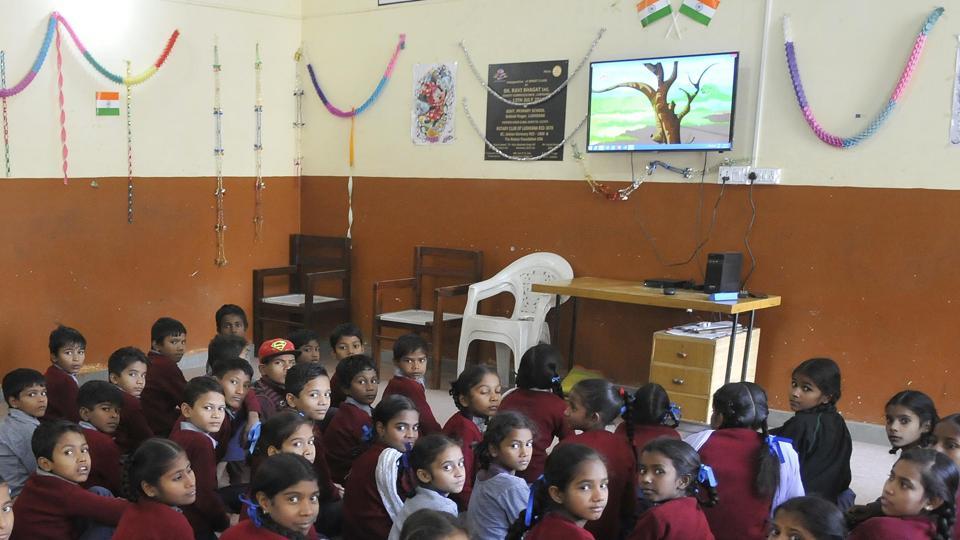 Why smart classes are failing to engage students
We agree that smart classes do have some role to play in a student's learning cycle. But, it is definitely not enough. We did a small video sometime back to showcase key challenges in smart classes and why they have failed to deliver the intended impact. You can watch it here:
https://youtu.be/jCtiaQgKTaw%20
Considering the problem we are discussing, we see two major issues why the smart class is not able to engage all students well:
A smart class-based setup can only show one type of content – multimedia videos. There are over 60 students sitting and watching these videos. Now, every child being unique will have a different preferred way of receiving information. Even a well-animated video may also not be able to engage all children equally. Unfortunately, smart classes work on assumptions. It assumes that all students in the classroom will enjoy watching the video equally. Something which rarely happens
Secondly, due to the lack of classrooms, one more major issue comes up. We how students from different grades are made to sit together in one classroom. In a smart class, you can play a video on a topic relevant only to one grade at a time. Students from other grades feel left out and eventually lose the interest
While students continue to suffer, a teacher also feels helpless. They very soon realize that smart classes don't help them in any way, instead only increase their burden of switching them ON/OFF daily and maintaining them. As a result, a large number of government schools do not use smart classes on a regular basis.
Do we have a way out?
The TABLAB solution from iDream Education name iPrep Digital Library can play a transformational role in solving this crisis. Our iPrep Digital Library- TABLAB is a personalised learning tool. It delivers multiple categories of learning content covering the entire learning spectrum of a child. All that is in the local language and aligned with the state board. The entire content is delivered through a platform. This platform does not allow the child to misuse the tablets in any way. A child can choose to learn whatever they wish to learn. They can do it through any mechanism such as videos, practice tests, books, or notes. All that at a pace, which suits them best.
If we go back to our scenario of cramped classrooms, while the teacher is teaching students from one grade, he/she can engage the students from another grade through iPrep Digital Library- TABLAB. Without any disturbance, all groups of students will continue to learn in the most optimised learning environment ever. After the teacher finishes with one group, he/she can swap the tablets. They can continue to teach the second group while the earlier one engages through tablets.
And because students even in rural areas are already familiar with touch-based devices, they easily take up learning on tablets. Local language multimedia and play way app-based content ensures students enjoy learning which increases engagement leading to proactive learning.
Read how Nikhil self-taught himself.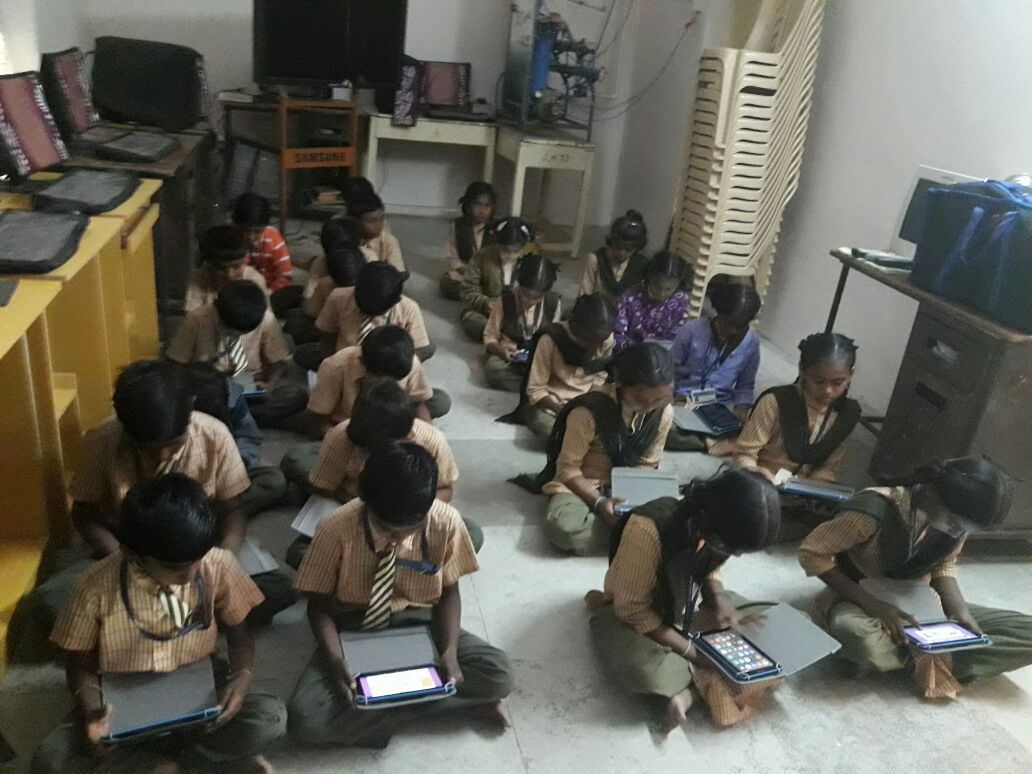 At iDream Education, we strongly believe that student-centric digital literacy can truly transform the rural education system in our country. What are your thoughts?
---
Download Now – Learning App
Watch Now – Best learning videos for 1st to 12th class
Follow Our Social Media Channel
Facebook – https://www.facebook.com/idreameducation
Instagram – https://www.instagram.com/idreameducation/
---