North India Winner under "Impacting Change Through Digital" by Google India
Google SMB Heroes 2017
iDream Education awarded North India Winner by Google India under
"Impacting Change through Digital" Category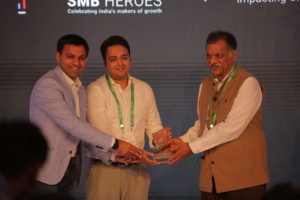 At iDream Education, our focus is to open up learning and skill-based training in a fun and engaging manner to every child in rural and semi-urban parts of our country. Also, we are doing this by facilitating local language interactive content on easy-to-use touch-based devices – mobile and tablets. Further, the ground-level experience of our team of over 7 years has helped us to bring innovation and strong process orientation in finer aspects of solution design, delivery, and support. This has further enabled us to build products, which deeply understand the psychology of all stakeholders in the rural education ecosystem.
 Our TABLAB solution- iPrep Digital Library is our flagship product for government and rural schools where we set up tablets preloaded with local language and state board-aligned multimedia and play way app-based content. Further, with TABLAB, students in government schools have access to engaging content in their local language leading to proactive learning. In addition, our delivery and support process helps build a hassle-free technology infrastructure in schools. This has further brought in two major changes – first, the technology is being regularly used in the schools, and second, students are having fun and there is higher engagement with the learning process.
For us, the journey has just started but we are excited to witness the changes in the schools and regions where we are working. We know that there is a long road ahead of us. It is therefore a strong boost to our entire team. A company like Google, which is pioneering digital transformation in India recognizes your efforts.
The Event
In May 2017, an event was held in the beautiful city of Chandigarh. There, iDream Education was declared North India winner under the category "Impacting Change Through Digital". Mr. Subodh C Aggarwal, Advisor FICCI, and Ms. Shalini Girish, Director (Google Marketing Solutions) commended our efforts in building student-centric digital literacy through tablets for government schools.
Google SMB Heroes is a nationwide program designed to recognize and celebrate SMBs that have embraced digital successfully. To know more about the program, please visit here:
For media coverage of the event, please check the links below:
https://goo.gl/JBF6uI
At last, At iDream Education, we are thankful to Google India. We will further continue to strive for excellence toward making learning fun and engaging for our underserved students.
Want to reach out to us to know more or share anything? Then please write to us at [email protected] .
---
Download Now – Learning App
Watch Now – Best learning videos for 1st to 12th class
Also, follow Our Social Media Channel
Facebook – https://www.facebook.com/idreameducation
Instagram – https://www.instagram.com/idreameducation/
---
At iDream Education, we work with a vision to facilitate universal access to learning and growth. Our solutions are designed to break the learning barriers and empower students to Learn Unlimited.
iPrep, by iDream Education, is a Learning Platform that runs both offline & online is bilingual and works on all major hardware devices and operating systems. iPrep delivers curriculum-aligned digital learning for classes 1st to 12th, all subjects in English, Hindi, and other language mediums for universal reach and learning.
We have digitized more than 16000 classrooms through Smart Classroom licenses and delivered content, PAL, and Learning platform on tablets to more than 5.5 lakh students in 11 languages across 17 states & various Govt/CSR projects in India.