What Does Personalised Learning Mean for Students?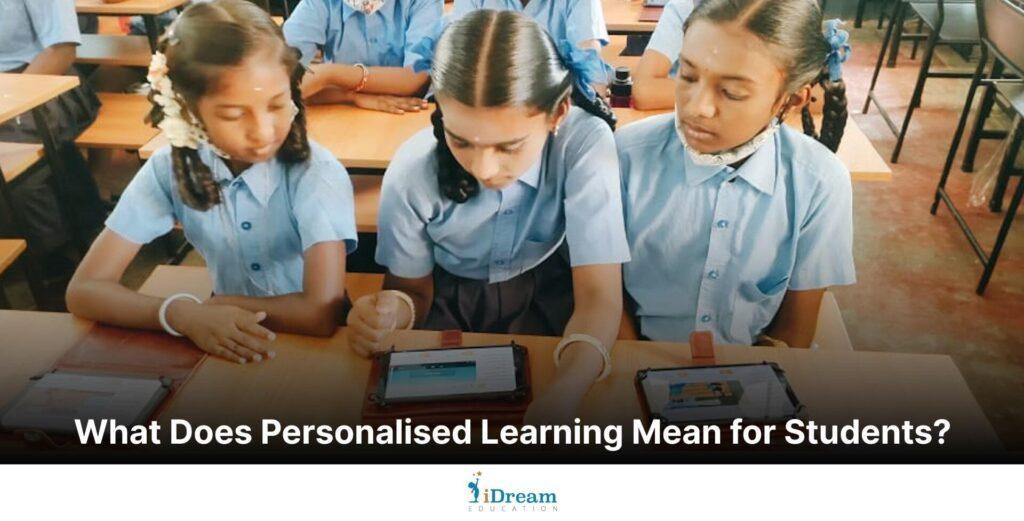 Education in today's world is considered a democratic right of every child. Enabling quality education is the 17th global goal in the 2030 Agenda for Sustainable Development. So, how far are we to achieve this? And what are we doing to enable a personalised learning experience for last-mile learners?
Personalised Learning: A way to Quality Education
Personalised learning puts children at the heart of the learning by empowering them to learn at their own pace. It enables a non-judgemental familiar environment to learn based on their learning abilities and gaps.
Personalised learning harness students' different learning interests, resulting in increased engagement. With increased engagement, students tend to spend more time learning. And at the same time, if given access to enjoyable learning content, they don't just memorise concepts but think, analyse and absorb, resulting in improved understanding and results.
Using Technology to establish a personalised learning environment
Technology has been playing a key role in addressing the diverse learning needs of students. Most students use digital tools to search and process information that demonstrates an understanding of concepts in their preferred way.
Online practice tests, mock tests, and sample papers are examples of how technology has started enabling a personalised non-judgemental learning environment for students. Another example of a personalised learning model is digital content available on youtube and other similar platforms.  It allows students to learn enjoyably where they play content repeatedly until they are confident. Technology in education has empowered students to learn from diverse content but is it really helping them cope with their learning gap?
No, because some students struggle to find the content in one place, leading to distraction. Students of remote regions of India still struggle with poor internet connectivity, inability to derive their interests, unable to find content in their preferred language, and so much more.
So, How do we add value to personalised learning using technology?
For students who are at risk of dropping out of school
Every year, a large number of students across India drop out of school, resulting in a decrease in the literacy rate. Some common causes determined by the National statistical survey are: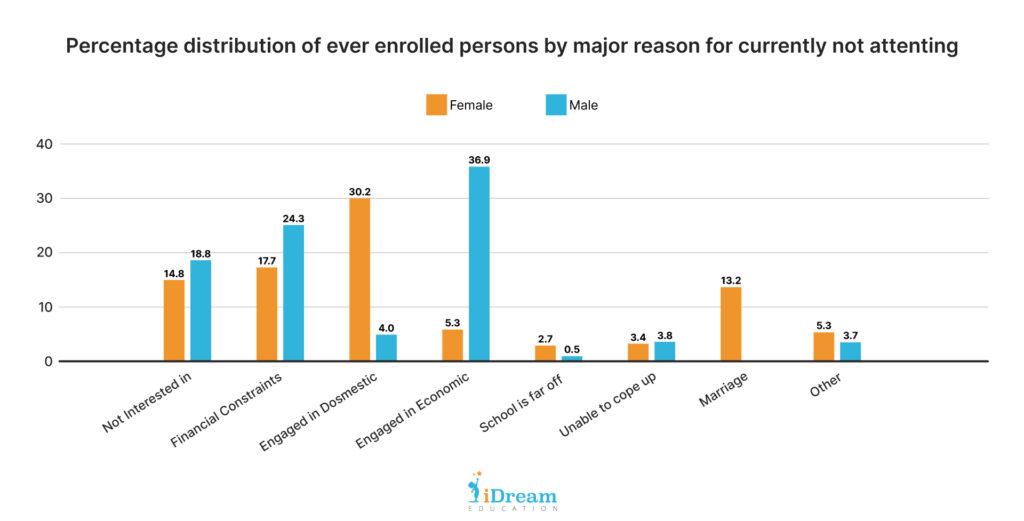 Reasons for increasing the risk of dropping out of school
The survey shows that lack of interest, economic condition, and involvement in domestic work, especially for girls, are the core reasons for increasing dropouts. Therefore, our prime focus is on personalising learning to increase student engagement. Learning that empowers students to learn based on their interest levels. Thus, to increase student interest in learning, we enable a diverse range of enjoyable learning content in the form of animated video lessons, digital books, and so much more. Further, we also give students free environment to switch to junior class content, learn unlimited and fill learning gaps.
For students who struggle with Life-long learning gaps
Life-long learning gaps occur when students skip classes, miss going to school, hesitate to ask doubts, etc. In these situations, they get promoted to the senior class based on their aggregate. But, they still lack an understanding of the concepts and topics taught in junior classes. Therefore, filling the lifelong learning gap is every student's need. It boosts their motivation to learn by improving their overall understanding by getting them age-appropriate learning levels.
To help students cope with the lifelong learning gaps, we give them access to enjoyable learning content of all classes in their preferred language. All this to empower them to learn based on their learning level and understanding. This way, we establish a non-judgemental environment where students learn freely at their own pace.
For students who suffer learning gaps due Covid induced lockdown
Closures of schools is the biggest reason behind the lost interest of students in studies. As per the surveys, it is evident that less than 8% of children from rural India attended online classes during the lockdown. The gap was specifically for students in remote regions. Therefore, a few months now, the state governments started promoting digital content by distributing digital resources. But, some areas still remain untouched, whereas some struggle to find relevant learning content, internet connectivity, and much more. We at iDream Education reduce dependency on the internet by giving access to multimedia content preloaded on SD Cards. Further, we aim to fill learning gaps by giving them access to the content of junior classes so they can switch and learn at their own pace.  
How have we started establishing a personalised learning environment?
To reduce the risk of dropout
One prominent reason behind dropouts is the learning gap for example, learning gap in the children of migrant workers whose parents take them to their place of work. All these children are the most affected & are denied access to quality education, health, and proper nutrition all their life. While working with these groups of children, their teachers shared many stories. Like, how children of migrant workers go through emotional turmoil and continuous changes in their life. Because of moving from one to another, they withdraw from school at the stage of getting comfortable with space and the learning cycle. The relocation of these children either results in a learning gap or a loss of interest in studies.
To help these children catch up with age-appropriate learning levels, we, with the support of NGOs, have provided them iPrep tablets. Each education tablet is given preloaded with digital content on SD cards for all classes in Hindi and English Medium. With personalise learning tablets, they could change their classes anytime to learn from junior class content. They could learn based on their learning levels in a non-judgemental environment. This way, we have seen students cope with the learning gap and also show increased interests in learning. While some of them enrolled back in schools and are continuing their education. 
To cope with life long learning gap
Students in remote areas of India are not involved in regular learning. This is one prime reason behind their increasing learning gap. Therefore, to help these children cover their learning gaps in a non-judgemental environment, we, with the support of various state governments, NGOs, and CSR partners, enable enjoyable digital content on tablets for all classes and in students preferred language. Learning content on iPrep tablets is given in where students can switch to the content of junior classes & learn what they missed for years. 
To bridge the digital divide
From the discussion with principals, teachers, and coordinators of government schools and NGOs, we found out that when students returned after COVID, teachers noticed the difference in students' confidence and learning. Some students struggled with several months of the academic gap, which varied for all students. At the same time, it was difficult for teachers to identify learning gaps in individual student's and then work on it.
To solve this, we, in partnership with government schools and NGOs, provided students personalised iPrep tablets. Each educational tablet is given with preloaded offline digital content for their classes and one junior class. For example, in some schools, students were given access to the content of classes 9th and 10th. All this is to give class 10th students a chance to cover the gap of class 9th before their board exams. Consequently, we saw students of class 10 watching video lessons from class 9th to cover their gaps. 
Personalised learning environment has the heart of every child. It allows them to learn at their own pace without being judged. We believe
"Education Technology has the power to personalise learning for every student."
-iDream Education
Student Feedback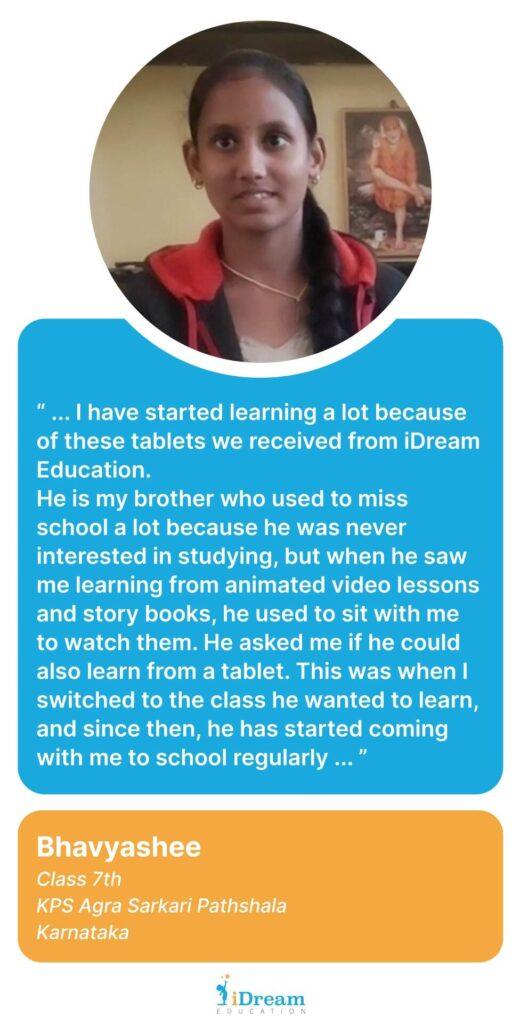 If in case you would like to know about our digital learning solutions, comment below or write to us at [email protected]
idreameducation.org
---