Encouraging Bilingual Approach in Teaching and Learning
Bilingualism in the Classroom allows us to gain proficiency in speaking more than one language. It helps us stay aligned with our cultural identity and brings value to our social interactions. The benefits of bilingual education in India include academic advantage, self-confidence, and increased self-esteem.
But what about classroom teaching where proficiency in English or Hindi language is linked with students' academic success? Is there any way teachers can harness Bilingualism in their teaching to help students learn in their preferred language?
As per National Education Policy, 2020, the "medium of instruction till at least Class 5, but preferably till Class 8 and beyond, will be regional language of students". Further, on Mother Language Day 2022, PM Narendra Modi Ji said, "Education in mother tongue is linked to mental growth & development of Children."
The continuous stress of education in the mother tongue, especially in the early years at school, is because children grow up in an environment where only the local language is spoken in their homes and in their schools.
Language is a Resource
Bilingual classrooms are the need of the hour for the comprehensive development of children from an early age. Teaching and learning in a regional language improve conceptual understanding and establish a better connection between school and home learning. Even when people use digital, they look for natural comfort, which is in their local language. Therefore, in the continuous innovation in our education technology, we have been focusing on eliminating language barriers that limit student's learning and understanding. Our purpose is to enhance digital learning and teaching by enabling content in regional languages with Hindi or English. Our focus is to make children naturally adapt & fall in love with digital learning by giving them a familiar environment for learning.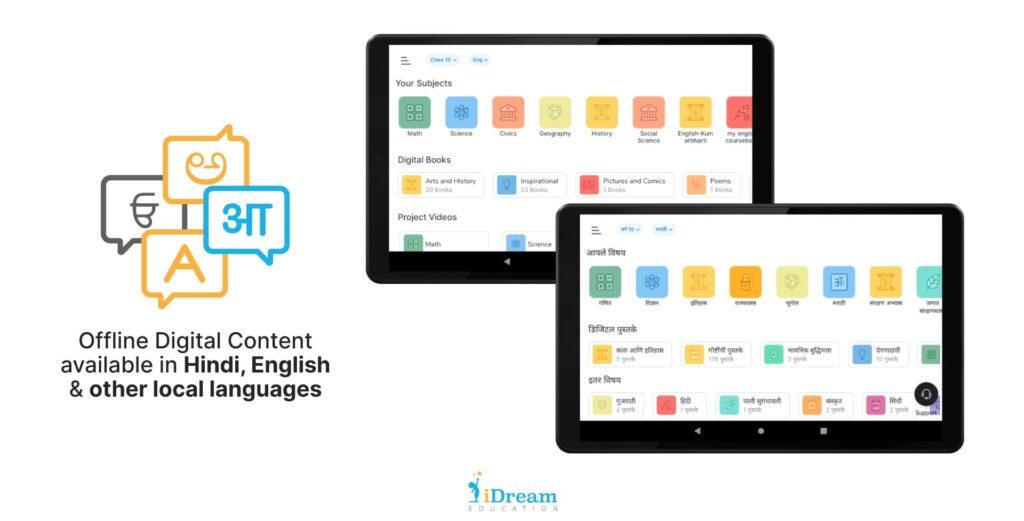 Is learning in a regional language significant for educational success?
Yes, regional language for students is more than just language. It is their cultural, social, and personal identity.
S

tudents

enter school at an appropriate age, attend regularly, and

are at less risk of

dropping out when

learning

in their own language.

Students learn faster and enjoy school more when taught in the local language

.

It is easier for students to understand the curriculum when they learn in their mother tongue.

It is easier for students to retain content when they study in their preferred language. When learning in a language they are familiar with, they think critically and rationalize what they are learning.
Thus, we believe teaching in the mother tongue in the classroom validates students' identity. It further enables a strong foundation for learning, resulting in educational success. Therefore, we focus on providing all the digital content in student preferred language. Additionally, the interface of our digital learning solutions are also designed to support bilingual education in India. All the navigation options and content categories across our platforms are given in the preferred local language making digital learning easy and comfortable.
Value of Encouraging Bilingual Education in India
Students learn more when taught in their regional languages
When students learn in their preferred language, they understand concepts better because of the clarity of expression. They tend to involve in learning more because they are able to better analyse, reason and think about the topics taught. Further, better clarity of concepts helps them cope with their historical learning gaps. Because when taught in a regional language, they understand better, grasp fast, and are able to retain concepts for a longer time.
Bilingual education tends to create classrooms more engaging than ever
Teaching in the local language motivates students to learn & they don't hesitate to come up with their doubts. It further enables classroom interaction, resulting in better clarity of concepts. Similarly, when students learn in a regional language, they grasp concepts fast, resulting in increased classroom interaction.
One of the best examples is government school teachers. The ones who, regardless of the availability of books in Hindi and English, prefer to teach in the local language. As per them, students are able to connect and understand concepts better when learning in the local language. And it further strengthens connections between school and home.
Our Discussion with the School Students and Teachers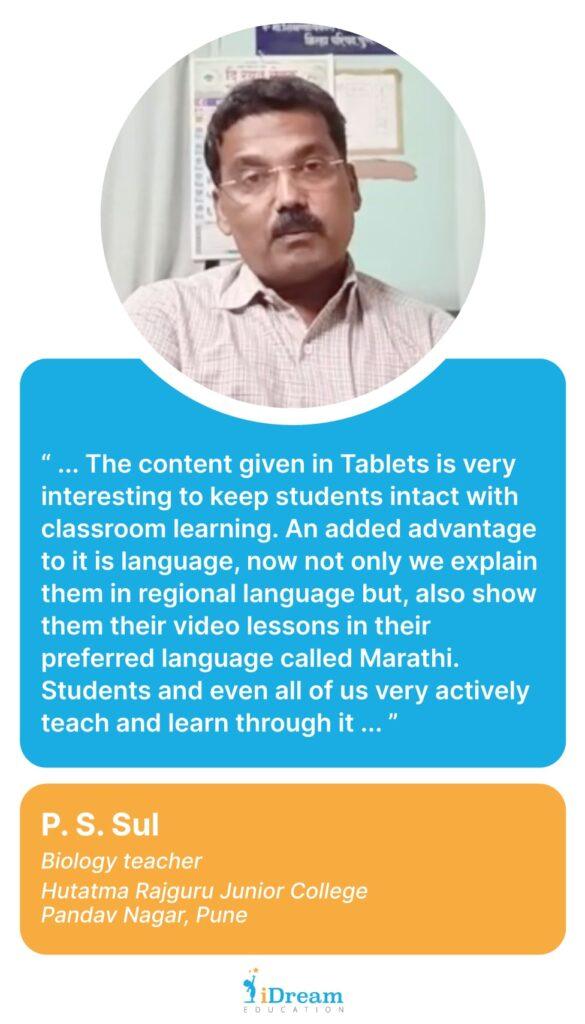 From our proactive communication with students and teachers of schools of Maharashtra, Bengal, and many more states who have been learning from digital content in regional languages. We found out that using a language students are most comfortable with, especially in the early years, improves attendance, increases classroom participation, and reduces dropouts and grade repetition.
We at iDream Education encourage students and teachers to learn and teach in their preferred language to help them naturally adapt to digital learning. Through this, we have successfully enabled a familiar environment for learning, for many students across Indian States.
If in case you would like to know more about our digital learning solutions, comment below or write to us at share@idreameducation.org
idreameducation.org
---