Big Leap from Blackboards to Android Projector-Based Smart Classrooms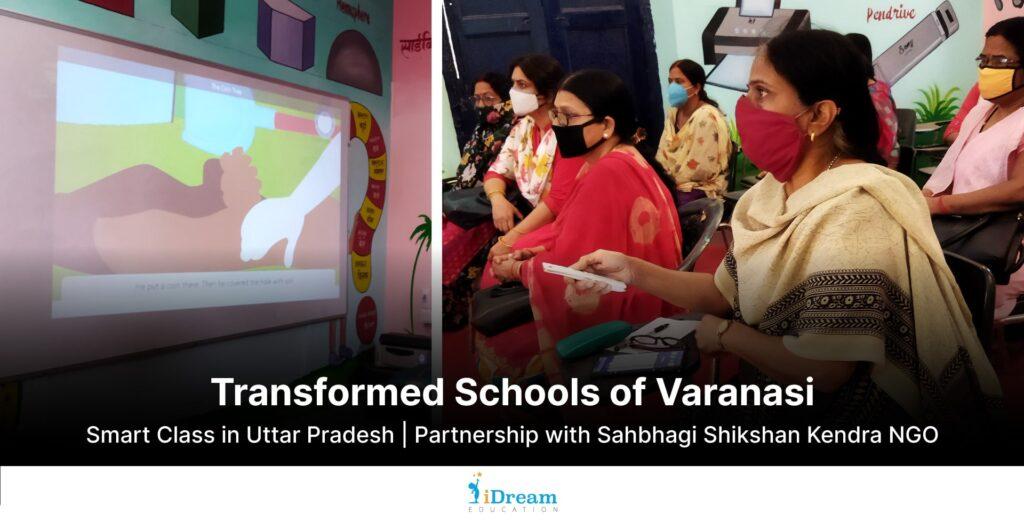 With continuous work with different schools, teachers, and students, the people of Sahbhagi Shikshan Kendra (SSK) NGO are aware of the education situation in Varanasi. Two key issues identified by their team are:
Lack of infrastructure

Limited t

eachers in government schools
Further, as per the coordinators of SSK NGO, students of remote areas of Varanasi think "digital education is only for the people of big cities like Delhi & Mumbai." In response, teachers mentioned that students lack interest in learning and therefore avoid attending school. Furthermore, they continued to say that "because we are only 6 or 7 for 100s of students in the school, we are unable to give attention to individual students.
This is when project heads of SSK NGO reached us with the thought of enabling digital education in 11 Government Schools of Varanasi.
Collaboration with iDream Education
Under this partnership, iDream Education set up an iPrep Digital Class through Android Projector in schools of Varanasi. Our aim was to introduce blended learning in their traditional classrooms. But, at the same time, we wanted to make teachers adapt to teaching technology naturally. Therefore, to achieve this, we enabled a Pendrive with all digital content preloaded for offline digital teaching.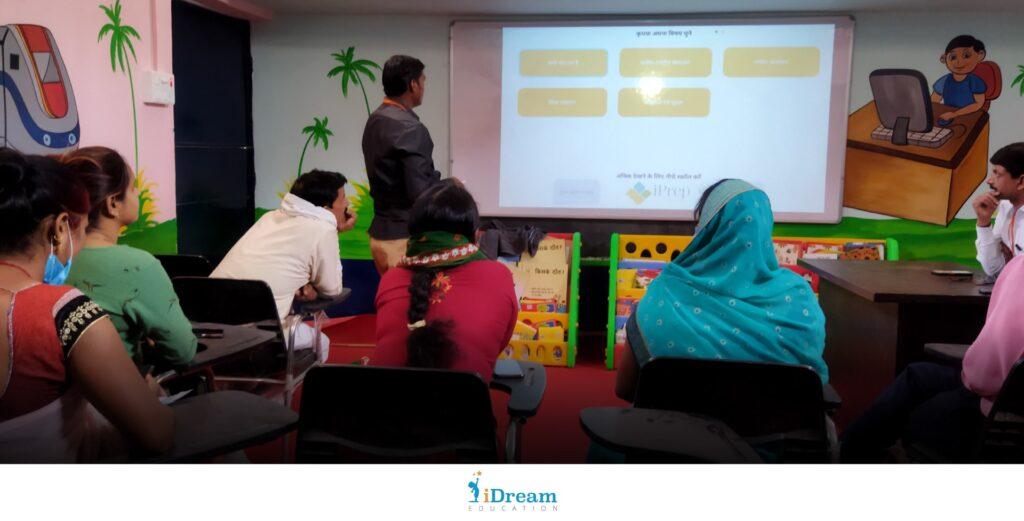 Teacher's training on using Smart Class
Key Components of Implementation
To help them adapt to d

igital content,

just like their textbooks. We provided them with digital content

aligned to UP Board for all classes from 1 to 8th in Hindi Medium.

Further, to make learning engaging and interesting for students. We provided life skills and growth-based videos. This is given to motivate students to put their learning into action.
Additionally, we gave them access to

books on health, safety, sanitation, inspirational biographies,

and much more. All this is for the

holistic learning of students.

Similarly, to encourage students to involve in classroom discussions. we gave them assessment and MCQ-style topic-wise practice questions.
Lastly, r

eporting dashboard for continuous monitoring of the usage of digital content b

y teachers

in their regular teaching routine.
Smart Classroom setup, a beacon of hope for students and teachers
Implementation of the Smart Classroom setup was a beacon of hope for students that now they could also learn from smart classes like students of private schools.
"…Thank you! Now, I will also be able to learn like people of big cities Bombay, Delhi…",
said Nitin, a 5th-class student.
Teachers were also happy that now they could give personalized attention to individual students.
Impact of the implementing iPrep Digital Class
Smart Class set-up became a Natural Adoption
Because all the content is available on Pendrive, teachers just turn the device on, teach and turn it off, and because it is accessed through a remote, teachers naturally got comfortable with it and used it just like the TV in their homes.
Increase in the productivity of teachers  
From the feedback given by teachers, we learned that the best part of a smart classroom setup to them is displayed in Hindi. They say, "It is very easy for us to navigate, find video lessons and teach through it". Further, because the content of all the subjects for all classes is also in Hindi, teachers have made smart classrooms a regular part of their teaching routine. 
Increase in student-teacher engagement
As all the digital content given to them is aligned with UP Board, they did not have to put any extra effort into switching to digital. When they saw animated educational videos and digital books exactly what was given in their textbooks, their interest in digital content increased. From the discussion with teachers after a month, our team figured out the key driving factors of increased engagement of students in learning are video lessons, activity videos, and practice questions. Teachers say, 
"It has become easy for us to make them understand complex concepts which used to consume our most time".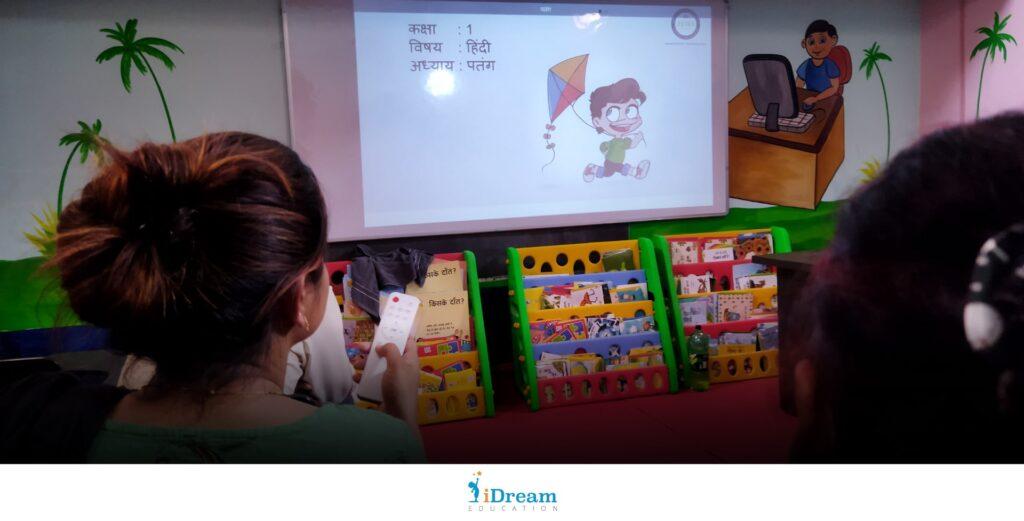 Teachers accessing digital teaching device just like they access TV in their homes

This way smart class set-up not only increased student-teacher engagement but also reduced absenteeism. As a result, in very little time, they got comfortable with the smart class and are using the smart class setup in their regular teaching routine.
If in case you would like to know more about our digital learning solutions, comment below or write to us at share@idreameducation.org
idreameducation.org
---