How did we maintain continuity of students' learning during the COVID Lockdown?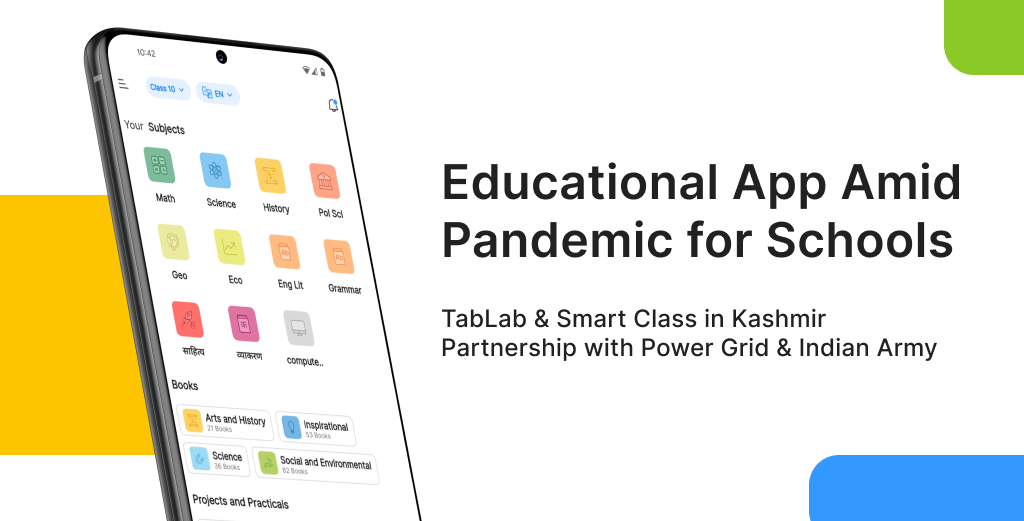 When COVID stuck, and the lockdown happened, there was no source of learning for students in Kashmir for whom we had just set up an iPrep Digital Library which is a tablet-based digital library, and iPrep Digital Class a smart class solution on Interactive Flat panels (IFPs) in their school. Because immediately after setup, a lockdown happened, schools closed, and the principal and teachers worried about how they would ensure student continuity in learning. 
During this time, we at iDream Education took a call to give students access to the iDream Learning App which is now called the iPrep Learning App through a network of teachers. Teachers were happy to share it through the Whatsapp group they have with parents. Students happily downloaded the app on their parent's smartphones and were able to learn from home. This way, we made our educational app reach thousands of students in 10 regions of Kashmir.
Implementation Reach
Regions Covered: Aishmuqam, Behibag, Booniyar, Budkot, Chandigaon, Hajinar, Krusan, Sopore, Wayne, Wuzur
Number of Schools reached: 10
No. of students impacted: 5000 +
No. of Teachers: 200 +
Project Impact
Continuity in learning during COVID
Because of the availability of the iPrep learning app at home, students continued to learn with all-time teacher guidance.
Reduced Learning Gap
When students returned to school after 2 years of lockdown, they continued learning at the same pace with the help of TabLab implemented in their schools before lockdown.
How did we achieve this impact?
On the iPrep Learning app, we gave students access to the same content that students have been learning in school. As a result, they very easily continued learning from home. Also, it was easy for teachers to recommend videos and practice from the app because it is in sync with the lesson plan they were following in school. The added advantage of the app to students was access to content for junior classes.
Many students switched to the content of the junior class and motivated and engaged their younger siblings in learning. Another advantage of home learning was an increase in parents' engagement with their kids and learning. During an online session with students, we found out that they had started storytelling. They first read inspirational books and stories from life skill content and then share the same with their parents in their leisure time. Through this, we saw many learning from junior class content, and many students involved in life skill content, and all this was possible because they got a chance to learn in a non-judgemental environment with the learning app at home.
Here to one of the teachers from AGS in Wayne Kashmir
"…During covid lockdown in May 2020, we encouraged parents to install the iDream learning app which is now called the iPrep Learning app to maintain continuity in their child's learning. With this, we noticed that 70 % of students learned from it regularly at their own pace. With this, we realized the importance of a learning app that has everything required to meet the diverse learning needs of students…".
– Principal Tariq Ah Tariq Ji
When the lockdown ended & students came back to school, they started using tablets, and teachers started teaching through Smart Class. However, the iDream Education's learning app which is now called the iPrep App ensured that from lockdown to students returning to school, there is continuity in student learning, and no students suffer a learning gap.
If in case you would like to know more about our digital learning solutions, comment below or write to us at share@idreameducation.org
idreameducation.org
---