Transforming Girl Education with Tablet based Smart ICT Lab in Government Schools of Shimla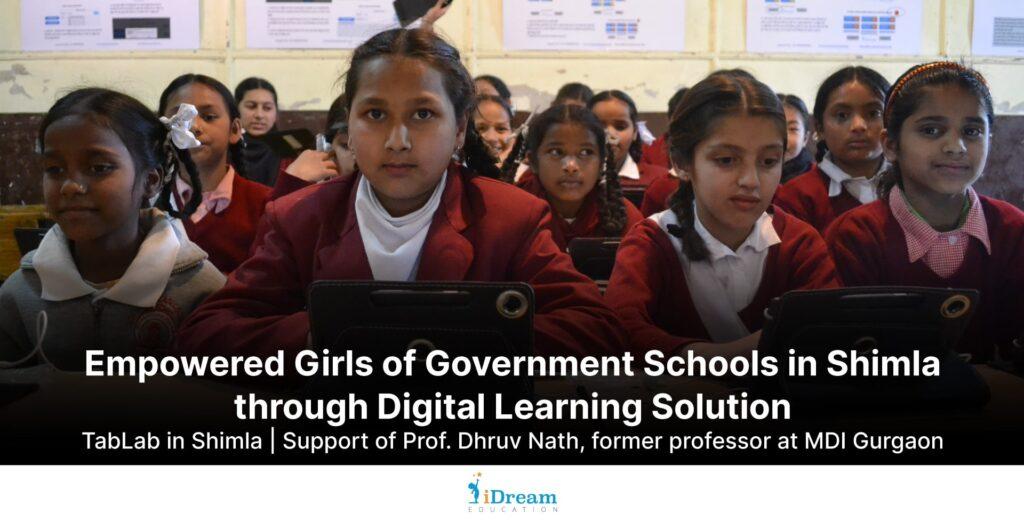 Setting up iPrep Digital Library – tablet based ICT lab in the schools of Shimla, holds a special place in our hearts. Here, we met a number of inquisitive girls who wanted to learn, grow and thrive. As soon as our team reached the school to set up a digital library with tablets. They came across various issues the girls face in their regular learning routine. Teachers mentioned, 
"…we have monitors and smart panels in our school, but only 2 or 3 of them work. We even report the issue to principals, but it takes time for technicians to visit us and fix our computers because our school is located at a high altitude, and it is difficult for them to visit us in every ten days…".
On the other hand, girls shared that they access youtube on their parent's phones to see videos of lessons that are hard to understand.  However, a few girls also mentioned that because their parents do not have smartphones or internet connectivity on their phones, therefore they are unable to learn through videos and visuals. 
At this time, we knew that collaboration of iDream Education with local school authorities of Shimla to set up TabLab, would give them all they were looking to improve their learning. 
Was it easy for us to set up a digital library with tablets in such a high-altitude region?
Digital Library with tablets is TabLab which comes with a tablet charging trolley & storage rack. It requires no extra space, furniture, or wiring to set up. In no time, our team, with the help of students, was successful in placing TabLab in their schools.
Here is one incident from one school in Shimla
The school was located at a height where transportation was risky. But because TabLab is a 3ft trolley of 30 Kg, 5 students from the school came, picked up the tablet trolley, and placed it in the school. 
This way, we were successful in establishing an uninterrupted source of learning. Now, with the help of a tablet and enjoyable learning content, girls can learn, grow and break the conventional norms of society.
Key Components of the Implementation
1 TabLab with 20 learning tablets designed to be used by 100 students on a rotational basis. 

Android tablets with earphones and a book-style protective cover. Every tablet had an SD Card preloaded with digital content aligned to HP Board in Hindi, making it easy for teachers to integrate their lesson plans with the digital content available on the platform.

To suit the different learning styles of students, tablets are given with multiple categories of digital content.

The content

is in the form of animated video lessons to build concepts

. D

igital syllabus books to refer to anytime

.

F

urther, there are

notes for quick revision

, and

DIY project videos for practical and fun learning,

Apart from videos, we also gave girls access to a comprehensive digital book library with 1000s of books on stories, poems and biographies for their holistic growth.

We also provided topic-wise MCQ-style practice questions to help girls achieve mastery in every topic they learn.

Centralised reporting dashboard to track content usage and derive students' progress and then personalise learning for them. 
Girls showed a remarkable change in their learning
In no time, girls made tablet based learning a part of their daily routine. They successfully quenched their thirst for knowledge and growth. Now, when they could learn anytime, anywhere in the vicinity of school because the entire content was offline. Many girls started staying back and using tablets after regular classes to revise lessons taught in class. Teachers were also happy to support these girls in learning from tablets because the content was aligned with their curriculum. 
As a result, many girls choose fancy DIY project videos for practical learning and created working models. One such girl is Meenal Kashyap, who prepared working models of Area of Triangle (Maths) and Electric Circuit (Physics); for this, she won a district-level award by participating in a Scientific Activity Corner in the Himachal Pradesh Children Science Congress. It was a remarkable achievement because such a thing was unheard of in the school.
We Believe
"Technology has the potential to achieve universal quality education and improve learning outcomes."
If in case you would like to know more about our digital learning solutions, comment below or write to us at [email protected]
idreameducation.org
---