Making iPrep, A Dependable & Secure Learning Platform for Schools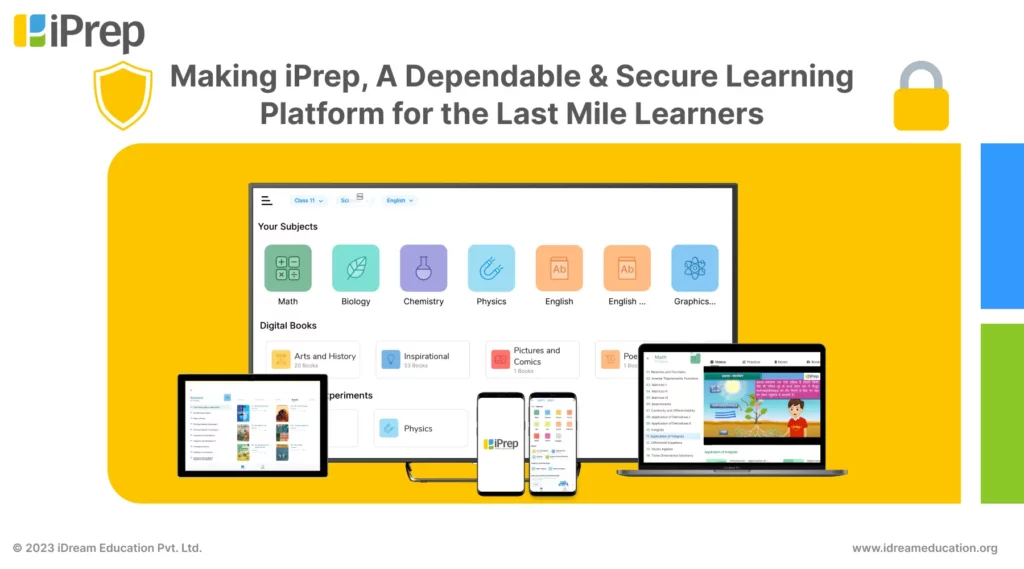 Schools have started to embrace education technology to improve the learning experiences of students and teachers in the digital era. This gives rise to the need for a safe and secure learning platform for schools that we can seamlessly integrate into schools. 
However, with growing reliance on digital platforms, it becomes increasingly important to protect user data and maintain system integrity. iPrep, by iDream Education, is a secure Learning Platform for schools that runs both offline & online is bilingual and works on all major hardware devices and operating systems. Therefore, we ensure to strengthen its security and make it a secure and dependable platform for all our students and teachers
In this blog post, we'll take you through how we ensure that iPrep, our one-stop learning platform becomes a secure and dependable learning source for schools and the Last Mile Learners of Bharat.
But, before jumping on the precautions we take, let's see how using a digital learning platform comes with several security concerns that users should be aware of to ensure their data, privacy, and overall online safety.
Security Concerns of Digital Learning Platform Users
Some of the key security concerns for users using a digital learning platform include:
Safeguarding Personal Information
When a user engages with online learning platforms, they may disclose personal information such as their name, email address, date of birth, or educational background. A secure learning platform for schools is obligated to ensure the security of this information, protecting it against unauthorized access and potential breaches.
Ensuring Account Security
Similar to any online account, a user is required to establish a username and password for accessing the learning platform. It is imperative to devise a robust password and refrain from using identical passwords across multiple accounts. To enhance security further, a secure learning platform gives users, the option to enable "two-factor authentication," a feature that introduces an additional layer of safeguarding.
Mitigating Data Breach Risks
In the event of a security breach on the learning platform, the individual's personal data could be compromised. This vulnerability may result in scenarios such as identity theft, financial loss, or other adversities. A secure learning platform for schools and the last-mile learners adds additional layers of protection to its platform and makes it protected against all kinds of data breach risks.
Exercising Caution with Public Wi-Fi
Public Wi-Fi networks, such as those in coffee shops, carry inherent risks as they expose users' online activities to potential interception. To counteract this, employing a specialized tool known as a "virtual private network" (VPN) is advisable when utilizing public Wi-Fi. A VPN ensures the confidentiality of one's information.
Prudence in Using Mobile Apps
Should the learning platform offer a mobile application for smartphones or tablets, users are advised to exercise caution in granting excessive permissions to the app. Certain applications might request access to personal data that is not essential, thereby jeopardizing the user's privacy. But, a secure learning platform, like iPrep Would never do anything of that sort. A secure learning platform for last-mile learners and schools will only ask for those permissions that are necessary for the app to run properly and provide the user with a seamless experience.
Cognizance of External Services
Occasionally, the learning platform may integrate tools or services from third-party companies. These external components may not possess the same level of security as the platform itself, necessitating an awareness of their presence and an assessment of potential associated risks.
A secure learning platform would always keep multiple layers of checks in place before integrating such services to ensure that these integrations match the level of security they are planning to maintain with their platform.
Comprehending Data Utilization Practices
The platform may monitor user activities, such as the selection of lessons or the duration of learning sessions, to enhance the platform's functionality or display targeted advertisements. We recommend everyone be familiar with the platform's privacy policies to gain insight into the utilization of personal data.
A secure learning platform like iPrep never lets any such advertisements run on its platform. The iPrep platform's special design gives a seamless teaching and learning experience. We never aim to capitalize on the usage patterns of our users.
Ensuring the Security of Learning Materials
Depending on the subject matter, the learning platform may impose regulations regarding the sharing or utilization of educational materials. Users are obligated to adhere to copyright guidelines and abstain from disseminating restricted content.
By looking for such practices while choosing a learning platform, users can bolster their privacy and security while engaging with online learning platforms.
Recognizing the critical importance of user security, we at iDream Education are fully aware of the possible security problems that come with digital learning platforms. As a result, we use strong security practices to protect personal information, account security, data breach mitigation, public Wi-Fi cautiousness, app permissions, third-party integrations, and data usage. Your privacy and security remain our top priorities in providing a worry-free learning experience.
Let us give you walk thorough of how we ensure iPrep becomes a Dependable and Secure Learning platform for Mile Learners:
What makes iPrep a Dependable and Secure Learning Platform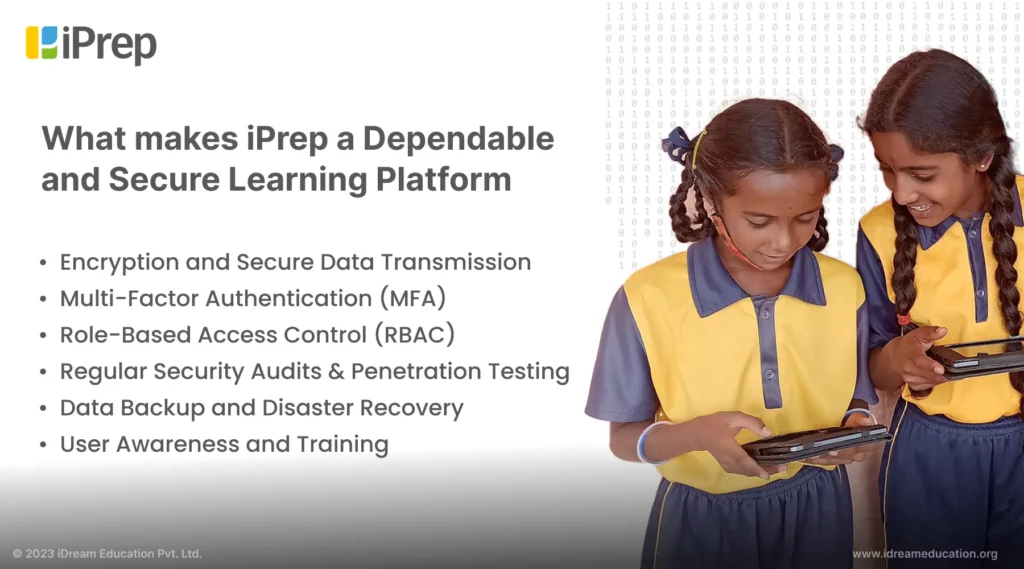 There are several checks and practices that we've implemented while making the learning platform iPrep.
Encryption and Secure Data Transmission
iPrep uses strong encryption techniques to safeguard sensitive information, such as user credentials and personal data. Using industry-standard protocols like SSL/TLS, all data transported between users and the application servers is encrypted. This protects confidentiality and integrity, making data secure and unreadable even if one intercepts it. This aligns perfectly with the core principles of a secure learning platform.
Multi-Factor Authentication (MFA)
iPrep takes a proactive stance against unauthorized access through the implementation of multi-factor authentication procedures. Users should then provide both a password and a unique authentication code sent to their registered email or mobile device. This dual-layer approach significantly reduces the risk of unauthorized access, bolstering the platform's defense mechanisms and epitomizing the essence of a secure learning platform.
Role-Based Access Control (RBAC)
iPrep uses role-based access control to protect data privacy and limit access to sensitive functionality. We give specific rights and access levels to various user roles, including students, teachers, administrators, and government officials. As a result, there is less chance of unauthorized information exposure or platform misuse because users can only access the functions and content, embodying the essence of secure learning platform practices.
Regular Security Audits and Penetration Testing
To find vulnerabilities and eliminate mishaps, the iPrep development team performs routine security audits and penetration testing. This proactive strategy ensures that the secure learning platform is resilient to new threats and enables continuous improvement.
Data Backup and Disaster Recovery
iPrep keeps reliable backup and disaster recovery systems in place to guard against data loss or system failures. User data is routinely backed up, securely stored, and put through a restoration test. These precautions guarantee the availability and integrity of user data in the event of an unforeseen incident, such as hardware failure or natural disasters, enabling the system to recover and restart operations quickly, exemplifying the hallmark of a secure learning platform.
User Awareness and Training
Our Team places a strong emphasis on user awareness and training because security is a shared responsibility. To help users understand the best practices for data security, password hygiene, and preventing phishing or social engineering attacks, the application offers educational resources and guidance. This empowerment of users positions them as active contributors to the platform's security, perfectly encapsulating the essence of a secure learning platform that encourages vigilance and informed participation.
It is crucial to ensure the security of educational programs like "iPrep" as the digital world continues to change. "iPrep" upholds a robust security framework by incorporating encryption, multi-factor authentication, access controls, routine audits, and user training. By ensuring the security and privacy of users' data and creating an atmosphere that supports digital learning, these steps give users trust. For students, instructors, administrators, and government officials alike, "iPrep" functions as a dependable and trusted platform thanks to its dedication to continual improvement and flexibility to evolving dangers.
---