Smart Class in Hindi for Hindi medium Schools
Smart Class has become an integral part of our English medium CBSE schools and classrooms since the last few years. It brings the much needed digital boost to education in classes. Also, it empowers the teachers to supplement their classroom teaching. That too with rich digital and animated content on all topics and chapters.
The core value of a Smart Class is that teachers can show animated multimedia concepts and real life example based video learning content to students. There are three great benefits of this:

It excites the students for learning and greatly increases their interest in grasping the topics
The animations make the finer details of the concepts very clear to the students
The real life examples help to develop practical knowledge and application oriented skills
Three major components of a hindi medium Smart Class are:

Smart Class Hardware – This can be either android based like a Smart TV, an Android Projector or an IFP for Smart Class ( Interactive Flat Panel). It can also be Windows based with a Computer/Laptop and Projector with an interactive board or normal white board.
Smart Class Content in Hindi – Complete Digital Content in Hindi medium for classes 1st to 12th. Also, it covers all subjects including Math, Sciences, Social Sciences, Computers & Commerce
Display and Reporting Platform – An application to run the digital content and automatically store usage and learning reports for access in a web based dashboard
These three components together create a best suited hindi medium digital classroom setup.

The key differentiating component is hindi medium digital content for all classes 1st to 12th. Rest both components, Hardware and Reporting Platform remain the same as English medium.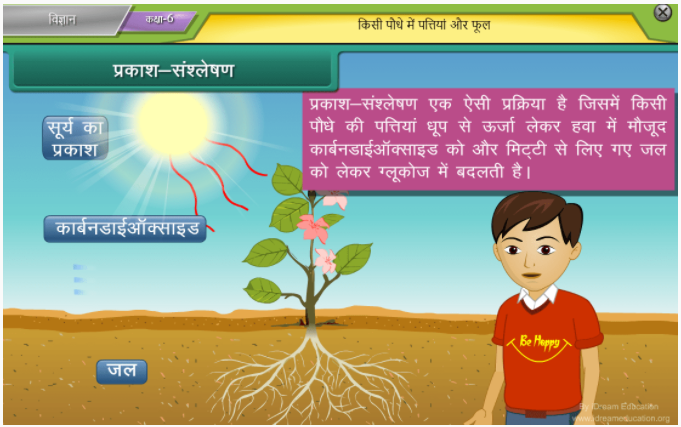 The other minor difference is that the Display and Reporting Platform should be able to display all views and buttons in Hindi medium. But majorly the learning value and all usage depends on the depth and quality of the educational content in Hindi.
Digital Content in Hindi – The Key Requirement

We all know that every student learns best in his mother tongue.
Even English Language which everyone needs to learn, one can best learn it with a bilingual approach to language learning.
Therefore, having rich and comprehensive smart class content in hindi medium is the most crucial requirement. It enables the reach of Smart Classes to all schools and students who use hindi as the medium of instruction.

All types of content can be made available in hindi medium for use in Digital Classrooms.

Animated Digital Content in Hindi with proper hindi medium voice over and hindi transliteration: The core part of content in Smart Class is the interactive animations on all subjects. The content should be available with proper voice over and audio in hindi medium. Also, the complete text of the concept should be in Hindi with precise transliteration.
The digital content should cover all major subjects as per below age groups:

Math, EVS and Hindi Vyakaran for classes 1st to 5th
Science, Maths, Social Sciences, Computers for classes 6th to 10th
Math, Physics, Chemistry, Biology, Commerce, Humanities and Computers for 11th and 12th
All of the above content needs to be available in hindi medium for use by teachers and students.
2. Projects and Practicals in Hindi Medium – After animations, the second most important type of digital content is the videos on how to conduct practicals and make projects on topics to learn applied skills in real life.

Interesting and engaging projects are the most interesting and enjoyable way of making students learn the concepts. Once they make a live project or experiment on that topic, they store it in their knowledge forever.

Rich video content on such do it yourself live projects in hindi medium is needed for Smart Classes.
How to use projects in Hindi in Classrooms:

Teachers can choose which activity to be made in the class.
Ask the students to get the basic everyday material required to make the experiment or the project
Choose the project video and play the same for students. It will get you a step by step clarity on how to make the project and its purpose in hindi.
Teachers can conduct it as a class activity. Also, by playing/pausing the video, teacher can hand hold the students to solve any query in the process.
Hold a discussion on the activity and its learning value once the project is made.
Let the students take home whatever model they have made, and use it as a toy depicting their learning outcome!
With such amazing content, hindi medium students can build tremendous capabilities and scientific temper for learning and growth.
3. Digital Books as per NCERT and State Boards – Another important content type which adds value in Smart Class is Digital Books.

Today all subject curriculum books are being converted to digital format. Therefore, syllabus books in hindi medium should also be available in Digital. During the teaching process in classes, teachers can anytime use the book reference on the Smart Class display as a reference for the entire class and initiate a discussion.

Digital Books for all subjects in Hindi medium shall be a great empowerment for students and teachers for use in both Smart classes and at home for learning revision.
4. Practice Questions and Tests in Hindi – The fourth type of content required is availability of practice question bank in hindi along with tests including instant reports.

Further, these Practice Questions in Smart Class are a great way to bring interactivity and instant learning re enforcement for students.
How to use questions and MCQs in hindi medium on Smart Class as interactive tools:

After the conceptual part is completed for any topic, the teacher can open up the practice questions.
Display a question on the Smart Class screen with the four options.
The teacher can ask any student to answer the question. Based on the answer, the teacher can touch on the option or may even ask the student to come up to the Smart Board or the Display, and choose the answer.
Depending upon the answer being correct or incorrect, the teacher can ask other students to give inputs and re inforce the understanding of the topic with follow up questions.
This becomes an extremely powerful way of ensuring that the students develop the ability to solve problems and answer questions related to the topic anytime.
With all of the above content available in hindi, a Smart Class can greatly empower our hindi medium schools and students with best of supplementary educational resources and tools for holistic learning and growth.
At iDream Education, we are working to implement hindi medium Smart Classes with all of the above components customized for any requirement in NCERT or State Boards. Our vision is to ensure that Smart Education and Digital Content reaches every hindi medium student and every hindi medium school to include them on the digitally powered future growth.

To explore samples of our Hindi medium pls visit: Learning Tv in hindi

Further, we can connect and discuss specific requirements for any customization needed for setting up a hindi medium smart class project for you.

Happy Learning!

---
Download Now – Smart class learning app
Watch Now – Hindi medium digital classrooms
Follow Our Social Media Channel
Facebook – https://www.facebook.com/idreameducation
Instagram – https://www.instagram.com/idreameducation/
---