How Technological Innovations in Smart Classes Will Drive the Future of Education?
Step into the future of education with the power of Smart Classes – where innovation meets inspiration, and technology shapes tomorrow.
Digital transformation is at its peak, especially post-COVID. The field of education is no exception, witnessing a substantial shift towards technology integration, particularly in the form of smart classes. Post-Covid, the significance of adopting innovative technological solutions in education has become more apparent than ever. Smart classrooms, equipped with interactive displays, TVs, whiteboards, and other cutting-edge technologies, have emerged as the cornerstone of this journey.
Government's Efforts to bridge the digital divide in the education sector across India
The government has also approved setting up 10,778 Information Communication Technology (ICT) labs and 42,311 smart classrooms at the cost of Rs 956.8 crore in 2021-22.
But, what are these ICT Labs and Smart Classroom that the government is referring to?
Smart Classes have been in existence for nearly 2 decades now. But, were not in regular use because of various infrastructural and psychological challenges. So, why then is the government keen on replicating the same model which has not delivered the intended outcomes? Or is it something new and innovative that is under consideration, which can change things around?
In this blog, allow us to first talk about what Smart Class actually means. Stay with us, and we will go deeper into the kinds of Smart Classes that exist today and what kind of innovation possibilities are emerging.
What is Smart Class – A World Beyond Textbooks
Smart Class is a digitally equipped classroom with a range of teaching and learning tools. This incorporates audio and visual learning material through which the teacher can make the classroom teaching fun and engaging.
Why Do We Need Smart Classes?
The process of learning involves thinking, reasoning, and making sense of what is being taught. By incorporating digital content, such as animated videos and picture books, teachers can empower students to visualize and grasp the subject matter, thereby enhancing their conceptual understanding.
Teaching follows a one-to-many approach, raising concerns of personalizing teaching. However, the integration of digital streamlines the process, saving time for teachers who no longer need to extensively write or draw on the board. This efficiency allows teachers to establish better connections with students, providing an enhanced interactive learning experience and enabling improved student-teacher interaction.
Involving elements of fun into the teaching process can significantly boost student engagement in the classroom. This approach not only improves average daily attendance but also contributes to long-term interest in learning.
How were Smart Classrooms typically set up in Government schools?
The following equipment generally used while setting up a Smart Classes are:
A white screen.

The projector which is either mounted on a ceiling or on the screen itself

Processor with a keyboard and a mouse

Sound System

UPS

Bunch of wires to interconnect all the hardware elements mentioned above
Challenges of Traditional Smart Class Setup in Government Schools
Traditional Smart Class hardware in government schools were challenging to use because of:
Complex Functioning: Turning on and off the entire setup takes time since every component is linked to one or the other device.
High Maintainance: Maintaining each hardware component is difficult and if any of it fails, the entire setup ceases to work.
Need for Finer Innovation in Smart Class Hardware to Drive its Regular Usage
So, now the question is, how do we make it easy for the regular use of teachers?
One way is to align with the natural psychology of teachers. For example, if we look at rural development, television was the one innovation for which no training was given to people but in a very little time, people became comfortable using it because it is nothing alien and is very easy to access. 
Further, replacing all the smart class components with one single piece of hardware like TV will also align with the comfort of teachers with technology. With this, we will be able to simplify smart class and cope with teachers' resistance to technology. Thus, we believe giving teachers access to technology that they are already familiar with, will enable regular use of digital teaching solutions in government schools.
Introducing iPrep Digital Class, an easy to use and manage Smart Class Setup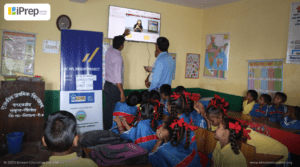 The idea of iPrep Digital Class – Smart Class is all about one piece of hardware which could be Smart TV or Touch-Based Panels with an Android-based operating system to make digital teaching simple and easy. At iDream Education, we are at the forefront of introducing iPrep Digital Class to take it across for the development of government schools. It is just like TV, and with Pendrive plugged in that has all the content required for delivering a digital classroom experience.
Benefits of a Single Unit Smart Class Setup in our Government Schools
iPrep Digital Class is easy to set up single unit hardware

. It does not require any infrastructural changes in any space as it can be set up on any wall with the help of one stand and 4 screws. It is a feasible digital teaching solution that can enhance the infrastructure of any government school. 

iPrep Digital Class is nothing alien and requires no specific care to maintain. To access this, teachers just need to switch it on, navigate content through the remote, and switch it off with one power button.

With Pendrive plugged in, iPrep Digital Class works completely offline, removing dependence on the internet. 
How Innovation in Content and Content Delivery can Further Drive the Regular Usage of iPrep Digital Class
To ensure the regular use of smart classes in government schools, we have specifically focused on innovation in content. Content in iPrep Digital Class  is in:
We encourage teaching and learning in the mother tongue for which we enable content in Hindi, English, and other regional languages. Further, providing content in teacher preferred language motivates them to use digital solutions regularly because it becomes easy to access.
All the content is aligned with CBSE and local state boards therefore, when teachers see similar topics in books in TV they naturally wish to teach through it which drives regular use of PC Free Smart Class in government schools
Easy navigation of category:
Navigating content in PC Free Smart Class is just like changing channels on TV and when the content category is divided just like textbooks and chapters, it becomes easier for teachers to navigate and teach through it regularly. 
These are some ways through which we drive regular usage and build comfort for government school teachers with Smart Class.
Are Smart Classes the future of education style?
Digitisation is growing at a fast pace and our government is investing a lot of money to digitize government school teaching and learning. To make the right use of their investment, we emphasize implementing iPrep Digital Class to empower teachers to put digital teaching into action and improve student's learning outcomes. Hence, if we will be able to drive regular use of technology in government schools, smart classes will become the future of education style.
Take the Power of Digital to the Next Level 
Empower People | Enrich Lives
-Honorable PM Narendra Modi Ji
If in case you would like to know more about iPrep Digital Class, comment below or write to us at share@idreameducation.org. 
idreameducation.org
---