Tablets for School Use: 5 Reasons to consider the rich learning source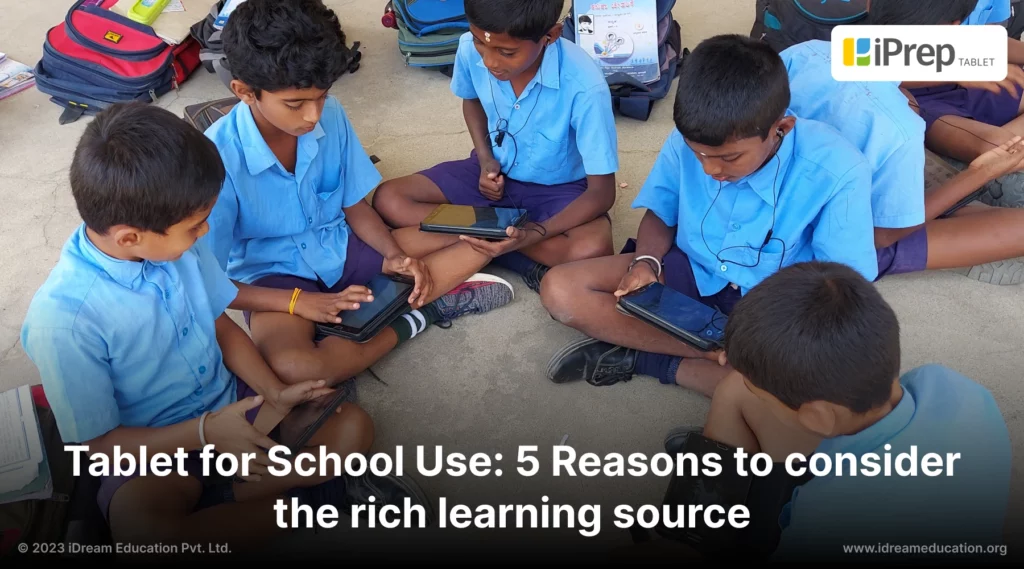 The idea of tablets for school use is another example of the growing acceptance & impact of digital learning which is growing at a fast pace in India. A large number of educationists, schools, and organizations are continuously experimenting. They are trying innovative ways to leverage digital and personalize school education.
Numerous digital learning implementations are happening across the country in both private schools and government schools. With every experience, the entire ed-tech fraternity is actively growing too. They are learning the most suited ways of delivering life-shaping digital education.
There is one such aspect that we deeply think about. We review our past experiences and learn about them. That is the choice of Digital Hardware for our schools.
We all have seen that a well thought and best-suited digital hardware can bring amazing value to your schools. On the other hand, an ill-thought and randomly chosen digital project can lead to a waste of resources. It can bring negative experiences around digital learning.
With our experience, we at iDream Education have literally fallen in love with tablets for school use. Also, the amazing value they bring to digital education! Let us now give you 5 major reasons why you should consider the rich learning source.
5 Reasons to Consider Tablets for School Use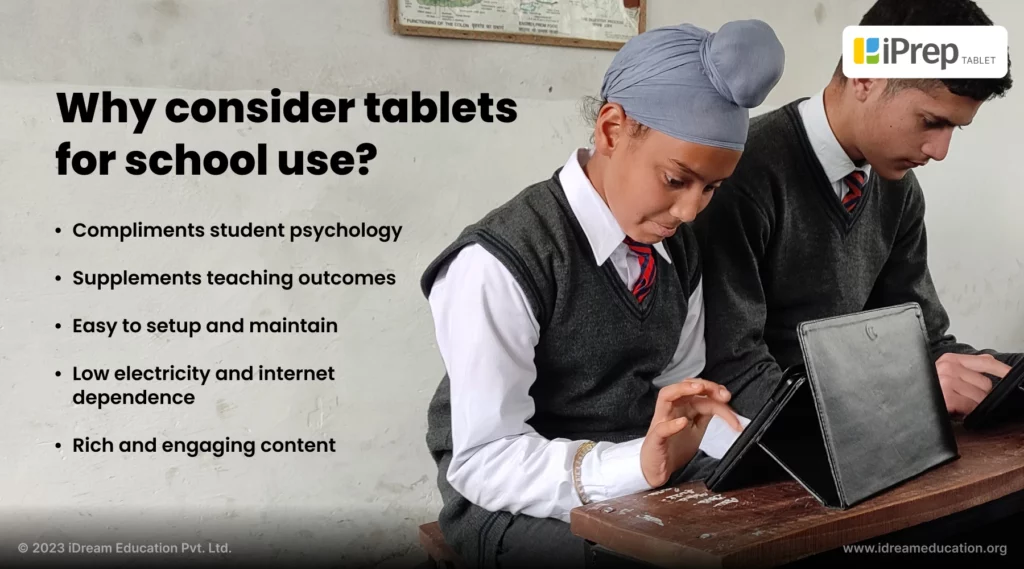 1. Tablets For School Use best complement the student's psychology
Haven't we all seen how naturally children and learners connect to touch-based devices?
A set of offline tablets for school use with no mobile signals or rays, and only learning content for guided & monitored usage in the school makes a very strong case to happily engage the learners.
We can open up transformational possibilities once we align with the child's psychology. We can then orient our digital solutions to excite them for proactive learning and growth.
Tablets can be one of the best ways of doing that.
The level of engagement and acceptance is by far the highest for tablets for school use among all types of digital hardware. That itself is the most important value they bring to personalized digital learning in schools.
2. Educational Tablets For School use truly empower teachers!
We can see a problem most of the time. The digital solutions that we set up thinking they will empower the teachers, actually become a burden for them. These increase their operational & maintenance workload, rather than delivering learning value.
It happens all the more in government schools. They already face issues like a shortage of teachers, a shortage of rooms, and teachers being tasked with additional government duties.
In one of our earlier blogs, we talked about the impact on students' learning outcomes due to the shortage of teachers and lack of classrooms. You can read them here and here.
The learning tablet for government schools use, eases out the lives of the teachers as students use the tabs effortlessly and are happy to learn. Even in situations, when the teacher is not available or otherwise busy, she can rest assured that their students are not wasting time but happily continue their learning via the tablets.
Tablets for school use can also help teachers to automate routine tasks like taking assessments, giving scores & getting instant reports which free up their time to give personal attention to their students.
During our work in government schools, we have observed that once a teacher experiences the empowerment, that tablets work as their personal assistants and helps them give attention and engagement to every child, they happily adopt these devices and then actively use them to deliver enjoyable and personalized learning for their students. And students love their teachers even more.
3. Tablets for school use are easy to set up and even easier to Maintain
To set up tablets for school use, you do not need additional fixed furniture as needed for computer labs, no UPS, and no complex wiring or networking. Tablets are extremely easy to set up and use at schools.
Another major advantage is the proactive acceptance of Android by the underserved masses. Everyone is already happily training themselves on how to use Android devices. Therefore it gives a great proactive push to regular usage and removes training barriers.
Android is a very stable platform and is largely free from crashes & viruses. Therefore from a software and operating system perspective too, tablets are therefore much easier to manage on a daily basis.
Lastly, even if tablets do stop working, it is still much easier to take them to a service center and get them repaired/replaced.
4. Tablets remove electricity dependence and therefore learning never stops
Another point in favor of tablets for schools is that once completely charged, they can run for 6-7 hours which is almost the entire school working time. Hence, even if a school does not get electricity throughout the day, learning never stops. In all situations, children can always continue to learn from the tablets.
In rural parts of India, where the electricity supply is still irregular at many government schools, tablets can bring considerable value to school education delivery in all situations.
5. Rich & Engaging Content: From Animations & Digital Books to Learning Apps
Tablets & Mobile Devices offer a combination of touch/view/play & read forms of interaction. Therefore, they have been able to step up the engagement & excitement of our young learners.
If we go back to our first point on child psychology, the richness and variety of content hold great importance for positive acceptance by the students.
Firstly, it helps cover the entire learning spectrum effectively. Secondly, it enables a very personalized usage experience respecting every student's learning style and pace
This is a great enabler for the child and can bring amazing transformation in his orientation towards education and growth.
There is a very interesting case study that emerged from one of our schools that testifies to the point being made above. It's the story of Nisha, a class VI student in a government school in Rajasthan who loved reading books much more than her entire class. Please do give it a read here.
———
So, these are our five reasons why we believe you should consider tablets for your schools while setting up a digital learning lab just like the iPrep Digital Library – TABLAB. As an educator or an NGO, if you have already used tablets in schools, please share your thoughts and experiences with us in the comments section below. We can discuss, delve deeper and build a better understanding of every aspect & best-suited use cases of educational tablets for schools.
Will look forward to your comments and amazing discussions on this.
---