iPrep PAL: Where Learning Becomes Personalized And Adaptive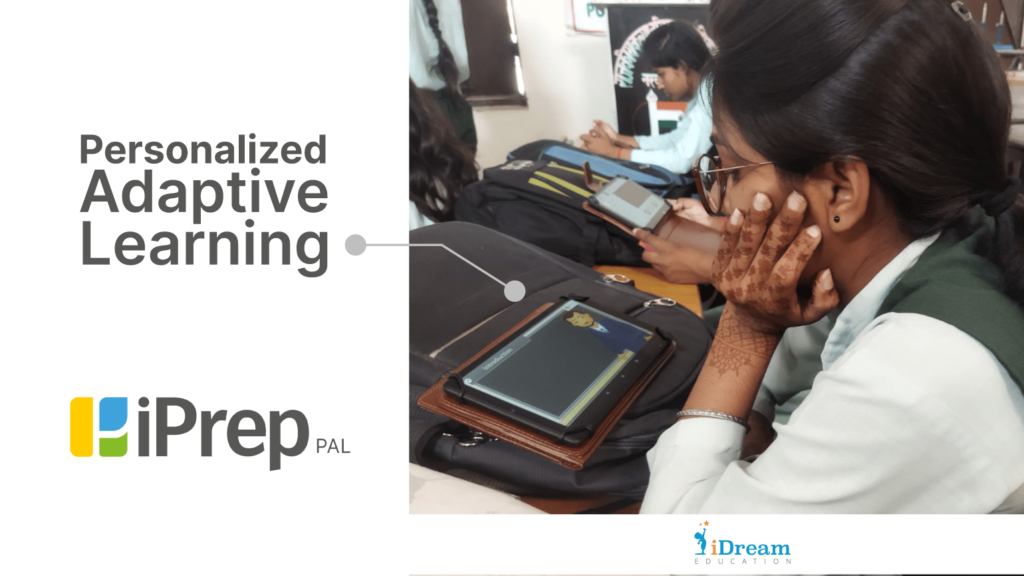 "Learning" is a term that has always been a personal phenomenon to an individual. Every learner out there learns differently, grasps differently, understands differently, grows differently, and ultimately delivers or performs differently in academics. Similarly, every learner develops learning gaps too but the intensity of it is different for all. In this post, we'll be discussing how a personalized and adaptive solution like iPrep PAL can cater to all these differentiated needs and requirements. And how it can help every learner with a customized approach to learning to eradicate all their learning gaps effectively. 
What are Learning Gaps?
Learning gaps refer to the differences between what students are expected to know or be able to do at a particular grade level or stage of their education, and what they have actually learned or mastered. These gaps can occur due to a variety of factors. Those include inconsistent instruction, inadequate support, or personal circumstances that interfere with learning. 
Learning gaps can become a barrier to academic success. They can create a snowball effect where students struggle to keep up. They may not be able to keep up with new pieces of learning, become discouraged, and fall further behind. 
Identifying and addressing learning gaps is essential to provide effective education. It helps educators tailor their instruction to meet the individual needs of each student. That can support the students in achieving their academic potential. But one of the major challenges that recently came up took the intensity of learning gaps of each individual learner way beyond the normal. It made the situation extremely difficult and worse than ever. And that was none other than COVID-19.
The entrance of COVID-19
The COVID-19 pandemic has disrupted education systems around the world, including in India. With schools closed and classes moved online, many students have struggled to keep up with their studies, leading to significant learning gaps.
And why will it not? The majority of the learners in India didn't have the resources to attend online classes. They didn't have access to digital books nor did they have a device to access these books or similar learning materials. That in total pushed them around 2 years back in terms of learning levels compared to the grades they are in. 
All that together pushed them so far from effective learning that coming back to normal sounded extremely difficult. Even the students who had these resources started developing major learning gaps. That happened as the online mode of learning couldn't deliver learning effectively enough to match what used to happen in the offline mode. 
If anything can normalise things now, it can only be a personalized and adaptive approach that could adapt to the current learning levels of these learners and can accordingly bring them back into the game. But do their teachers have the bandwidth to give these learners such levels of personalized attention? That sounds impossible too as far as manual input is concerned. But what if there is a digital solution to tap into these challenges? 
Introducing iPrep PAL
Today, We would like to introduce you to iPrep PAL, a personalized adaptive learning solution that empowers its learners to eliminate all their learning gaps and master every topic chapter and subject. Personalized and adaptive learning with iPrep PAL is a technology-enabled approach that tailors education to the individual needs of each learner. By analyzing the student's learning levels, it can identify their strengths and weaknesses, and adjust the content and learning activities accordingly. This approach provides the student with a customized learning experience, allowing them to learn at their own pace and style.
But how exactly does iPrep PAL work that makes the app capable of empowering its students to learn in accordance with their learning levels? Let's find that out down the line!
How Does iPrep PAL Work?
So what exactly is iPrep PAL? It is a learning platform that offers a personalized learning path for all its learners. Learning with iPrep PAL starts with a diagnostic test for each chapter. This diagnostic test is basically designed to test the learner's learning levels and abilities based on the grade they are in. 
The diagnostic test will have 12 MCQ-based questions from the chapter you've chosen to learn. Based on the results of this diagnostic test, the app in itself builds an understanding of the learner's current learning levels and abilities. After that, with the help of its adaptive abilities, it designs a personalized learning path for them. This path will be a package of 2 options including practice questions with instant feedback and remedial video content. This set of content is developed based on Bloom's taxonomy. 
The learning path also takes the students to connected topics in junior classes to cover historical learning gaps and achieve their grade-level proficiency. This means that students will not only master the current topic but also revisit previous topics they may have missed, making the learning process much more holistic.
In addition, every chapter has a final test that determines the achievement of desired learning outcomes, with integrated reports syncing to a monitoring dashboard. This feature provides a complete overview of the student's learning journey. It makes it easy to track progress and identify areas that may need more attention.
Content Coverage
Beyond the Diagnostic test, practice, and animated video content, the app also has other content categories for learning. These include digital syllabus books and class notes for reference and revision. It also has practical videos for relevant subjects to prepare you for your lab sessions. All that is to offer a complete package of learning that can cater to every child's learning habits, patterns, and abilities. 
That's not it, beyond academics, iPrep PAL also has content for the holistic growth of every learner. Here we have an amazing collection of additional books that involve inspirational stories, storybooks, books on science, history etc. Together with that, we have project videos that teach learners how to make DIY models. All that with easily available materials around us. 
Some Key Highlights about iPrep PAL
Starting with the key highlights of iPrep PAL, the first one is that its design is based on the EdTech Tulna Framework. That is an evidence-driven evaluation index that strives to decrease information asymmetry in the ecosystem. It aims to create a common understanding of what effective edtech looks like. That's one of the elements that add effectiveness to iPrep PAL. 
Another Key highlight of iPrep PAL is that it can sync to the state's DIKSHA platform via an API. It can also integrate usage reporting to a central MIS (Management Information System). This makes it a very versatile platform. Further, it ensures that the student's learning data can be easily tracked and shared with teachers and parents.
In Conclusion, iPrep PAL is a powerful tool that empowers students to achieve grade-level learning outcomes. All that through its enjoyable, personalized and adaptive learning platform. It can do it by designing a customized learning path for each individual with the help of its adaptive abilities. It's a fantastic solution for students who need extra support or who prefer learning at their own pace. So, whether you're a student or a parent looking for a comprehensive learning solution, iPrep PAL is worth checking out!
---