"iPrep Tablets: Personal Tablets For Learning and Growth"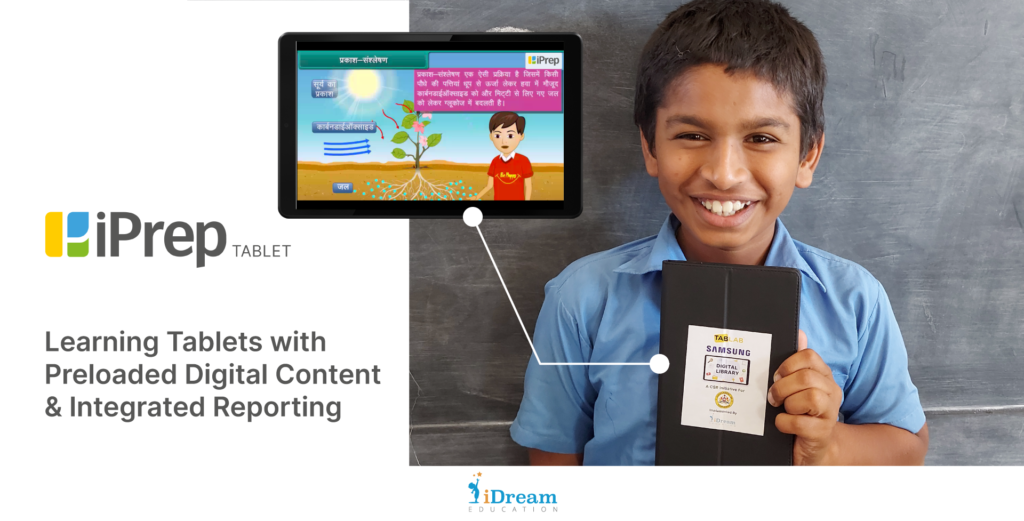 Welcome to the world of iPrep Tablets, personal tablets for digital learning, and the growth of students from classes 1 to 12 for all subjects. These are personal tablets that revolutionize the ways of learning and holistic growth! With iPrep Tablet, students can access rich digital content for all subjects from grades 1st to 12th. That is designed to make learning both engaging and interactive.
What sets iPrep Tablet apart from other learning devices is its versatility. An Android Tablet of any size, brand, and specification can become iPrep Tablet. As a package, it comes with a book-style cover and screen guard for added protection. This makes it easy and safe for students to use tablets both at school and at home.
The Content Coverage
iPrep App which comes preloaded on tablets provides animated video lessons, practice questions, digital syllabus books, notes, and assessments for exam preparation in English, Hindi, and other local languages. This makes learning both engaging and interactive and helps students retain the information they learn better.
In addition to academics, iPrep Tablets also offer a rich library of books. That caters to the student's personal growth and development. From inspiring biographies and personal growth books to picture books and DIY activities, students can delve into a world of holistic learning and growth.
Some key features
The iPrep Tablet comes with a bilingual and easy-to-navigate Learning Platform called iPrep. That allows students to switch classes anytime and play content both offline and online aligned with NCERT & State Boards' curriculum. This ensures a completely personalized approach to learning and a high-potential learning experience. Along with that, it gives students a chance to eradicate all their historical learning gaps and learn to the best of their potential.
The best part about iPrep Tablets is that all usage reports are saved offline on the device and automatically sync to a cloud-based reporting dashboard, providing teachers and stakeholders with a data-driven approach to learning outcomes.
These tablets are exactly like the smartphones we use daily at our homes. That makes using these tablets extremely easy for both students and teachers alike. Not just that, as these come preloaded with learning and growth content, learners can use them anytime, anywhere, and even on the go! Without worrying about networks or connectivity. 
The Reach of iPrep Tablets– Personal Tablets for Learning
To date, the iPrep Tablets have reached and enhanced the learning and growth outcomes of thousands of kids in more than 10 states of our country and this is just the beginning. We have received plenty of testimonials claiming that there has been a major positive change in the learning and growth aspects of the young learners who used iPrep Tablets for supplementing their learning and growth. 
But we are still not close to what we aim for. Our ultimate goal is to reach every last-mile learner with our digital learning solutions. The iPrep Tablets is one of the most potential options to pursue the same. 
In conclusion, iPrep Tablets bring a completely personalized approach to learning and growth. They work as personal assistants for students for all their supplementary learning and growth needs. All that ultimately empowers them to learn unlimited.
---