How Mobile Apps are becoming the next big thing in Education?
Revathy is a class 6 student in a government school. Her school is located in the tribal areas of Roddam district in Andhra Pradesh.
She wants to become a doctor and science, she says, is her favourite subject. It is unfortunate however that the school has only one science teacher. That teacher apart from teaching 8 different classes is also overburdened with a lot of official government work. For that work, he has to travel for several days in a year. With this scenario and also no other way to guide Revathy on what it would take her to become a doctor, her aspiration may just end up being an unfulfilled dream.
Affordable technology in digital education in rural India with an ability to connect to the World Wide Web is offering a ray of strong hope to students like Revathy all around the globe.
Mr. Amitabh Kant, CEO of Niti Aayog in one of his talks mentioned that by 2030 every Indian would have a smartphone and an Internet connection.
According to a report by Mobile Association of India and IMRB international, as of June 2017, India has between 450-465 million Internet users with only 129 million users from rural India.
However, the report points out that 92% of rural users consider mobile as their primary device for accessing the Internet. It clearly indicates that the rest of 750 million rural users will have much faster access to Internet than the first 129 million.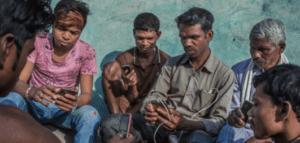 As mobile phones march towards ubiquity, they are finding their way into the hands of our earliest learners too. For modern educators, this offers a sense of opportunity. They can use custom-built mobile apps to facilitate access to the best of learning content. For Revathy and many more like her. Such mobile apps can transcend any physical boundaries to offer limitless opportunities to students especially in rural areas.
However, back in those days parents and educators questioned the quality of children's television content. So, are they beginning to ask questions about the quality of mobile device content aimed at children? It is therefore important that before we reach to any conclusion, we must try to evaluate the key advantages which mobile apps have over traditional form of learning. Should we check if there are any shortfalls which we need to be a careful about? Especially from the context for rural India?
A child in a government school located in the interiors of the country with no means of entertainment is longing for something, which can excite him/her to go to school daily or be back home on time and not waste it away doing unproductive leisure activities. Colourful pages and moving animations in a learning app can offer much-needed entertainment to the child. At the same time it will make the learning fun. Learning is therefore no more a passive activity. Various studies have determined that a child learns best when he/she proactively engages in the learning process. Apps with their game based approach can evoke the interest of the child and significantly increase the engagement.
Another important thing to look at is that a child from a rural village has no exposure to the limitless opportunities that the outside world has to offer. Apart from television, the child may not even know how the world beyond the boundaries of their village will look like. Apps can paint a beautiful picture of the world. It can inculcate a sense of aspiration inside the child to rise above their existing socio-economic situation. They can then aim to be a part of a better future. This would therefore encourage a child to proactively engage with learning. He/she will then seek out relevant opportunities on its own to move forward in life.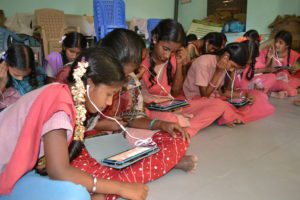 Most mobile apps offer an incentive-based environment where you move a level up once you have cleared one level. As the learner continues to strive for improvement whilst using these apps, the sense of achievement brings excitement to learning. It inculcates a positive emotional attachment to education. An app with quality content can challenge a learner's problem-solving skills. It can use virtual rewards that will motivate them to persist and continually develop themselves in the process.
Also, most apps adapt as per the user. Having an app, which can adjust to the learning styles of a child whilst taking into consideration the curriculum requirements will accelerate the learning process and as a result, prove beneficial to the child. Continuous use of the apps could help students independently improve their progress. It will help them build a much more positive mentality towards education overall. Our existing education system including the smart class setup assumes that all children learn equally. But that is the most incorrect assumption. Every child has a unique way of receiving and retaining information. An adaptive application appreciates that and allows children to learn at their own pace thereby leading to real learning.
When it comes to rural India, considering the challenges of our rural school system, a tablet or a mobile with the most suited learning applications can become an anywhere, anytime classroom. Unlike school, a mobile application is available round the clock and one does not have to worry about any schedules.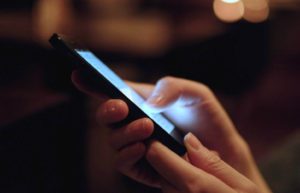 Having established a strong case on why apps can truly transform the way students in rural areas can learn, it is to be noted that learning through app is not intended to be a unique educational method but rather to complement the other areas of studies such as class, multimedia videos, books etc.
At iDream Education, through our learning management system, we continuously capture student-wise tablet usage and learning data across all our iPrep Digital Library– TABLAB implementation locations. When we look at the data for the type of content viewed by the students, apps have always held the highest percentage. And the same is true for all the year round. When we look at the rural education ecosystem, the biggest challenge is to make the child engage with learning. It is important for them to have fun while doing it. How do we ensure that a child proactively wants to learn? Because that is one feeling which can bring about the transformation which we are all seeking.
Clearly, fun and engaging learning applications will form the pivot. Around that, the fundamentals of personalised and life-shaping learning will be centred.
How do you think children around you are reacting to learning through mobile applications?
---
Download Now – Learning App
Watch Now – Best learning videos for 1st to 12th class
Follow Our Social Media Channel
Facebook – https://www.facebook.com/idreameducation
Instagram – https://www.instagram.com/idreameducation/
---