PM Shri Narendra Modi Ji Commemorates Third Anniversary of NEP 2020 at Akhil Bhartiya Shiksha Samagam 2023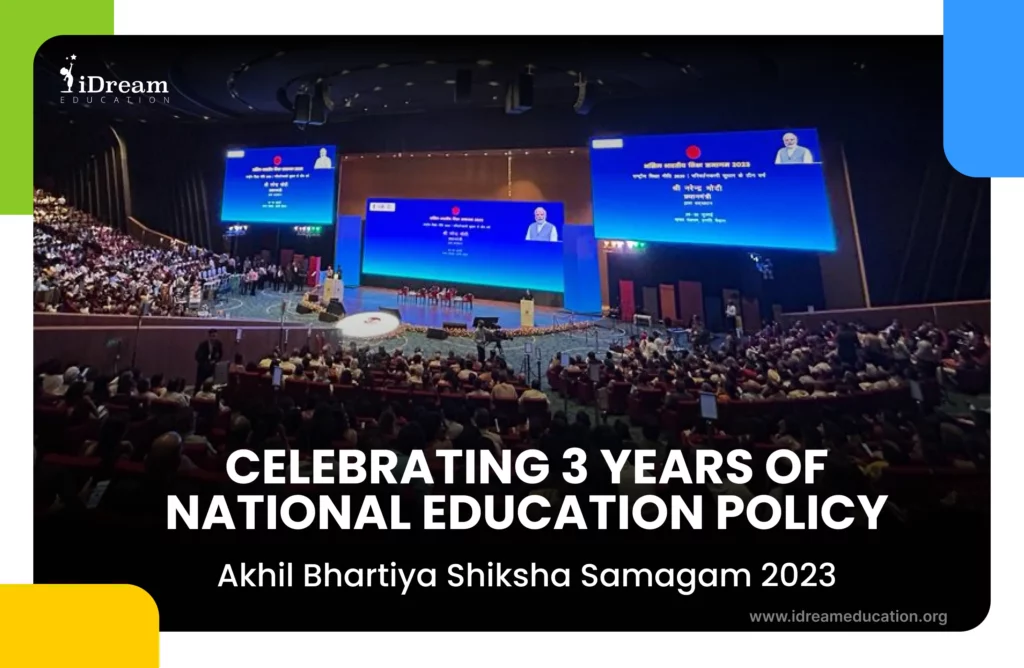 As the National Education Policy (NEP 2020) enters its fourth year, its success promises to pave the way for a developed India. Envisioned to transform the education landscape, NEP 2020 has been focused on fostering flexible and lifelong learning, empowering students to shape their academic journey according to their interests and aspirations.
On Saturday, July 29, Honorable Prime Minister Shri Narendra Modi Ji marked the third anniversary of NEP 2020 by inaugurating the prestigious Akhil Bhartiya Shiksha Samagam 2023. PM Modi Ji reiterated the policy's commitment to embracing both modern and ancient ways of education. 
Heart of NEP 2020 Lies in:
At the heart of NEP 2020 lies the ambition to establish India as a global hub for research and innovation. The policy recognizes the value of traditional knowledge systems and complements them with cutting-edge futuristic technology. This balanced approach ensures that India embraces its rich heritage and advances toward becoming a center of excellence for groundbreaking discoveries and inventions.
Step Towards Inclusivity in NEP 2020
As a testament to the policy's inclusivity, Prime Minister Modi Ji released education and skill curriculum books translated into 12 languages. This aims to provide equitable access to quality education for all, regardless of linguistic background, promoting diversity and inclusiveness in the learning process.
Over the course of the past three years, NEP has sparked an impressive surge in innovation in digital learning, making education accessible to millions across the nation. The Akhil Bhartiya Shiksha Samagam showcased many inspiring initiatives that have harnessed technology-driven innovations to enhance the educational landscape.
Prime Minister Shri Narendra Modi Ji expressed his appreciation for the vast potential of innovation in education and commended the remarkable progress made. This acknowledgment underscores the commitment of the government and educational stakeholders to continuously push the boundaries of learning, inspiring the nation to excel in various fields and contribute significantly to the world.
As NEP 2020 embarks on its fourth year, it serves as a beacon of hope, illuminating the path to a developed and intellectually empowered India. The policy continues to shape the country's educational landscape for a brighter future by fostering flexible learning, promoting research and innovation, and encouraging inclusivity.
As the world looks on in awe, India is emerging as a nursery of new possibilities, guided by the vision of NEP 2020.
iDream Education finds inspiration in the dedication and passion of fellow professionals within the education fraternity. The collective drive shared among like-minded individuals, who work to empower learners with diverse learning content in local languages, has only deepened our commitment. We remain resolute in our vision to significantly contribute towards Facilitating Universal Access to Learning and Growth and reach last mile learners nationwide. Together, we strive to create a brighter and more inclusive future for education.
Sources:
ABP News Bureau, 29 Jul 2023. Akhil Bhartiya Shiksha Samagam 2023: PM Modi Inaugurates Two-Day Shiksha Mahakumbh.
Times of India, Education., 29 Jul 2023. PM Modi inaugurates Akhil Bharatiya Shiksha Samagam 2023
If in case you would like to know more about our digital learning solutions, visit our website, www.idreameducation.org or write to us at share@idreameducation.org
---