Story of Nisha – The Girl who loves reading books
I have not personally met Nisha but I know her as a child who loves reading books. Nisha is a class 6 student in a government school in Bhiwadi, Rajasthan.
You are wondering, what is so special about Nisha?
A while back, I was reviewing the reports from our project site in Bhiwadi, . Typically such a report consists of thousands of rows of data telling us how every child is using our tablets for learning in the school. The row with Nisha's name however struck me as very unique. I will share about the unique point in a while, first let me share a bit about the content that goes into every tablet of ours under the iPrep Digital Library. This will help you appreciate Nisha's story even more.
Content in iPrep Digital Library- TABLAB
Every tablet that we deliver as a part of digital learning in government schools, is pre-loaded with multiple categories of play way content in local language and aligned with the state board curriculum. The solution works offline and does not need internet to stream the content.
Generally, the most viewed category by the students are the multimedia videos. These are concept building animated videos that explain concepts either through a story or a real life example. Teachers also prefer using these most in the classrooms as they closely align with what they are otherwise teaching in the classroom.
As an add on, tablets are also pre-loaded with a vast collection of digital books. These span across multiple themes and topics and are also in local language, becoming a digital book library in the hands of the students.
I want to build just one more context before I get back to the story of Nisha. iPrep Digital Library is a tablet based personalised digital learning program custom designed for our government schools. It follows the idea of student centricity which means to empower the students to choose the way they want to learn. The system adapts accordingly making learning very personalised and therefore highly engaging for the child.
Nisha loves reading
Finally, coming to Nisha. Between multimedia and digital books, Nisha has spent a staggering 63% of the time reading digital books. I picked up the pie chart below from our reporting dashboard and it clearly reveals Nisha's inclination.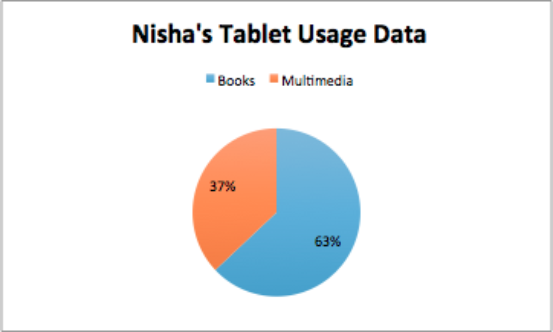 Reason why this is interesting is because the school average is only 31% for books. That's a complete flip compared to Nisha's data.
Something very interesting and transformational is happening here. Let me explain that in slightly more detail.
First, please know that various research studies have established how the habit of reading makes a child, a more active and a more evolved individual. Over long term it leads to higher literacy and language development, improved brain function and a much higher self confidence.
Nisha is definitely on her way to all of that.
What is inspiring for us as an organisation is that till a few months back, Nisha had absolutely no access to such books. There was no way she or her teacher or her parents would have got to know her knack and deep interest in reading. Or may be Nisha knew but as I mentioned earlier, she had no access. Eventually, her interest would have waned off and she would have never managed to explore this side of her personality.
[Also read the amazing story of Nikhil]
With iPrep Digital Library- TABLAB in her school, she has managed to lay her hands on a huge number of books across subjects, biographies, inspirational books, journals and comics.  When she would have read the first book, it would have struck a chord with the side of her personality which was completely unexplored till now. Imagine the outcomes!  If we as educators can sustain her interest by constantly stimulating her with new collection of books, she may go on to become a writer or may be journalist or may be a blogger – one of the most sought after jobs in today's times. We cannot even imagine the limitless possibilities that exist and to which we have exposed Nisha.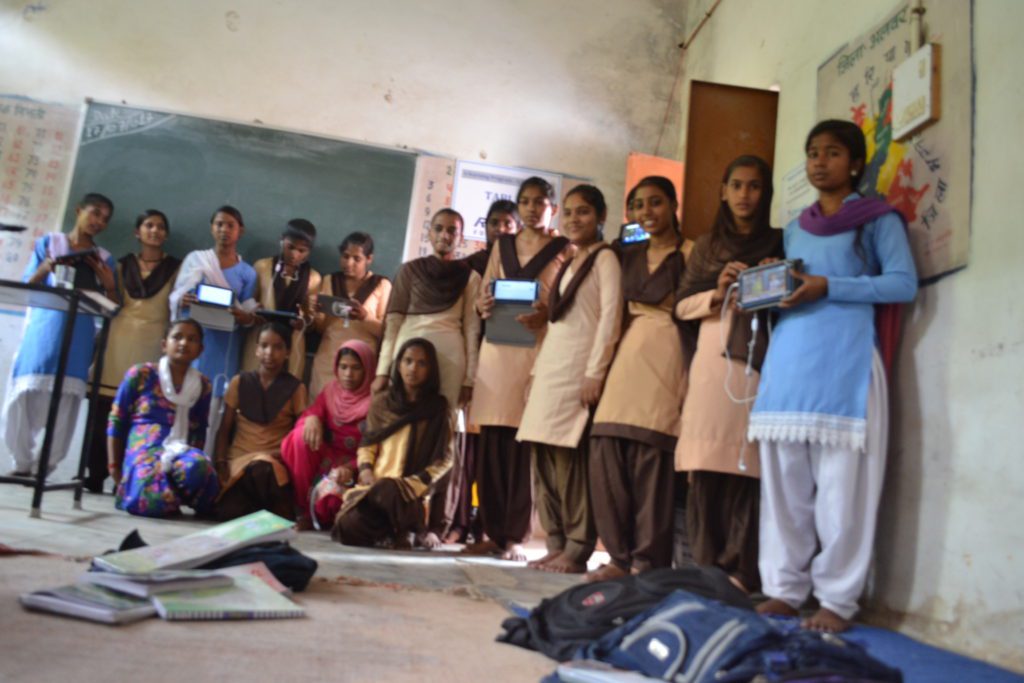 "Any of these girls could be Nisha"
A major insight which I draw from this experience is that all components of a personalised digital learning solution must connect with the life, culture and mindset of every last mile learner. Otherwise it will become another piece of hardware that went to the school. It will soon be dusting away in some lonely corner of the classroom. We need to make it easy and enjoyable for the child. Only then it will lead to proactive learning and self discovery. We all know, that is when the real transformation will happen.
Dear Nisha, I haven't met you yet but I hope to do that soon whenever I visit your school next. Till then, keep reading, keep exploring and keep having fun.
Also Read Story of Shadaf, a 6-Year-old child experiencing hearing loss since birth. Read how he fought his battle to learn on his own through an educational tablet
---
Download Now – Learning App
Watch Now – Best learning videos in Hindi for 1st to 12th class
Follow Our Social Media Channel
Facebook – https://www.facebook.com/idreameducation
Instagram – https://www.instagram.com/idreameducation/
---