Why is an Android Tablet based Digital Library is best-suited for Personalized Learning Environment in Schools?
Discover how Android Tablet based Digital Library can enhance personalized learning in schools and complement the Ministry of Education's ICT lab initiative.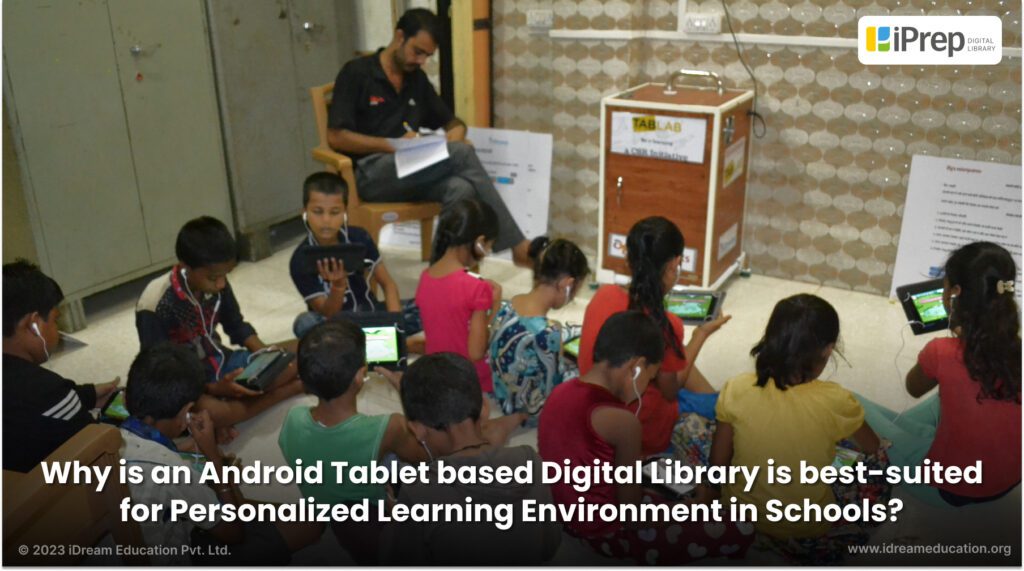 In education, digital or online learning stands as a complement rather than a supplement to classroom experiences. Leveraging its unique strengths, it empowers learners with flexibility, and with personalized learning, it enhances student's assimilation and learning of topics.
Government and various stakeholders continuously strive to enhance school learning experiences
Edtech companies, system integrators, CSR, NGOs, and other stakeholders in the ecosystem are joining hands to enable quality education accessible to all. Despite these efforts, government schools still grapple with challenges like limited space, unreliable electricity, and poor internet connectivity.
An android tablet based digital library, however, fits every situation as it is an easy-to-setup, use, and maintain solution. It does not require extra space, wiring, or furniture to keep. Also known as Smart ICT Lab, it can be set up/moved to any classroom, hall, or lab. Further, it does not require continuous electricity and the Internet. All this while enabling Personalized Learning Environment in Schools.
Revision of ICT Lab Policy by Ministry of Education
The Ministry of Education has revised the ICT lab policy to change the learning landscape by integrating easy-to-access and maintained technology into schools. The ICT and Digital Initiatives component of Samagra Shiksha focuses on supporting Government Schools. Financial provisions for ICT Lab by MoE include a one-time non-recurring grant of up to Rs. 6.40 lakh per school, along with a recurring grant of up to Rs. 2.40 lakh per school per annum for a duration of 5 years. An android tablet based digital library directly meets the revised guidelines for ICT labs as per the revised ICT Policy.
Integration of Personalized Learning Through ICT Lab Scheme
This scheme incorporates tablets, laptops, notebooks, and a charging rack as integral components of the revamped ICT Lab. Introducing these user-friendly devices provides teachers and students with more accessible solutions. This naturally aligns with their familiarity with using smartphones and has the ability to enable personalized Learning in Schools. Samagra Shiksha Abhiyan has already sanctioned over 120,000 ICT Labs nationwide and has also provided training to over 1.5 million teachers.
Summarizing the benefits of an Android Tablet based Digital Library or Smart ICT Lab at schools:
Easy to use, set up, and Maintain
The Digital Library is designed to be user-friendly, effortless to set up, and simple to maintain. It consists of android tablets along with charging racks, and you can easily install and relocate it to any classroom, hall, or lab as per your requirements. This portable solution ensures that students and teachers have convenient access to personalized devices, fostering an effortless teaching and learning experience. 
Digital library is permanently placed within the school premises, ensuring students of all classes have equal access to digital learning. Students can use the android tablets in the Digital Library on a rotational basis, enabling personalized learning. A notable example of this practice is the Digital Library Timetable, which is implemented and followed in various government schools. Principals, in collaboration with teachers, develop a timetable that specifies slots for students and teachers to access the digital library. As a result, students and teachers of many government schools are enjoying using the personalized devices and accessing digital content.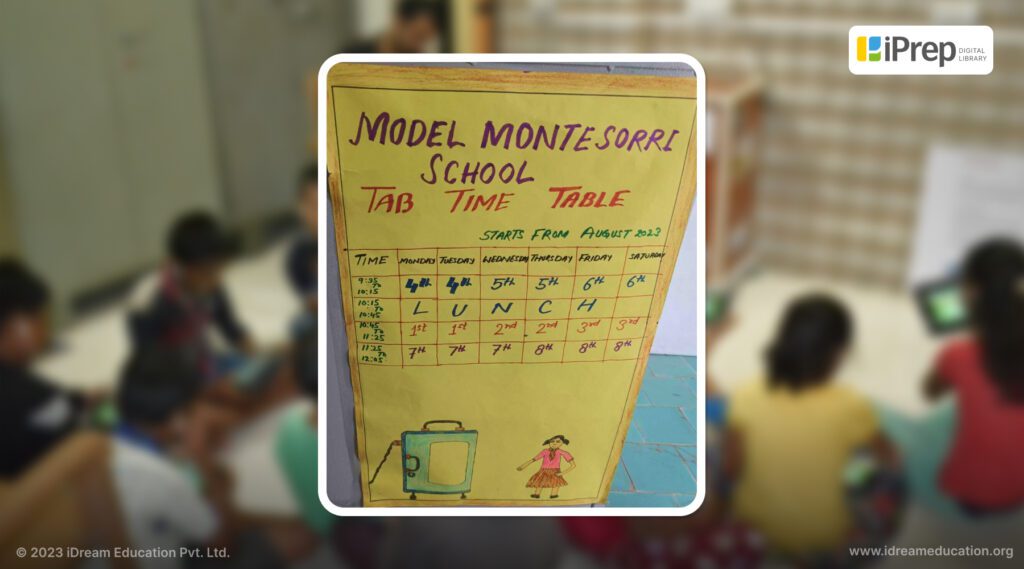 Access to Multi-category Content
Students using Android tablets in the digital library can explore a diverse range of curriculum-aligned digital content in their preferred language. This convenient access allows them to align their learning and seek personalized benefits easily. Further, the availability of multicategory content like animated lessons, syllabus books, practice, and more improves topic-by-topic understanding. Apart from this, interactive lessons, a book library, E-books, and additional life skill content are also given for holistic growth.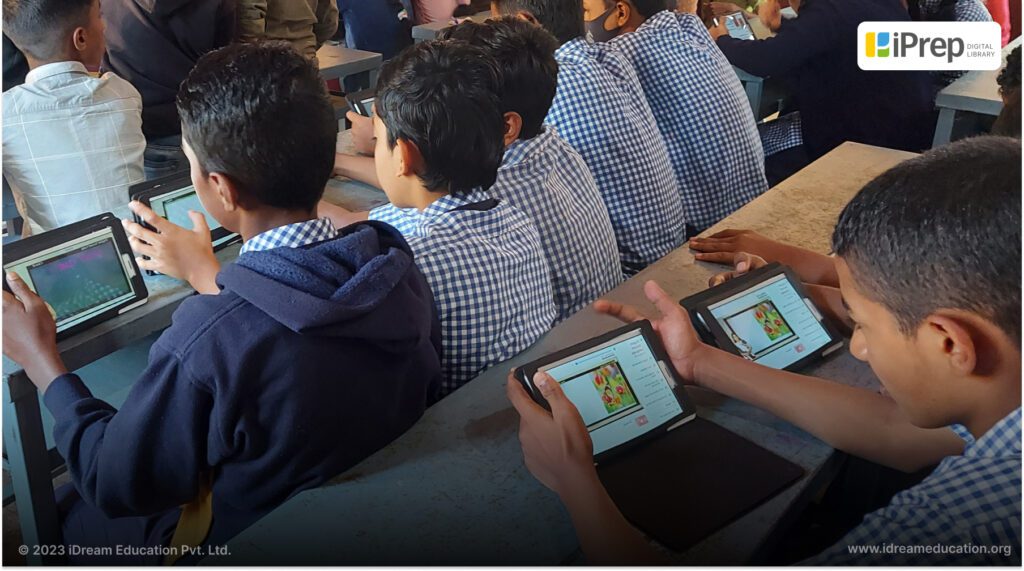 Access to Multi-Grade Content
The availability of multigrade content empowers students to access any class's content on their devices. This allows them to address any historical learning gaps in a non-judgemental environment. Further, using earphones enable a personalized environment in schools where they can watch videos on various subjects, enhancing their conceptual understanding and aligning their learning level with their current grade. As a result, the android tablet based digital library in schools fosters a personalized learning environment for students.
Each student utilizes tablets to access iPrep and log in with unique login IDs. This enables them to monitor their learning progress through a reporting dashboard. Through this, students can easily track their engagement with specific topics or subjects, gaining insights into the number of practice sessions, video lessons watched, and more. Keeping track of involvement in learning categories on iPrep enables a personalized learning environment for all the students in school.
iDream Education has implemented over 500 iPrep Digital Library (Smart ICT Lab) with over 6000 tablets in schools across BHARAT.
To Conclude:
Digital Library offers a Cost-Effective, Scalable, and Easy Implementation for Personalized Learning at Scale
Android Tablet based Digital Library is the ideal solution for creating personalized learning environments in schools. Its versatility, accessibility, and adaptability empower students to engage with learning content at their own pace and as per their unique learning styles. Moreover, its cost-effectiveness, scalability, and ease of implementation make it a viable choice for government bodies, CSR initiatives, NGOs, and other ecosystem partners looking to implement personalized learning through ICT Labs.
If in case you would like to know more about our digital learning solutions, visit our website, www.idreameducation.org or write to us at [email protected]
---