How can Digital Tools and Devices Change the Learning Environment at Home?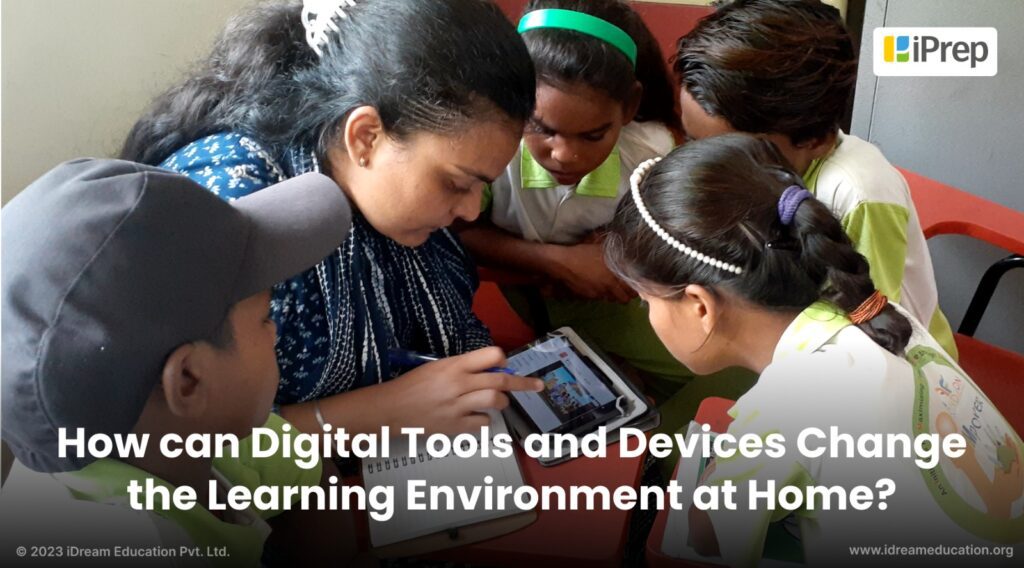 In the picturesque valley of Kashmir, Fazdha Mushtaq, a student at Army Goodwill School Hanjinard, witnessed her dream of continuous learning at home come true with the help of the iPrep app on her tablet.
Fazdha Mushtaq and her classmates find delight in using the iPrep app to create a positive learning environment at home because it seamlessly aligns with their school curriculum. They can easily reinforce every subject they learn in school through engaging animated video lessons that bring textbook concepts to life. Additionally, the practice sessions provide feedback, ensuring a rounded understanding.
The inclusion of exercises, digital syllabus books, comprehensive notes, and designed assessments creates an interactive toolkit that fosters an exciting learning environment within the comfort of their homes. This not only enriches Fazdha's journey but also encourages active participation from her parents, thereby enhancing the overall quality of their experience.
Teachers effortlessly assign homework to students through the app itself. This seamless interaction is possible because the same platform (iPrep) is used in digital classrooms at the school for instruction and learning purposes, connecting the classroom environment with home learning.
With this seamless integration of technology, effective e-learning at home in even the most distant corner of India becomes a reality for Fazdha Mushtaq and every other child at Army Goodwill School.
Understanding the Shift in Learning Environment at Home
The findings from the 'State of Elementary Education in Rural India–2023' survey, conducted jointly by the Development Intelligence Unit (DIU), Transform Rural India, and Sambodhi Research and Communications Pvt. Ltd., have shed light on a significant aspect of the learning environment at home.
In the report, 40% of parents in rural India reported a lack of availability of age-appropriate study materials other than textbooks contributed significantly to their lack of engagement with their child's learning environment at home.
The report's findings indicate that parents want their kids to not only learn things but also enjoy the process of learning. Their desire to actively participate in their kids' educational journey at home is hindered by a clear need for a wide range of educational resources that can help improve their children's learning environment at home.
The 'State of Elementary Education in Rural India–2023′ report also tells us that 49.3% of students have access to smartphones, out of which 34% use smartphones for study-related downloads, and 18% access online learning via tutorials.
These numbers indicate that digital devices like smartphones are becoming an integral part of the learning environment at home for students, and paired with interactive educational tools like the iPrep app, which supports both Android and iOS devices, they can help connect home and classroom environments massively.
The positive enrichment of the teaching and learning experience when digital learning tools in schools and homes have an integrated e-learning platform can be seen in CSR projects like Army Goodwill Schools in Kashmir and schools of East Jaintia Hills in Meghalaya in partnership with iDream Education.
With projects like the above and technology gaining a stronger foothold in changing the learning environment at home, schools are embracing holistic solutions like Enterprise Resource Planning (ERP) to keep up with the complex management requirements.
ERP systems, paired with digital learning tools, harmonize administrative efficiency and enhance educational experiences, transforming how education is managed and delivered.
How E-learning Integration with Enterprise Resource Planning Solutions helps the learning environment at home?
Schools are constantly looking for innovative solutions to streamline their operations, enhance their educational offerings, and create a good learning environment for students. Apart from digital learning devices like smart classes and digital libraries, this has led to the rise of ERP (Enterprise Resource Planning) solutions.
With the help of ERP companies' data-driven and student-centered approaches, students, teachers, and parents can seamlessly work together toward a holistic education goal.
ERP companies (Campus 365 and GroundUp) offer platforms that integrate with e-learning tools like iPrep API which connects with smart classes and learning tablets with the help of a learning management system (LMS). This integration makes learning more engaging and breaks the barrier of learning digitally only in schools.
Students can revise, recap, and master a topic that they have learned at school by practicing, taking assessments, going through topics they need more clarity and time on through animated videos, and making their understanding firmer by going through notes at home using tablets or smartphones to access the iPrep apps digital content. This creates an ideal learning environment for them at home.
A digitally integrated education environment at home not only helps students build a personal learning environment at home but also helps parents and teachers keep track of student progress with monitored insights into their learning activities.
Digital learning integration supports monitored learning outcomes with a personalized learning environment at home.
The synergy between technology and education has given rise to the era of personalized learning, enriched by monitored outcomes. Digital learning devices linked with intuitive e-learning tools like the iPrep app provide resourceful insights into the actions taken by students and teachers while interacting with the app on all integrated devices. This reporting system works in offline mode on all platforms and auto-syncs to a central monitoring dashboard when connected to the internet to back up all data.
This data-driven approach tied to a personalized adaptive learning environment helps analyze students' performance and adjust content to match their pace and level of understanding in a non-judgmental space.
Students who prefer or simply learn better on their own can attain mastery over topics that were covered in school by accessing the data at home on their tablet or smartphone due to the digitally integrated approach.
This slight change in the learning environment at home with the help of digital integration will help students who are unable to catch up well and enhance learning outcomes.
Integrated e-learning changes the concept of 'Homework'.
Integrated e-learning can not only transform home learning environments but can also revolutionize the very concept of "homework."
Traditionally, homework has often been perceived as a solitary and repetitive task by the students, disconnected from the rest of the learning experience. However, with the integration of digital tools and e-learning platforms, the boundaries between school and home learning environments are blurring, giving rise to a more dynamic and engaging approach to homework.
Instead of asking children "Have you completed your homework?", parents can now say "Let's revise that lesson you covered in school, together on the iPrep Tablet."
With the help of interactive E-learning platforms like iPrep, parents, and children can explore digital content at home in the form of videos, practice exercises, digital syllabus books, and assessments that not only help reinforce classroom concepts but also provide students with a more personalized and inclusive learning environment at home.
The integrated approach not only connects school and home learning environments, it also connects students with each other. Digital devices like tablets and smartphones linked with the iPrep app, for example, give a child access to not only his/her grade level learning but also concepts from three lower grades.
With one device integrated with one app, more than one child in a single household can access digital learning at the same time. This also increases sibling and classmate interaction as children learn and grow together.
Conclusion
It is evident in today's educational landscape that the convergence of digital learning tools and gadgets is reshaping the learning environment both at home and in the classroom. Children like Fazdha are living examples of the change technology integration is bringing to the learning environment at home in every corner of the country.
The insights from the 'State of Elementary Education in Rural India–2023' survey shed light on the need for comprehensive learning resources beyond textbooks that will help parents fulfill their desire to engage with their children's learning journey at home.
Integration of digital devices like smart classes and tablets with e-learning platforms like the iPrep app, which offers a diverse range of digital content, empowers students to revisit classroom concepts, practice exercises, and engage with supplementary materials at their own pace at home with constant support from parents and teachers.
Partnerships like iDream Education's initiatives in Kashmir and Meghalaya highlight the profound impact of blended e-learning on academic outcomes.
In essence, the amalgamation of digital learning tools and gadgets is revolutionizing education's landscape. This synergy transcends the confines of the classroom, creating an interconnected ecosystem where students are at the center of an engaging, collaborative, and limitless learning journey. As technology continues to shape education, we are witnessing the dawn of an era that empowers learners, educators, and caregivers alike in each form of learning environment.
---