Why is iPrep the Best Learning Platform in Hindi?
It is indeed the most comprehensive learning platform for Hindi medium students. That is true for all classes from 1st to 12th studying in all Hindi state boards. Let us share with you the reasons why we are so confidently writing this.
It's the era of learning platforms for school education

Learning Platform for school education is a segment heavily popularized by the industry leaders Byjus, Toppr, Vedantu and others over the last 5-6 years. Various learning apps like Extramarks, Unacademy and Akash tutor have also been offering integrated digital learning on mobile apps to students, parents and teachers as a learning supplement.

Although most of their revenue and business model for these companies has been around selling tablets to parents. That is executed via a direct to home sales model. But, from a core learning perspective, these are mobile app based learning solutions. These are available as online apps or offline apps on tablets with pre-loaded SD Cards.

In addition to the above, there are very effective and successful subject or skill-specific mobile apps for learning. One of our all-time favourites is Hello English – A great app to learn English for any local language learner, English Hindi Dictionary by Hinkhoj, Current Affairs 2020 by Testbook, and there are many other great mobile applications for learning specific skills or subjects.
Majority of Apps focus on English medium students

Most of the popular and largest used learning apps in India currently are focused on English medium students. Some of these apps do have some content in Hindi medium. But still, their maximum work and focus happen to be with the English medium learners. They are serving the premium segment of parents & students who can pay a hefty cost for a learning app. Since the last few years were the early years of adoption for learning apps and tablets, this strategy was justified since the companies spent a lot of resources on content, marketing, advertisement and technology development. Therefore they needed immediate revenue from the premium audience.

But over the last couple of years, the adoption of mobile apps for school education has grown nationally. Therefore the need for affordable and local language learning app or even bilingual learning platforms emerged.
Large Numbers of Hindi medium students but few Learning Apps in Hindi

In India, there are a very large number of students studying in local languages and out of them, Hindi medium students are the largest of the lot. A report by DNA India in Dec 2016 had suggested that around 49% of all students in India study in Hindi medium Schools. https://www.dnaindia.com/academy/report-only-17-children-in-india-go-to-english-medium-schools-2278538
This is a very large number, and even if it would have reduced slightly in 2020, there is still no doubt that the largest section of our students are studying in Hindi medium schools.
But due to various reasons, you still do not find very comprehensive learning apps/platform in Hindi. Some are available, but very few cover the entire curriculum as most apps only cover some specific subject/grade or aspect. Sharing some of the ones we know about:
Learning Apps by Imran Khan – the innovative teacher and app developer from Alwar
Certain apps are noteworthy and deserve recognition, such as the Hindi learning apps developed by Imran Khan, a teacher and technology-based social entrepreneur from Alwar.
His many apps, including Indian Constitution in Hindi, GK Uttar Pradesh in Hindi, and Indian History GK Quiz in Hindi, are great for educational use for students.
NCERT Hindi Books, Solutions, Notes and Videos – Supercop's app offers NCERT books in digital format for Hindi medium students, along with other categories of content in Hindi. It is an excellent, user-friendly app that is particularly suitable for students studying in Hindi medium.
Unnayan App: Mera Mobile Mera Vidyalaya – The app by the experimental visionary DM of Banka for digital content for classes 9th and 10th for the board exam.
iPrep: iPrep is a Learning App for students to Learn Unlimited. It offers rich digital content for classes 1st to 12th, all subjects and skills, is bilingual, works on all hardware devices and includes multi-grade access in a single subscription to facilitate universal access to Learning and Growth. With LMS in Hindi, iPrep offers all the content in the Hindi Language to enable a familiar learning environment for students, teachers and parents, which makes it the best learning app in Hindi.
Let us know more about iPrep
Details of the content available in Hindi medium in the iPrep App
Curriculum Aligned Digital Content for 1st to 12th all subjects in Hindi Medium
iPrep has animated lessons for classes 1st to 12th for all major subjects with real-life connect and engaging animations for conceptual clarity. These are available in English, Hindi and various local languages. It even helps them cover up historical learning gaps.
The app offers Hindi medium animations for Math, EVS, Science (including Physics, Chemistry, and Biology for 11th and 12th), Social Sciences ( History, Civics, Geography, Political Science), and Commerce (Economics, Business Studies, Accountancy, and Statistics).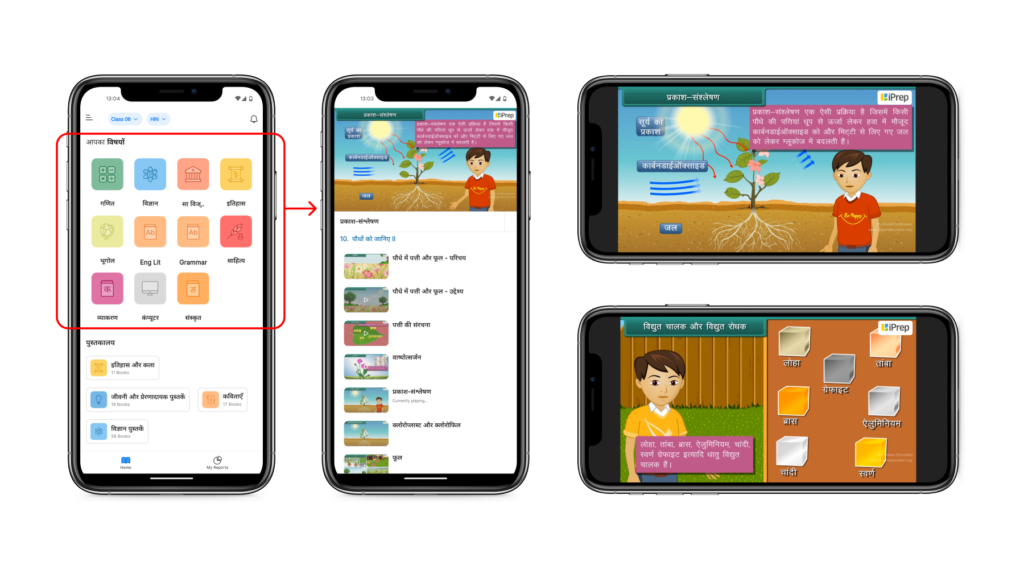 Interactive Lessons in Hindi Medium
iPrep has amazing videos by Arvind Gupta, the visionary educator with very easy-to-make DIY tutorials. These videos are a powerful learning resource for students to grasp practical applications of Science and Math. These videos also help them make their own toys in the process.

Book Library in Hindi Medium
iPrep also includes books from many categories – stories, poems, comics, arts, literature, moral values, inspirational biographies and much more in Hindi Medium. It also has books on math and science, arts and culture for holistic growth.


Life Skills and Value Education
In addition to the above subjects, the iPrep also has life skills, health, hygiene, inspirational biographies and art/culture in Hindi medium. That is designed for students to get holistic learning from the app.
Life Skills are extremely important, especially for our rural students and social beneficiaries. That helps them to cover up the gaps in personal care and improve their overall living standards.

Practice Questions with Feedback and Tests
To enable students to achieve mastery in every topic, practice questions with feedback after available in MCQ format in Hindi Medium. Questions delivery on iPrep is the dynamic basis of the learning levels and it inspires students to achieve 100% mastery on every topic.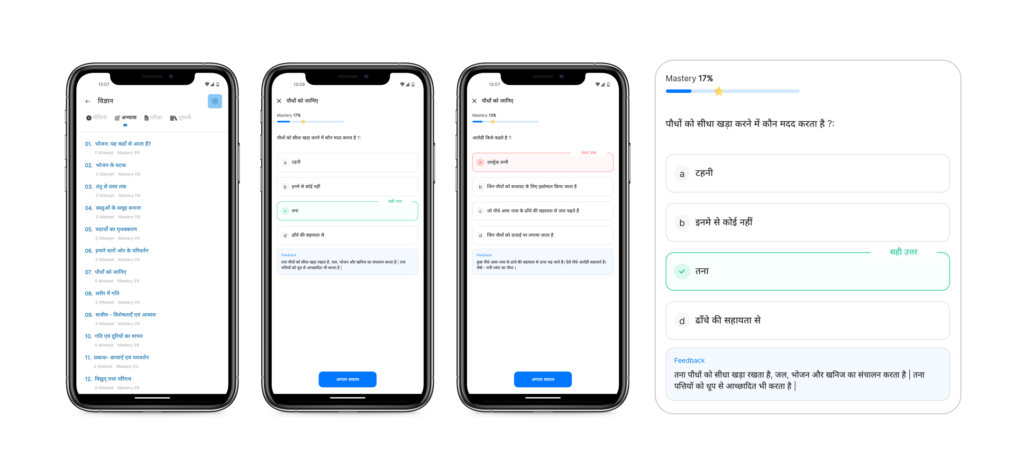 The extensive coverage and in-depth content offered in Hindi make the iPrep App/Platform the most exceptional learning platform available in the language today. Additionally, it is continually being developed, with more Hindi content being added as it becomes accessible. Your input and suggestions regarding the types of content to include in the future are appreciated to improve the platform's coverage.
Learn more about iPrep: iPrep | A Learning App for students to Learn Unlimited (idreameducation.org)
Watch Now – Best learning videos for 1st to 12th class
---